CHARLOTTESVILLE – It's rivalry week, sometimes called hate week by more fervent and aggressive fans. Virginia hosts Virginia Tech and the winner claims the ACC Coastal Division championship.
It's also Thanksgiving week. We like to think of this prediction challenge as more of a friendly competition, one to be thankful for, than a fierce competition. But now, at the final week of picks, everybody wants to win.
Each week Bennett Conlin, the Virginia beat writer for the Charlottesville Daily Progress, and Michael Niziolek, the Virginia Tech beat writer for the Roanoke Times, will join me in predicting the outcomes for the Cavaliers, Hokies and other key ACC games. And, to keep things interesting and create some divide in the standings, we threw in weekly upset picks, as well.
Our competition ends this week, though we may return with a special bowl edition. With back-to-back 4-0 weeks, Conlin has taken over the lead.
Here are this week's predictions: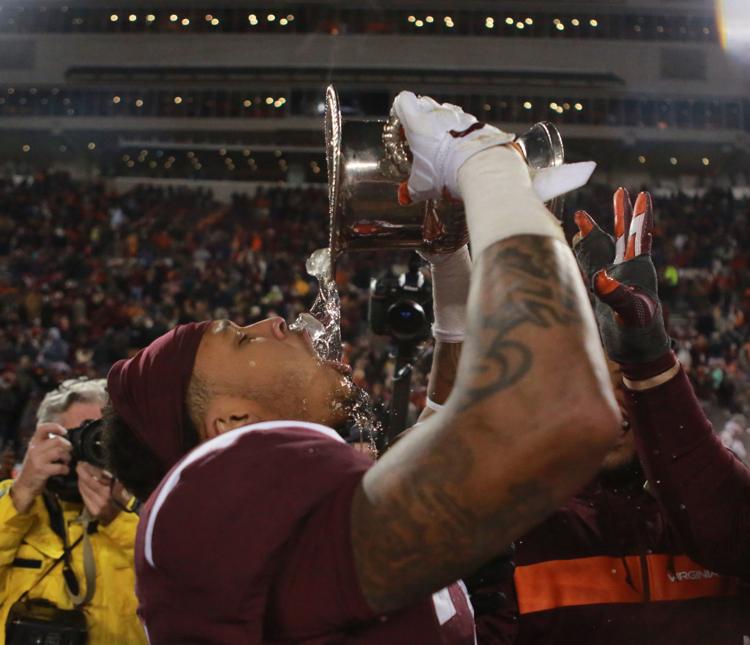 Virginia Tech at Virginia, noon on Friday, Scott Stadium
Bennett Conlin (35-17): Virginia Tech hasn't lost with Hendon Hooker starting at quarterback. Virginia hasn't beaten the Hokies since 2003. It's hard to go against Virginia Tech with the way it's playing, but I'm going to do it. From 2004-11, Virginia Tech went 8-0 in the Commonwealth Cup with six double-digit victories. In the past seven meetings, Virginia Tech is 7-0, but six of those games were decided by 10 points or fewer. The Cavaliers are getting closer, and a Brian Delaney field goal will prove to be the difference this season.
PICK: Virginia 27, Virginia Tech 24
Mike Barber, Richmond Times-Dispatch (34-18): This is the turkey on your Thanksgiving table. The focal point. The big show. This is what a rivalry game should look like. Virginia and Virginia Tech are both good teams playing well. Each has an identical 8-3 record and is on a three-game win streak. UVA has gotten its offense in gear in recent weeks, turning star quarterback Bryce Perkins loose. Virginia Tech has a defense playing as well as any unit in the nation, posting back-to-back shutouts in the final season for retiring coordinator Bud Foster. I think UVA is the better team this season, even after injuries depleted its secondary. But it's razor close. And when things get close between these two, the edge goes to the Hokies. I believe the 'Hoos can end their losing streak to Tech, but until I see it, I just can't pick it.
PICK: Virginia Tech 28, Virginia 27
Michael Niziolek, Roanoke Times (32-20): Virginia Tech is peaking on both sides of the ball at the right time. The Hokies are healthy too unlike last season when they entered the Commonwealth Cup depleted on the defensive side of the ball. Virginia is certainly capable of pulling off an upset if Bryce Perkins has a big time performance similar to the one he had against North Carolina a couple weeks ago, but that will be tough to do against a Tech defense that's turned a corner of late.
PICK: Virginia Tech 34, Virginia 20
North Carolina at North Carolina State, 7 p.m. on Saturday, Carter-Finley Stadium
Conlin: The Wolfpack just lost to Georgia Tech. A win makes North Carolina bowl eligible. The Tar Heels enter this game with plenty of motivation, while N.C. State doesn't have much at stake. Look for Sam Howell to throw for three touchdowns in the win.
PICK: North Carolina 45, N.C. State 17
Barber: North Carolina State, I'm done with you. I thought it was ridiculous the Wolfpack was an underdog against Georgia Tech last week, so I picked them as my upset of the week. And they lost. So this week, I'm riding the Mack Brown train straight to and through Raleigh. Expect big games from Sam Howell and Dazz Newsome as the Tar Heels pull away in the second half and beat State for the first time since 2015, becoming bowl eligible by doing so.
PICK: North Carolina 38, N.C. State 21
Niziolek: NC State has lost five straight games with three of those losses by more than 20 points. Last week's 28-26 loss to Georgia Tech eliminated them from bowl contention while North Carolina needs a win this weekend to reach the post season. Tar Heels freshman quarterback Sam Howell continues to put up big time numbers, and he should finish out his season on a high note against a beleaguered NC State defense.
PICK: North Carolina 37, NC State 17
Miami at Duke, 3:30 on Saturday, Wallace Wade Stadium
Conlin: Miami fell to Florida International last week in an embarrassing defeat. Duke, which is on a five-game losing streak, fell in a competitive loss to Wake Forest. Neither team looks great, but the Hurricanes have the better roster.
Barber: Yuck. This game is like that one dish your weird relative puts on the Thanksgiving table. You politely eat some and the taste briefly ruins your day. The ACC serves up this matchup between two equally pitiful teams. Miami made us all forget about its awful early-season loss by trumping that with an even-worse loss to Florida International next week. The Hurricanes look bad right now. But amazingly, Duke – the same Duke team that ripped Virginia Tech 45-10 in September – looks worse. The Blue Devils have lost five in a row and haven't been competitive in doing so. And before the FIU loss, Miami had won three straight by a combined 95-49 score. So take a spoonful of this grossness down and go with the Hurricanes.
Niziolek: Duke has lost five straight and six of seven since destroying Virginia Tech in September. Miami is coming off a stunning 30-24 loss to FIU that ended an impressive three-game win streak that included victories over Pittsburgh and Louisville. Miami at least has something to play over as it looks to jockey for a better bowl, but it's hard to feel confident about picking the Hurricanes given their up-and-down performance all season long.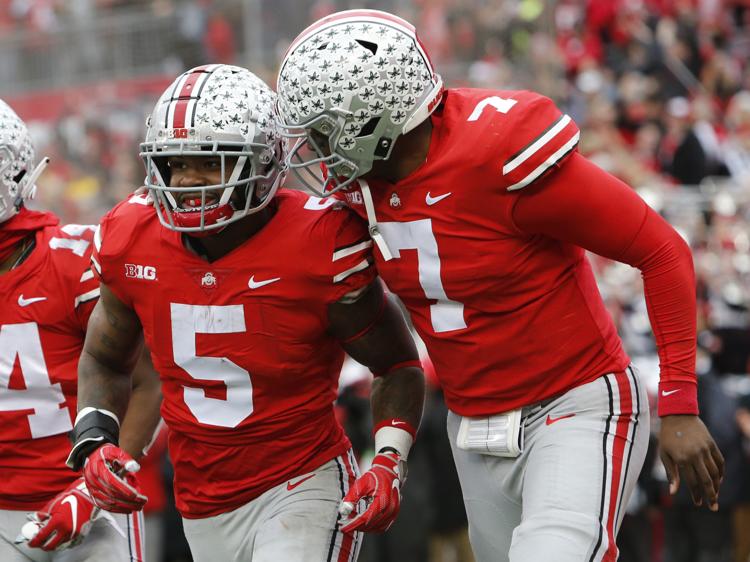 Upset of the week
Conlin: With Tua Tagovailoa out for the season, Alabama isn't the same team it was at the beginning of the year. While Auburn's offense looks meager, the Tigers play exceptional defense. Look for Gus Malzahn to use a few gimmick plays to get the ball moving. With the home-field advantage in this rivalry game, the Tigers upset the Crimson Tide.
PICK: Auburn 20, Alabama 17
Barber: Once again, lots of options this week. I like road dogs in Cincinnati at Memphis and Washington State at Washington, and East Carolina as a home underdog to Tulsa. But, yet again, I'm sticking with an ACC team and taking Louisville to win at Kentucky, where it's a 2 ½ point pup. Yes, Kentucky's defense has been outstanding but it's offense really hasn't scored against decent teams. And in Year 1 under Scott Satterfield, Louisville is a decent to better-than-decent team.
PICK: Louisville 27, Kentucky 24
Niziolek: Michigan hasn't won over OSU since 2011 when Jim Harbaugh was in his first year coaching the San Francisco 49ers. It's been a tough run for the Wolverines and last year was a low point when they gave up 62 points to Ohio State. They enter Saturday's game as nine-point underdogs. A Michigan win would turn the College Football Playoff rankings upside down. Let's cheer for chaos.
PICK: Michigan 42, Ohio State 40