In 2016, Prince George started two sophomores in its middle infield: shortstop Tevin Tucker, a well regarded Division I recruit, and second baseman Evan Kozen, who had just arrived from Alabama with his family.
Kozen has developed under Tucker's tutelage, and the pair are now in their third season playing next to each other.
On Friday night, each hit a pair of doubles, and No. 5 Prince George thumped No. 10 Matoaca 10-0 in five innings. The Royals erupted for five runs in the third inning, chasing Matoaca starter Jacob Waltman from the game.
Prince George (15-2) scored its 10th run of the night when Michael Peterson hit a sacrifice fly to center field, scoring Tucker from third and ending the game.
"We played pretty doggone good tonight," Prince George coach Mickey Roberts said. "If we keep playing at this level, we're going to be OK."
Kozen came to Prince George when his father, a soldier in the army, was transferred to Fort Lee. Prince George was a little less country than he was used to, but he had heard the baseball team was pretty good. Likewise, Tucker could tell the new infielder had some skill.
"I knew he could play a little bit," Tucker said with a grin.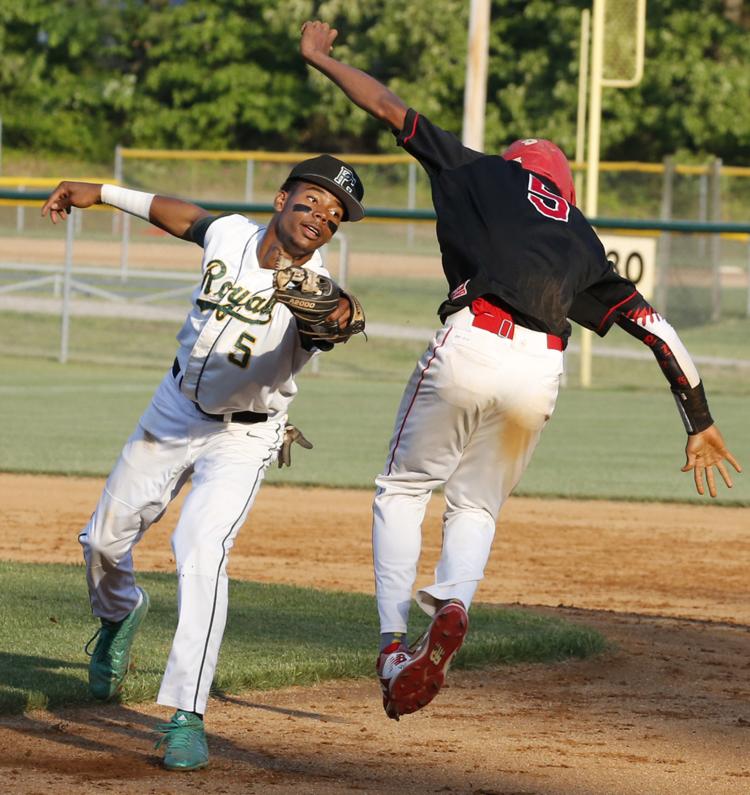 Tucker, who has signed with West Virginia, showed Kozen how things were done on the Royals team. Practices are conducted at 100 percent. You dive for balls in practice because you dive for them in games. Tucker taught Kozen how to smoothly field a ground ball, pick it up and throw it across his body in one motion.
These days, everything's a competition between the two infielders. They push each other to see who can field more ground balls. On Friday night, they were neck and neck offensively. Tucker had two doubles, a run and three RBIs. Kozen hit two doubles, scored two runs and added and an RBI.
They're just two parts of a lineup loaded with hitting ability. Eight of nine batters either scored a run or hit an RBI Friday.
Third baseman Jacob Farrar hit a solo home run, a high, towering shot to left field. Nicholas Sober, the ninth batter in the lineup, reached on two walks and a hit by pitch, and turned those opportunities into two runs. Prince George also stole five bases on five attempts and bunted three times. Those fundamentals make up a big part of practice, Tucker said.
"What you saw tonight," Tucker said, "we do it every day."
Buck Forbes threw five shutout innings for Prince George, allowing three hits. He's become the team's ace since Johnathan Walton endured hand and arm injuries. Walton may not pitch again this year, Roberts said.
Waltman, Matoaca's starting pitcher, let his pitch count get too high too quickly. He loaded the bases in the first, then gave up two unearned runs in the second. Prince George pounced on him in the third, opening the inning with two singles, then Kozen's RBI double. Waltman allowed seven runs (five earned) on four hits and four walks. He struck out six.
Four batters later, Waltman was out of the game.
"Our guys kept the pressure on," Roberts said.
---
Matoaca          000 00 — 0 3 2
Prince George 025 21 — 10 8 1
Kirby 1.1, Waltman 2.2, Johnson 0.1. Forbes 5 W: Buck Forbes L: Jacob Waltman.
Records: Matoaca 13-3; Prince George 15-2