It's about 7 p.m. when three men dressed in Carolina blue step into the gymnasium at Trinity Episcopal School in Richmond's south side. They say hello, shake hands with the coaches near the door, then stroll down the sideline of the basketball court to get a good view of the game.
It's late September, and basketball season is still two months away. The Trinity team is conducting a casual shoot around on a Monday night. They're playing 5-on-5 on one half of the gym floor.
But tonight is different, because there's an audience. The basketball team at Trinity is practicing in front of North Carolina basketball coach Roy Williams and two of his assistants.
The players who are on the court, dressed in navy and white pennies, haven't noticed him yet. They keep dribbling and shooting and screaming to one another, undisturbed.
The kids who are off to the side, sitting on the floor, immediately grab their phones to pull up Snapchat or Instagram. The moment is worth documenting.
This is likely the first time Williams has stepped foot on Trinity's gymnasium floor. It's meaningful, sure. But in a way, it's becoming normal for the Trinity kids. College coaches have been visiting nonstop the past month.
Mike Rhoades of VCU was here three days earlier. Buzz Williams of Virginia Tech was here the week before. Tony Bennett of Virginia came four days later. Assistants from Duke, UCLA, and N.C. State all have shown up.
That's the life of an offseason high school basketball team when the 24th best junior in the country, according to ESPN, is on the roster.
His name is Armando Bacot, and he's a 6-foot-10, 235-pound center who's 17 years old but looks like he has no business playing among high schoolers. North Carolina already has offered him a scholarship. So has Kansas. So has Duke.
And now, at this moment, the man who once recruited Michael Jordan is recruiting Armando Bacot.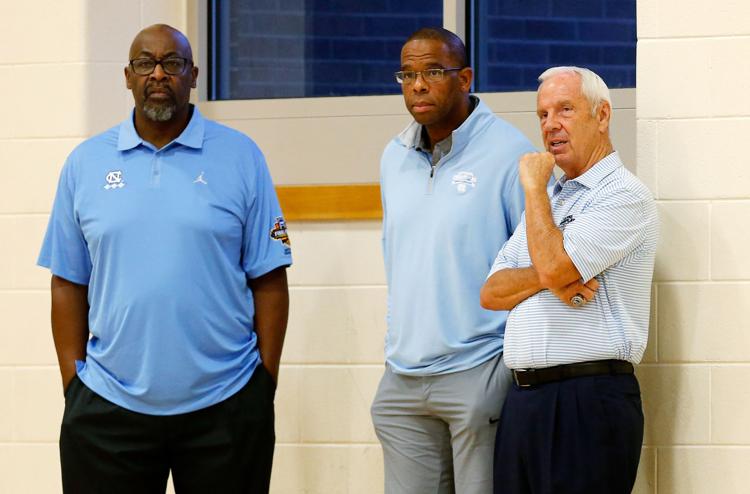 The kids in the game have noticed their special guest. Roy Williams is watching silently. Each player on the floor turns up his energy level two clicks.
"They'll try to do a little extra to show the coaches what they've got," Bacot says later.
An otherwise typical Monday night has turned into an evening the players will remember forever, Trinity coach Rick Hamlin says. He was a student and basketball player at Trinity, and he can still remember a basketball game against Woodberry Forest where Steve Spurrier was recruiting a player on the opposing team. Twenty years later, the memory of playing before Spurrier is fresh in Hamlin's mind.
"It's an initial thrill," point guard Tink Boyd says. "But once the ball starts going, it's just basketball."
What's the etiquette when Roy Williams is in the house? Trinity football coach Sam Mickens is here, and he wonders if it's OK to ask for a selfie.
For another day, he decides. Instead, he walks over, introduces himself, and chats for five minutes about football. Forty-plus years ago, before Roy Williams became an icon at Kansas and North Carolina, he was a high school football coach.
The players are in disagreement. Bacot says it's no big deal to ask for one. But on this night, no one is bold enough to ask.
"A selfie?" Boyd asks. "Maybe between games. He's here to watch Mondo. I don't want to do anything to turn them away."
The players have played two rounds of 5-on-5, and it's time to make things interesting, Hamlin decides. It's time for a game of coaches vs. players. Hamlin and four of his assistants take the floor.
For the next 20 minutes, Bacot, 17 years old and recruited by the top schools in the country, is guarded by assistant Steven McCarthy, who's a good seven inches shorter and more than a decade older.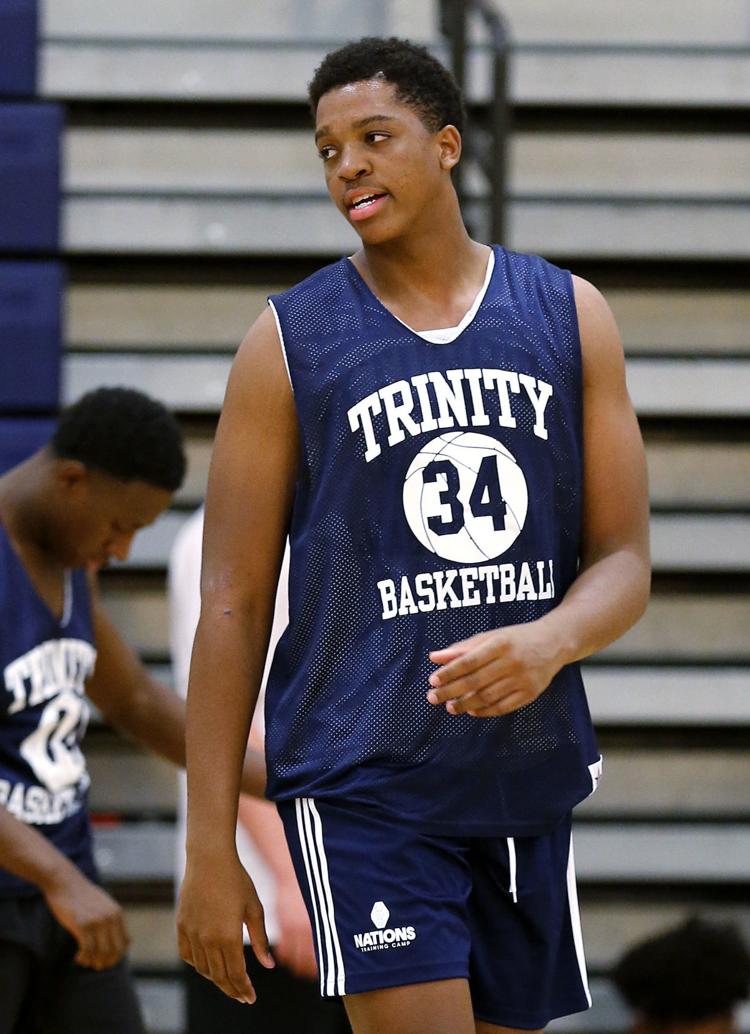 A 6-foot-10 center, Bacot was named All-Metro last year and has offers from most of the country's top programs.
Finally, Williams shows some excitement about the game. He's turned off his inner scout and let loose his inner fan. Now he's standing, smiling and clapping.
The coaches win 11-9, shocking the Division-I bound teenagers. The coaches had fresh legs, after all, while they players have been pushing up and down the court the past hour.
"Coach, I like your toughness," Williams tells Hamlin when it's all over, putting out his hand for a congratulatory shake.
Hamlin now has played in front of Steve Spurrier and Roy Williams, though a couple decades apart.
Bacot sits down with Williams and for five minutes, the legendary coach and the budding recruit chat. Visits like these, Hamlin says, are mostly about relationship building. Recruiters might offer a few tips, but mainly they come to spend face time.
Now the conversation is over, and Williams and his assistants make their way to the exit. It's 8:30 and a school night, after all. There's still homework to be done, and Williams has a plane to catch.
Ninety minutes after he arrived, Roy Williams and his assistants say good night and quietly walk out the door.