Prince George boys basketball coach Travis Carr figures some college coach is going to get a nice catch once senior center Christian Chappell gets into the body shop.
Chappell is 6-foot-10 and weighs 330 pounds. That's down about 15 pounds from last year, and Carr believes Chappell should be able to get to at least 300 with college training programs.
That would continue to improve his mobility and stamina and overall game, which already is formidable on the high school level. Chappell averages 17.9 points and 9 rebounds.
---
---
He's obviously a load to handle inside, but he also has enough range and touch to make 3-pointers (about 40 percent). He's an 80 percent free throw shooter.
"He's very unique to coach," said Carr. "He's a great kid. I've had him on the varsity for three years now. He's been a captain for me for the past two seasons. His teammates love him. The fans love him. He's great for the school."
Chappell is getting looks from VMI and Mercer, as well as Queens (N.C.), the top-ranked team in Division II. His brother, Savonte, a 6-5, 285-pound sophomore, is averaging 7.2 points for Christopher Newport.
"You look at his body, and he looks like he could go play in the NFL as an offensive lineman, but the kid loves basketball," said Carr.
"He's got great hands and great footwork. He's never going to run a fast time at the NFL combine, but he's a force in the paint on both ends."
Freeman has a deep lineup and a 9-1 record
Douglas Freeman coach Larry Parpart has used a rotation of 10 players this season, and four of them are averaging 9 points or more.
The result: a 9-1 start to the season. The Rebels have knocked off Glen Allen twice, Patrick Henry and Matoaca. They entered The Times-Dispatch Top 10 ranking this week at No. 10.
There are eight seniors on the team, but two juniors are the leading scorers: Michael Fortune (13 ppg) and Muktar Abdultadir (11).
"We've had different guys step up," said Parpart. "They're very unselfish."
Senior Christopher Gilliam also averages 11, and senior point guard Gray Pappas averages 9.
Against Monticello last month, Abdultadir made a school-record eight 3-pointers. Abdultadir, a 5-11 guard, was a bench player last year, but he is one of the team's most improved players and has joined the starting lineup.
Freeman appears to be having its best season since 2012-13. That squad went 20-7 and lost to L.C. Bird in the Central Region quarterfinals. It was led by two strong shooting forwards, Jimmy Marshall, who went to Northeastern, and John Lutkenhaus, who went to Mary Washington.
What to watch for
Five of the top seven boys teams in The Times-Dispatch Top 10 will play Saturday at Henrico High School in the VirginiaPreps.com Classic. All four schools will face highly regarded out-of-town teams.
W.T. Woodson (Fairfax), the defending state champion in Class 6, opposes No. 1 Trinity Episcopal, the defending champion in VISAA Division I. Woodson features James Madison signee Matt Urbach.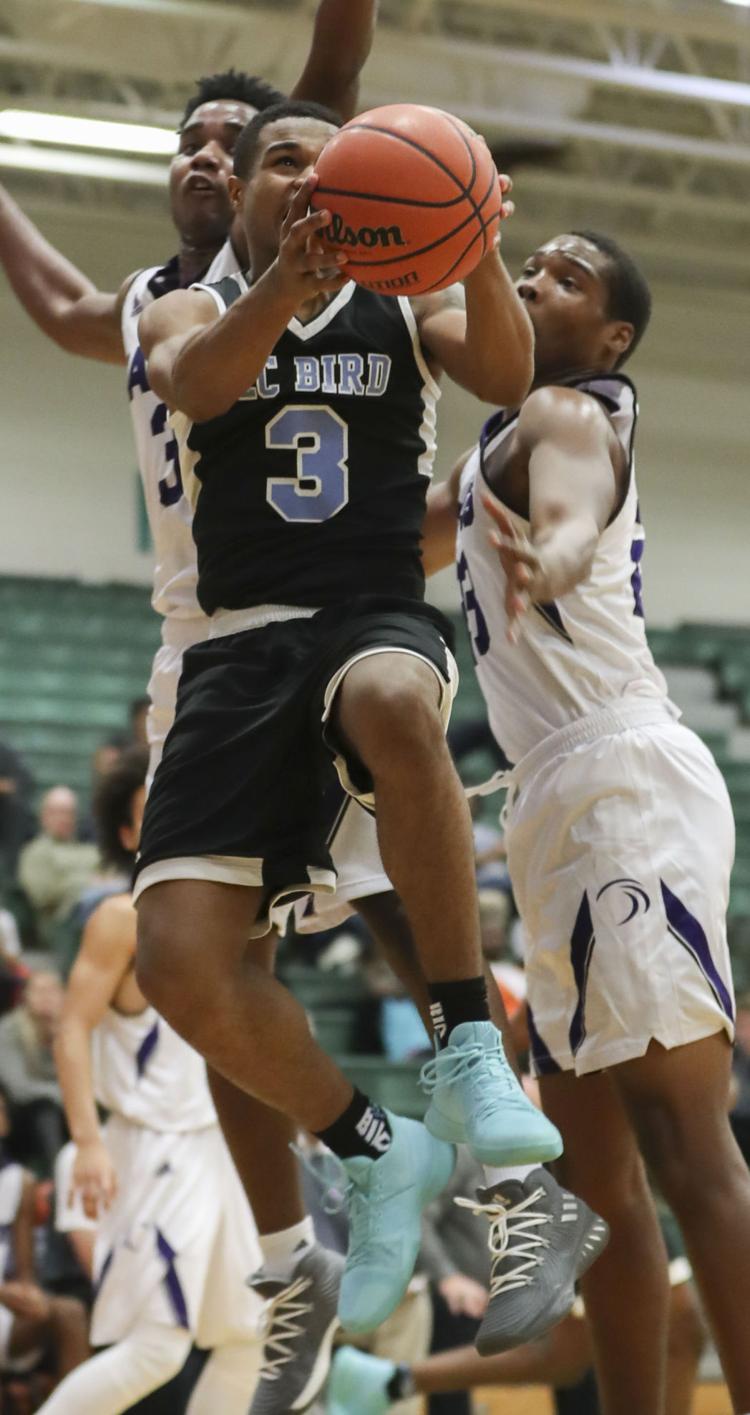 No. 2 John Marshall plays Potomac (Dumfries), which won 5A state championships in 2014 and 2016. No. 4 L.C. Bird opposes undefeated Lake Taylor (Norfolk, 10-0), and No. 5 Highland Springs faces Green Run (Virginia Beach, 9-2). Henrico will play Glen Allen in the opener.
-- Henrico vs. Glen Allen, noon
-- No. 7 George Wythe vs. Eastern View, 1:40 p.m.
-- No. 5 Highland Springs vs. Green Run, 3:20
-- No. 4 L.C. Bird vs. Lake Taylor, 5
-- No. 2 John Marshall vs. Potomac, 6:40
-- No. 1 Trinity Episcopal vs. W.T. Woodson, 8:20
---
GIRLS
Win over STAB is big LIS step for Trinity
Three weeks after winning the Times-Dispatch Invitational Tournament, Trinity Episcopal beat St. Anne's-Belfield, the four-time defending LIS champion, 43-42 on Tuesday to advance to 8-0 in Adam Lonon's first year coaching the Titans.
Down by a point late in overtime, the Titans got a rebound and passed it ahead to point guard Angel Burgos on a fast break. Burgos scored a layup with 10 seconds remaining to put the Titans up by 1, and Trinity forced a STAB turnover to capture the win.
"I'm still in awe," Lonon said hours after the game. "To beat the four-year champs in the LIS, that means a lot more than any win in the city."
Though it's Lonon's first season at the helm, the Titans are off to a fast start. Big wins early in the season have helped Trinity's players buy into Lonon's coaching style, he said.
"Being my first year, obviously it's going to be a buy-in process," said Lonon. "I think it's pivotal that they're getting these early wins, just so they can build their confidence and kind of believe."
Burgos and Elaina Chapman, a forward who plays mostly in the post, lead the Titans. Burgos averages 17.5 points, while Chapman scores 17 per game.
James River gets its first win over Cosby
For the first time since Cosby High opened in 2006, the James River girls beat the Titans.
The Rapids won 50-45 at home Wednesday and were led by Grace Townsend, who scored 17 points, including 10 in the fourth quarter. Emma McCabe scored 15 for James River, and Hannah Ward had 11.
Beating Cosby is no simple task considering the program's success in its short history. The team won the Class 6A state championship three straight years from 2014 to 2016. The only other local school to do that was Monacan in 4A each of the past three seasons.
In the 11 full seasons since Cosby opened, three Titans have been named All-Metro player of the year four times. Dorothy Adomako earned the honor in 2013 and 2014, Becca Wann won it in 2010, and Jazmin Pitts got it in 2009.
The Rapids, who are unranked, moved to 6-4 with the win, while No. 5 Cosby is now 5-3. Both teams played again Thursday.