HOPEWELL — The Hopewell boys basketball team has a roster heavy with juniors and seniors. It's an experienced team that made the Class 3 state championship game two seasons ago.
But it's the freshman, the coach's son, Elvin Edmonds IV, who is the leading scorer. He led the No. 6 Blue Devils with 21 points Tuesday in a 72-52 victory over No. 10 Prince George.
His father, Elvin Edmonds III, didn't see it coming so quickly. He expected his son to be the second or third option. Maybe by February, he figured, his son would be the top scorer.
"He's embraced the role of making plays," said Edmonds III.
Edmonds sank a 3-pointer for Hopewell's first bucket of the game. It gave the Blue Devils (14-3) a lead they would never relinquish.
With Edmonds' emergence, things haven't gone as expected. But Hopewell has prospered anyway. The presence of a freshman hasn't disrupted the chemistry of the team. It's the opposite, actually, senior Faizohn Taylor said. This team has more chemistry than any he's been a part of.
"There's chemistry everywhere on the floor," Taylor said.
Edmonds, the coach, encourages each of his players to "be a star in their role."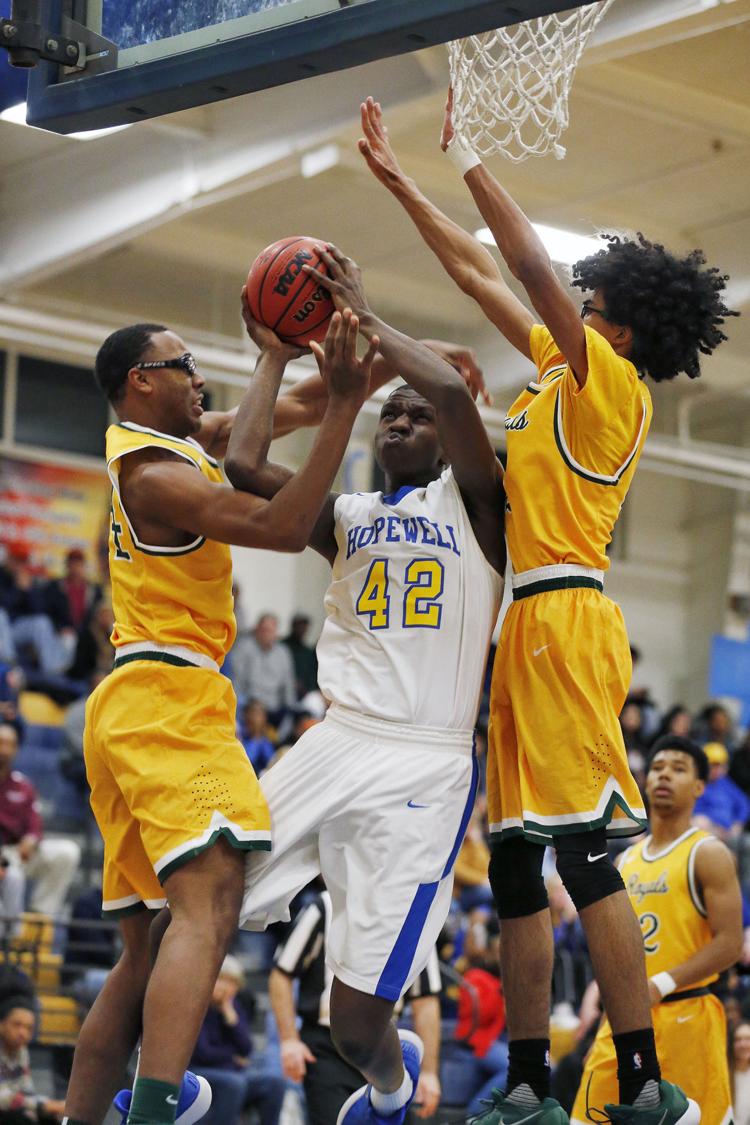 Taylor's role includes scoring points, and he netted 17 on Tuesday. When Prince George had cut Hopewell's lead to 5 in the second quarter, Taylor sank a 3-pointer. Hopewell went on a run, and by halftime its lead was in double digits again.
Malik Jefferson scored 10 points for Hopewell, but got in foul trouble and spent much of the second half on the bench.
Taylor is one of Hopewell's leaders. And he's completely comfortable having a freshman lead beside him. He's seen all the work Edmonds has done to get to this point.
Some mornings, Edmonds arrives at school at 7 a.m. and heads to the gymnasium to put up extra shots. He's earned his role on this team. A 6-foot-1 point guard, he already has offers from Old Dominion, Winthrop and Hampton.
"(This year) has been a lot better than expected," he said.
Prince George (10-7) lost its second game in two days, having fallen to Dinwiddie the night before. Senior center Christian Chappell, who's 6-10, 330 pounds, was limited to 12 points Tuesday. Hopewell double-teamed him whenever it was able.
Senior guard Tynan Bassett added another 12 points. The defense, said Edmonds IV, was all on the same page.
It's the little things, Taylor said, that Hopewell needs to improve upon. Things such as help-side defense, or going after loose balls. Doing the little things to gain an extra possession here or there. In this Hopewell team, Taylor sees a group capable of winning the state championship. When he was a sophomore, Hopewell reached the state title game and lost to I.C. Norcom.
"I feel confident," he said. "I'm not going to sugarcoat nothing."
---
PRINCE GEORGE (10-7) — Christian Chappell 12, Tynan Bassett 12, Isaiah Larkin 4, Jajour Lambert 5, Tevin Tucker 2, Johnny Soto 8, Jordaen Scott 4, Tavian Morris 5, Brandon Humphrey 0, Jeff Jackson 0, Patrick Henry 0. Totals: 20 10-23 52.
HOPEWELL (14-3) — Elvin Edmonds 21, Faizohn Taylor 17, Malik Jefferson 10, Jalen Jefferson 2, LaMonta Ellis 8, Ja'Quan Dembo 3, Trevonte Jones 4, Izeah Parker 6, Antwone Blackwell 1, Jamareon Brown 0, Patrick Despencer 0, Komari Smith 0, Sean Wallace 0. Totals: 26 13-20 72.
Prince George 10 14 10 18 — 52
Hopewell 20 14 13 25 — 72
3-point goals: — PG: Christian Chappell 1, Jajour Lambert 1 HOPE: Elvin Edmonds 2, Faizohn Taylor 2, Malik Jefferson 1, LaMonta Ellis 1, Ja'Quan Dembo 1.