The texts started before the region semifinal games were in the books Tuesday, and they haven't stopped for John Marshall boys basketball coach Ty White.
White expected the barrage. Meetings between JM and George Wythe, two of the city's decorated programs, generate a high amount of interest.
It'll be at a really high level Friday when Wythe (19-2), ranked fifth in The Times-Dispatch poll, and No. 1 Marshall (18-6) square off for the Class 3, Region B championship at Wythe at 7 p.m.
Both teams have qualified for the state tournament, but that doesn't diminish the anticipation for this meeting. The Justices and Bulldogs didn't play during the regular season.
"(Fans) know it's going to be highly competitive,"' White said. "It's the north vs. the south (of Richmond). It's Richmond Public Schools against each other. It's kids who compete against other (during the summer in AAU) getting the opportunity to play against each other on a bigger stage."
Big stages aren't foreign to either school. Since 1982 (including when they were part of the Richmond complex schools as Marshall-Walker and Jefferson-Huguenot-Wythe), John Marshall and Wythe each have played in five state championship games.
They played each other for the 3A state title in 2014, with JM winning 74-56. Wythe won the 3A state crown the next year, beating Spotswood in the final.
Willard Coker was versed in the rivalry before taking over at Wythe six years ago. As an assistant coach at Virginia Union and then the head coach, Coker watched Wythe and Marshall play to find potential recruits and as a fan.
Coker said he hardly had a chance to look up at the final score of the Bulldogs' 77-43 victory over Armstrong in the semifinals Tuesday before someone mentioned that John Marshall had won.
"Even before, some people were looking past the (semifinals)," Coker said. " 'Oh, you have to play John Marshall.' I said, 'We have to play Armstrong.' ''
Wythe will have to find a way to deal with John Marshall's size and scoring. The Justices, who suffered most of their losses in high-caliber, out-of-state tournaments, revolve around one of the country's top sophomore recruits in 6-foot-10 Isaiah Todd. They also have 6-9 Roosevelt Wheeler and plenty of scoring with guards Demarr McRae and Lavar Allen.
JM rolled up more than 100 points in both of its region wins, beating William Monroe 104-34 and Culpeper 106-74.
"We have to concentrate on what we do best," Coker said. "We have to play hard, keep a hand in everybody's face and box out extremely well."
White said he expects Wythe to play fast and shoot 3-pointers because of its guard play. The Bulldogs have a lot of interchangeable 6-4 and 6-5 players and can put up points with Jarec Brown, Ikechi Chantilou and Darrell Purdie.
"I think it's good for the city," Coker said. "Hopefully the game will be played the way people expect, at a fast pace with good basketball."
The teams may get another shot at each other in the state tournament, although it would be in the semifinals. The champion and runner-up from Region B are in the same bracket.
---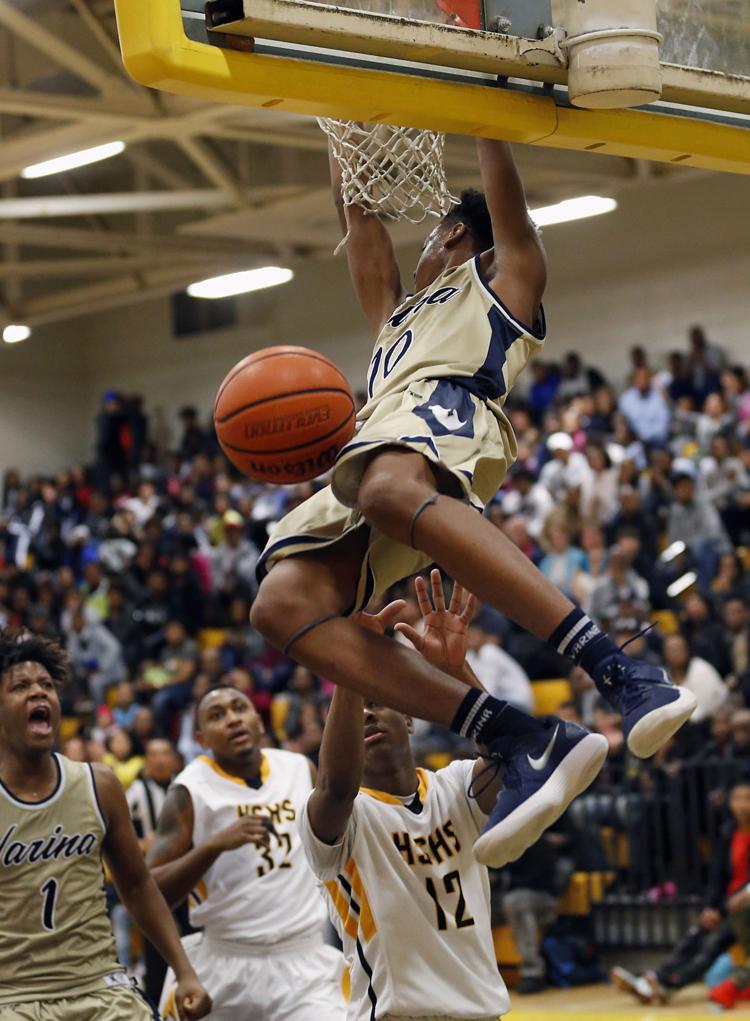 In other action
A one-sided rivalry: The boys basketball teams from rivals Highland Springs and Varina have met three times this year, and all three have been won easily by Varina. The Blue Devils (22-2) claimed victories by scores of 88-55, 71-50 and 63-41.
Matchup No. 4 comes Friday in the Class 5, Region B championship game at Meadowbrook. Highland Springs (12-10) is playing its best basketball of the season, having upset No. 1 L.C. Bird and No. 5 Meadowbrook this week.
Upsets aplenty: There have been at least three 8-1 upsets in boys region tournaments across the state this week. Highland Springs beat L.C. Bird in Class 5, Region B; Salem (Virginia Beach) beat Maury in Class 5, Region A, and Eastern View beat Caroline in Class 4, Region B.
James River gets another shot at knocking off Cosby: Earlier this year, the James River girls team knocked off Cosby for the first time in school history. The Rapids claimed a 50-45 victory, but Cosby got revenge in the rematch, winning 55-36 in early February.
They face off Friday in the Class 6, Region B title game at Cosby. Both teams automatically qualify for the state tournament.
Boyd's big season continues: Jada Boyd is the Richmond area's top scorer, averaging about 36 points. If she keeps that up, she'll set the Virginia High School League record for scoring average in a season. Her team, Appomattox Regional GS, entered the Class 1, Region B tournament as the No. 5 seed.
ARGS pulled off upsets over No. 4 Cumberland 43-27 and No. 1 Altavista 52-36 to earn a berth in the state tournament. ARGS visits No. 2 Stonewall Jackson (Quicksburg) on Friday for the region title.
Boyd has scored 36 and 41 points in the past two games.
Iverson's record goes down: Boyd isn't the only player in the state trying to break scoring records. Mac McClung, a senior at Gate City, broke Allen Iverson's VHSL record for single-season scoring Wednesday in the Class 2, Region D tournament.
A Georgetown pledge, McClung scored 41 points, giving him 958 this season and 2,607 in his career, the fourth most in VHSL history.
Highland Springs and Bird girls meet again: In the five years since realignment, the Highland Springs and L.C. Bird girls teams have met every year in the playoffs.
In each of the past four years, either Highland Springs or L.C. Bird has finished as the Class 5 runner-up to Princess Anne. Highland Springs has done it three times. Bird has done it once.
Highland Springs and L.C. Bird meet again Friday in the Class 5, Region B title game. They played earlier this month, and Highland Springs won 50-45. The Springers are led by freshman Jada Walker, one of the area's top scorers. The Skyhawks are junior-heavy and led by Jaden Watkins and Mya Coleman.
There are semifinals, too: Some brackets are still at the semifinal stage Friday. In the Prep League, No. 2 Collegiate opposes No. 3 Woodberry Forest. No. 1 Trinity Episcopal hosts No. 4 St. Christopher's. The winners meet Saturday at Trinity.
On the public school side, Class 4, Region B holds its semifinals Friday. The Monacan boys and girls and Hanover girls are still alive.