Collegiate basketball coach Del Harris calls 6-foot-9 senior forward Robbie Beran "one of the most versatile players in the state."
It was easy to see why during Friday's boys championship game of the Times-Dispatch Invitational Tournament at Hanover High.
Beran affected the game in several ways. He scored 28 points, grabbed eight rebounds, had four assists and blocked three shots while earning most valuable player honors as Collegiate beat Huguenot 63-43. The TDIT title was the second for the Cougars, who also won in 1998.
Considered a top 100 recruit, Beran was more of a perimeter player early in high school. He will take a diverse game to Northwestern next year.
On one play Friday, he ventured nonchalantly down to the low post, his back to the ball. He quickly turned, spread out, received an entry pass, spun and sliced to the basket.
He can post up and shoot 3-pointers. He's an adept passer who can alter shots near the basket.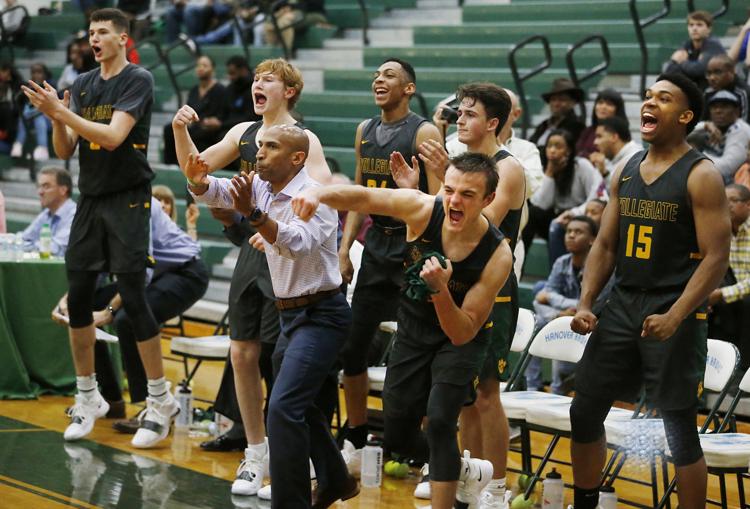 "One big thing for him is he wants to be a player," Harris said. "It's not so much that he's a guard or a forward or a center. … You can't just game-plan for him in the post. He's very unselfish. That's the biggest thing. He would rather fill up the stat sheet than go out and get 40."
The long and short of the championship game was just that: Beran's length and Huguenot's lack of it.
Huguenot has 13 players on the roster. Twelve are listed as guards, most in the 6-foot range. Still, the Falcons battled inside in the first half, led by Osmand Harris' 15 points.
Beran, though, was too much. He had 19 of Collegiate's 33 points at halftime. With the Cougars leading 24-18 in the second quarter, Beran scored inside, converted two free throws and nailed a 3-pointer to fuel a 9-2 closing run.
With Mac Macdonald (13 points) and several others pitching in, Collegiate used a 14-1 spurt to start the second half that gave the Cougars a 47-22 advantage.
"I'm just trying … to get bigger and stronger," Beran said. "I'm just trying to improve every day. I'm trying to get my game as multidimensional as possible. I started off my high school career as that shooter. I'm just kind of expanding more."
Both teams, unranked in the T-D top 10, had slow starts to the season. They found some mojo during the tournament by knocking off ranked teams.
Huguenot (3-4) started the season 0-3. The Falcons pulled off the biggest surprise of the TDIT, upsetting No. 4 Trinity Episcopal 88-85 in the first round. They dispatched Armstrong 75-60 in the semifinals.
Collegiate (6-2) was 1-2. The Cougars knocked off No. 10 Douglas Freeman 55-53 in the first round of the TDIT, then beat No. 8 Highland Springs 60-55 in the semifinals.
Still, Harris said the Cougars are trying to find an identity after losing two important starters — 6-6 Ayinde Budd (shoulder) and 6-4 Charles Geho (knee) for the season. Geho was injured in Thursday's semifinals.
"We're a defensive program," he said. "We're holding opponents to under 50 points a game. That's what we do. We can't replace Ayinde Budd. We can't replace Charles Geho. But what we can do is get a couple more rebounds, get a couple more loose balls, get a couple more points, get a couple more assists."
Also on the all-tournament team were Macdonald, Harris, Highland Springs' Jordan Crump and Trinity Episcopal's Henry Coleman, who scored 46 points and had 14 rebounds in a consolation game Friday.
---
COLLEGIATE (6-2) — Jackson Watkins 9, Robbie Beran 28, Cody Patterson 3, Hardy Wyatt 2, Brooks Moore 2, Mac MacDonald 13, Quentin Toulson 6. Totals: 25 11-13 63.
HUGUENOT (3-4) — Kevin Gayles 4, Dashawn Patillo 2, Jarron Fleming 8, Jonathan Hargett 3, Tabriz Allen 5, Osmand Harris 15, Khabir Mitchell 6. Totals: 15 11-28 43.
Collegiate 15 18 18 12 — 63
3-point goals: — COLL: Jackson Watkins 1, Robbie Beran 1 HUG: Tabriz Allen 1, Khabir Mitchell 1.