The Trinity Episcopal boys basketball players were divided into two teams for practice. On one side were four of Trinity's starters. On the other, Armando Bacot, the team's star sophomore. As usual, Bacot was ready to put a lighthearted spin on the situation.
"I feel like Tito is out of the Jackson Five right now," Bacot said.
He has a tendency to tell jokes that only the coaches understand.
"What high school kid today knows who Tito Jackson is?" Trinity coach Rick Hamlin said with a laugh. "He's kind of an old soul."
Bacot is 16 years old, but capable of talking politics, sports or old movies. He knows a bit about everything. In so many ways, he is ahead of his time.
He's 6-foot-9, a sophomore and already one of the Richmond area's premier players. He averaging 19 points and 11 rebounds, and he's gotten scholarship offers from Virginia, Florida State and Miami. North Carolina and Duke have shown interest in him, but haven't pulled the trigger yet.
And it's all happened almost overnight. Bacot wasn't a star last year. He wasn't even a starter most of the season.
He was originally in a district for Varina High School, but transferred to Trinity as an eighth-grader. He called Trinity "a good opportunity." Other players from his AAU team, Squire, had played there, including Josh Brown, the school's all-time leading scorer.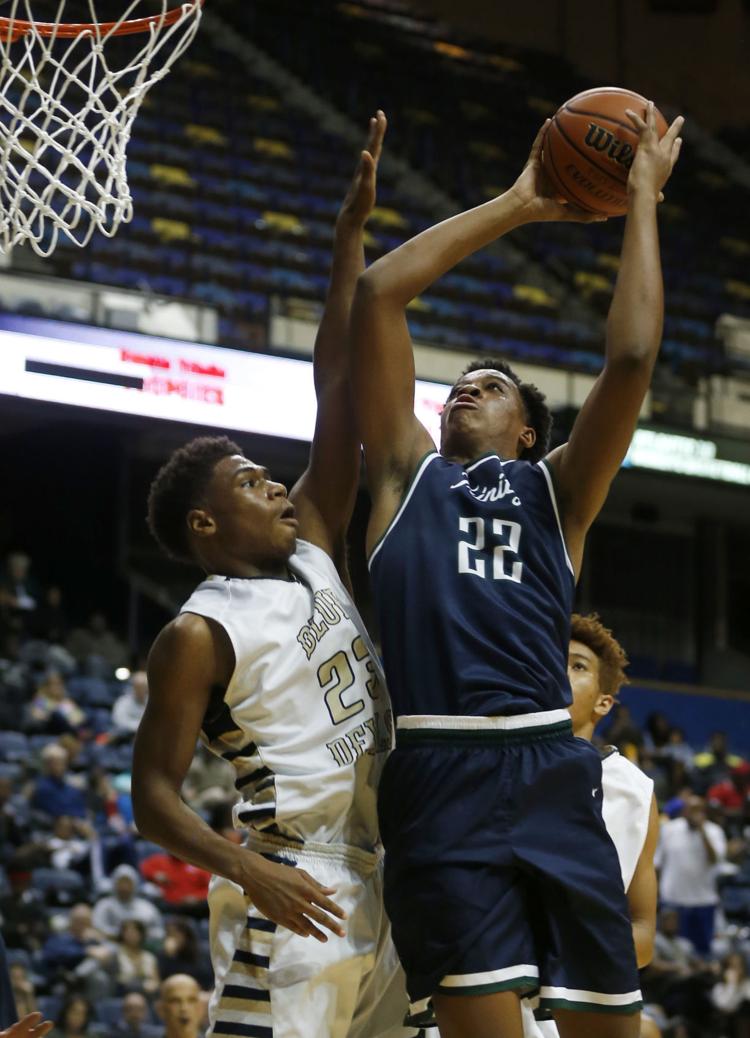 As soon as Bacot arrived, Hamlin could see his raw potential. Bacot already towered over his peers. Eventually, Hamlin figured, Bacot would be great. The coach implemented a plan to slowly bring him up the ladder. He would play junior varsity as an eighth-grader, join the varsity as a backup his freshman year, and the coach hoped he'd become a starter by his sophomore year.
By his senior year, Bacot would be a star. That was the plan. But Bacot has arrived two years early.
The difference between last year and this year, he said, is his body's development. He's always had the skill, he said. But now he's stronger than ever before. He spent a large portion of the summer visiting the weight room and doing squats. His leg muscles grew, and now he can jump higher.
"Last year, I had a really immature body," he said. "I wasn't toned at all. I had no muscles at all."
He started surprising himself with the dunks he pulled off. No longer did he need a wide-open lane to dunk the ball. He could dunk in traffic or over defenders — "big man" dunks, he calls them.
He kept growing, too. He was already 6-foot-7 as a freshman. Now he's 6-9. He passed senior Zach Jacobs, who is 6-8, and became the team's tallest player. As Bacot gained on Jacobs, he would tease his teammate about the narrowing gap in their height. When Bacot finally passed Jacobs, Bacot was a little stunned.
During the summer, Jacobs shot hoops at the Trinity gymnasium. Sometimes, he would go a week or two without seeing Bacot, if one of them was away for a tournament. And when he did see him again, Jacobs could notice small improvements in his teammate. He noticed Bacot jumping higher and dunking more.
Bacot developed other skills, too. He became a better ballhandler and passer. His passing might be his best ability, Hamlin said. When he's double-teamed under the basket, he's good at finding an open man and getting rid of the ball.
Last year, when Jacobs was the tallest, most physical player on the team, he was Trinity's center. Now that the lineup has two players 6-8 and taller, Jacobs is allowed some flexibility. The James Madison signee can play farther from the basket and take more jump shots.
But Hamlin doesn't consider Jacobs the exclusive power forward and Bacot the team's only center. The coach doesn't like to pigeonhole them into one position. He prefers the two feed off one another and take what the defense gives them. Defending two players of their size, athleticism and shooting ability has proved difficult for most opponents.
Ranked No. 2 in The Times-Dispatch Top 10, the Titans are 30-1. Their only loss came to L.C. Bird, the area's No. 1 team. Trinity hosts Collegiate on Friday in the Prep League semifinals.
After the season, Jacobs will graduate. So will point guard Aaron Duhart, who's bound for Army. But Bacot has two more years, perhaps to grow a little more, dunk a little higher and give more glimpses of just how good he can get. The guys at Trinity hope what they're seeing now is just the beginning.
"I'm excited to watch him in the future and see what happens," Jacobs said.