Nia Covington has two state championship rings stowed in her jewelry box that she sometimes wears. Marissa Gallagher also has two. They hang in a case along with varsity letters from her high school playing days.
Those days ended on Wednesday, and the two seniors at Cosby High will be content with a pair.
Woodbridge denied the Titans a fifth state championship in six seasons and a storybook sendoff for coach Rachel Mead. Playing catch-up from the outset, Cosby rallied and went into the final period trailing by 2. It was outscored 20-1 and fell 64-43 in the Class 6 girls final at the Siegel Center.
The game was the last for Mead, who is retiring from coaching.
"It definitely would have been special," Covington said. "It's our last year. It's coach's last year. … It would have been icing on our cake.
"It's a blessing really just to be here. Most people go their whole high school career and they don't ever come here. We've been here three times. We didn't ever take it for granted."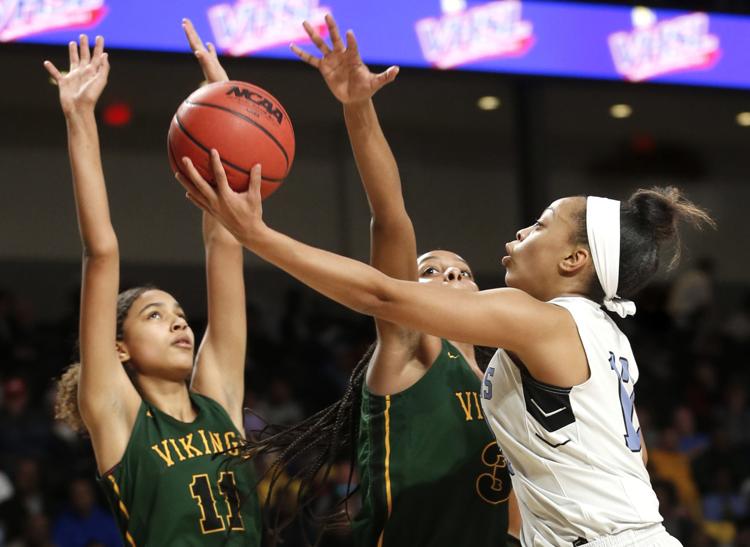 Covington started as a freshman and Gallagher played a lot off the bench on the state title team in 2016. They were mainstays last year, when the Titans claimed another title.
A third was derailed pretty much by the beginning and the end.
Cosby turned over the ball in the backcourt against Woodbridge's press on its first three possessions, and the Vikings turned the sequence into a quick 8-0 lead.
"They just kind of jumped out on us," Cosby junior guard Bailey Williams said. "Once we … calmed down a little bit, we were able to turn them over and get back."
The Titans (23-5) started getting steals from Isabel Tillet (six) and Gallager (four). But every time they climbed back, the Vikings (29-1) re-established a cushion.
A 5-0 spurt pushed Woodbridge to a 42-31 lead with 2:49 left in the third quarter. Cosby closed the quarter with an 11-2 surge to trim the deficit to 44-42.
The momentum was short-lived. Vanessa Laumbach, a 6-foot-1 forward/center, scored on a scoop shot and then drilled a 3-pointer to make it 49-42. Cosby was unable to respond.
"It's hard," Mead said. "We let them jump on us in less than the first minute and dug a little bit of a hole. My kids never give up. They scrapped their way back. We came within 2. It's just what they do."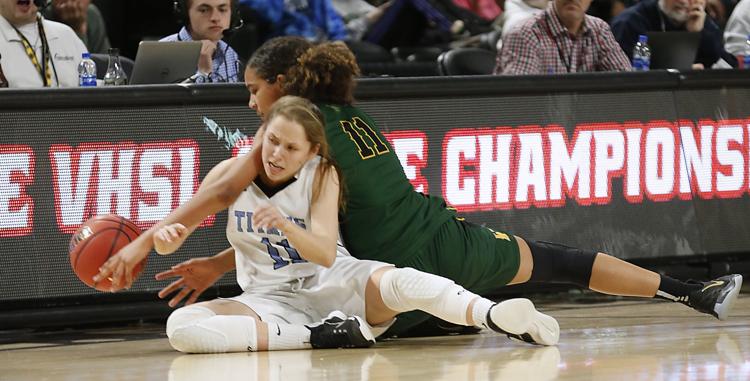 The Titans had trouble with Woodbridge guard Camryn Platt-Morris (8 of 9, 18 points) and the cumulative effect of the Vikings' height in a game with a lot of contact and not a lot of foul calls.
Region C player of the year Aaliyah Pitts (6-0) had 16 points and five rebounds. Adaija Bender, a 6-2 sophomore, had 8 points, 11 rebounds and five blocks. Laumbach had 7 points and 10 rebounds.
Woodbridge had 19 turnovers but also had a 38-14 scoring advantage in the paint and was 15 of 17 at the foul line.
Cosby, which took some ill-advised shots, made just 16 of 63 (25.4 percent). Covington had 17 points and 12 rebounds. Williams had 13 points, and Gallagher had 8.
"We're grateful to be here," Gallagher said. "It would have been nice to win, but we still have two."
---
WOODBRIDGE (29-1) — Tae'lor Willard 10, Aaliyah Pitts 16, Adaija Bender 8, Veness Laumbach 7, Camryn Platt-Morris 18, Deliayh Mohamed 2, Alia Dinwiddie 3.
COSBY (23-5) — Nia Covington 17, Marissa Gallagher 8, Bailey Williams 13, Alexis Warren 3, Isabel Tillett 2.
Woodbridge 17 13 14 20 — 64
Cosby          11 12 19 1 — 43
3-point goals: — WBDG: Aaliyah Pitts 1, Veness Laumbach 1, Alia Dinwiddie 1 COS: Marissa Gallagher 1, Bailey Williams 3.