What began as a slow-moving, mistake-filled snoozer Tuesday night ended with J.R. Tucker and Glen Allen locked in a frenetically paced contest, the outcome of which wasn't decided until the final buzzer.
The visiting Tigers won 56-54.
They trailed only once early on, led by as many as 13 points midway through the fourth quarter, then held on as the Jaguars launched a furious assault that ended when point guard Michaiah Walker emerged from a scrum under the home team's basket as time expired.
"Too many turnovers," Tucker coach Mollie Pawlowski said of the first half. "We weren't knocking down shots around the rim. We would get the ball in transition and give it up.
"Neither team was sharp, but at halftime, my thing was, 'You've got this. You've got to close the door. You have to finish it.' "
The Tigers (11-3) and Jaguars (9-6) combined for 16-for-58 shooting and 32 turnovers in the first half, which ended with Tucker up 20-18.
Pawlowski's crew opened the third quarter with consecutive 3-pointers by Briana Payne and India Candies and increased its advantage to 30-19 when Walker sank a pair of free throws at 6:28.
Jags coach Rick Brennan called time and ordered his squad into a man-to-man that sparked a 13-6 run. When Pawlowski stopped play at 4:10, Tucker clung to a very shaky 34-32 lead.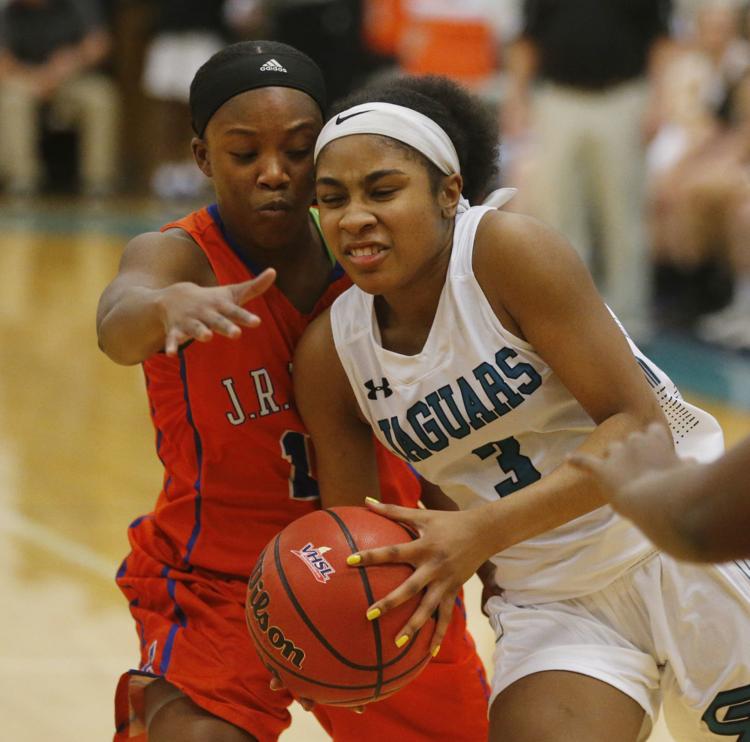 The Tigers returned in a 1-2-2 half-court trap. In the final 1:45, they forced four turnovers, outscored Glen Allen 8-0 and took a 44-36 lead into the fourth quarter.
"We knew they had three good shooters," said Walker, a 5-4 sophomore, of the Jaguars' Amyah Sookins, Carmen Betts and Alexis Glascock. "Our main focus was trying to stop them from shooting from the outside or driving in.
"We were trying to disturb their offense, force a bad pass, and if it came, jump on it."
Payne (27 points) scored three times from close range (stickback, driving layup from the half-court offense and transition layup off a Daysha Goodlet assist) to open the final period.
At 4:26, Walker's transition layup off a steal gave Tucker a 54-41 lead and, apparently, firm control of the momentum.
"We had to keep the tempo going, push the ball," said Payne, a 5-9 senior. "Good defense helps us win games. But they came back. We kept our composure. We won the game."
Intensifying their man-to-man to force turnovers which created offensive opportunities, the Jaguars ended the game with a 13-2 run and trailed by two with 0:06.5 remaining.
Following their last time-out, a well-executed in-bounds play from midcourt gave them an open look, but an 8-foot runner from the left side to tie bounced out, a scramble ensued, and the horn sounded with the basketball in Walker's hands.
"We came back twice," Glen Allen's Brennan said. "A tribute to my girls. We worked hard. We played as a team. We just couldn't quite get it over the top."
---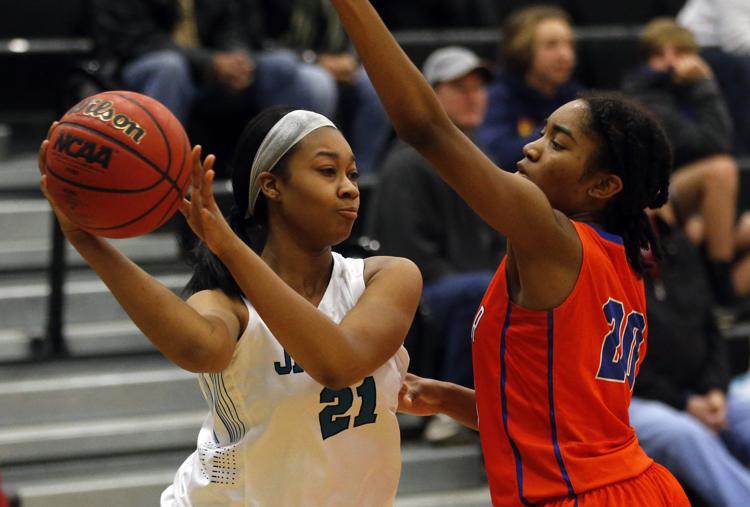 J.R. TUCKER (11-3) — Daysha Goodlet 8, Michaiah Walker 13, India Candies 3, Jasmine Lee 2, Briana Payne 27, Canisha Robinson 3. Totals: 23 8-12 56.
GLEN ALLEN (9-6) — Carmen Betts 13, Taylor Kindred 10, Amyah Sookins 5, Erin Pulliam 5, Claudia Disbrow 7, Alexis Glascock 12, Katherine Dodge 2. Totals: 20 9-12 54.
J.R. Tucker 10 10 24 12 — 56
Glen Allen 8 10 18 18 — 54
J.R. Tucker (11-3) — Daysha Goodlet 8, Canisha Robinson 3, Michaiah Walker 13, India Candies 3, Jasmine Lee 2, Briana Payne 27.
Glen Allen (9-6) — Amyah Sookins 5, Katherine Dodge 2, Claudia Disbrow 7, Carmen Betts 13, Alexis Glascock 12, Taylor Kindred 10, Erin Pulliam 5.
3-point goals: JRT — Payne, Candies. GA —Betts 3, Sookins, Kindred.