Right after Trinity Episcopal point guard Angel Burgos committed in December 2017 to play basketball at the University of Richmond, she went to work recruiting her teammate, Elaina Chapman.
"Every day after that I'd mention it," Burgos said.
Chapman played coy. She had a pretty good idea she was heading to Richmond as well, but the 6-foot-2 post player had multiple opportunities to evaluate: from Princeton, James Madison, George Mason, Old Dominion, Virginia Tech, Miami, Florida, Indiana, Clemson and William & Mary, among others.
Chapman made her decision this past summer. Like Burgos, she chose UR because she liked the school, coaching staff and the proximity to home.
The bonus was keeping two longtime friends and teammates together next season.
This point guard-post player pairing started in AAU while they were in different schools in the fifth grade. Burgos transferred to Trinity in the eighth grade, and they joined forces there when Chapman transferred for her ninth-grade year.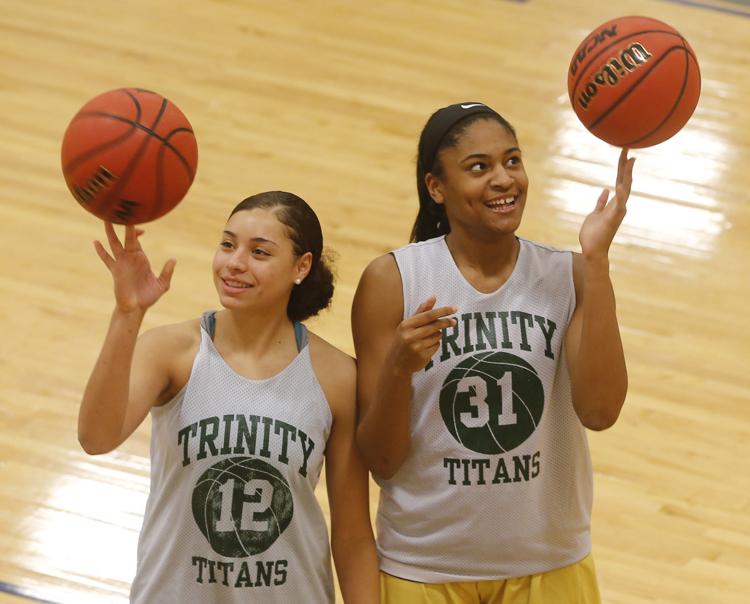 They have become two of the area's top players while helping Trinity to the No. 1 ranking in the Times-Dispatch Top 10. Chapman, a first-team All-Metro pick as a junior, is averaging 18.9 points, 12.6 rebounds and 2.8 steals this season. Burgos, a second-team All-Metro pick as a junior, is averaging 16.6 points, 6.8 rebounds, 4.3 assists and 3.1 steals. Transfer Kristy Hamze, a junior, has provided the Titans with a third major threat. She averages 17.6 points.
Second-year Trinity coach Adam Lonon calls Chapman and Burgos "transcendent players" who have elevated the Titans' program. Trinity went 21-5, 17-9 and 25-3 during their first three years and is 14-3 this season.
Chapman has amassed 1,855 points, 1,022 rebounds, 238 blocked shots and 225 steals during her career. Burgos has 1,445 points, 474 assists and 198 steals during her career.
The 5-8 Burgos is the more vocal of the two. She likes to joke around, lighten situations with humor and is likely to watch YouTube or Netflix during her spare time.
Chapman is a little more quiet until she gets comfortable, although Burgos says Chapman "has a huge personality and is just hilarious" at times. She's likely to read thriller books or play golf with her father.
"We have a very close relationship," said Chapman, who wants to become an emergency room physician. "We have a fun relationship. We like to joke around a lot."
Lonon said Burgos is a heady player. A pass-first point guard who can score, she has an effective midrange jumper.
"She's very collected as a player," Chapman said. "She thinks about the team more than herself. She'll make a pass before she takes a shot. She's very supportive. She wants to see everyone do well. … She knows how to score, too. She's just very skilled."
Lonon said Chapman is athletic, can use either hand around the basket, knows how to get around bigger players and "almost has a Charles Barkley-type mentality" when it comes to rebounds. Chapman said that knack came from not being much of a scorer when she first started.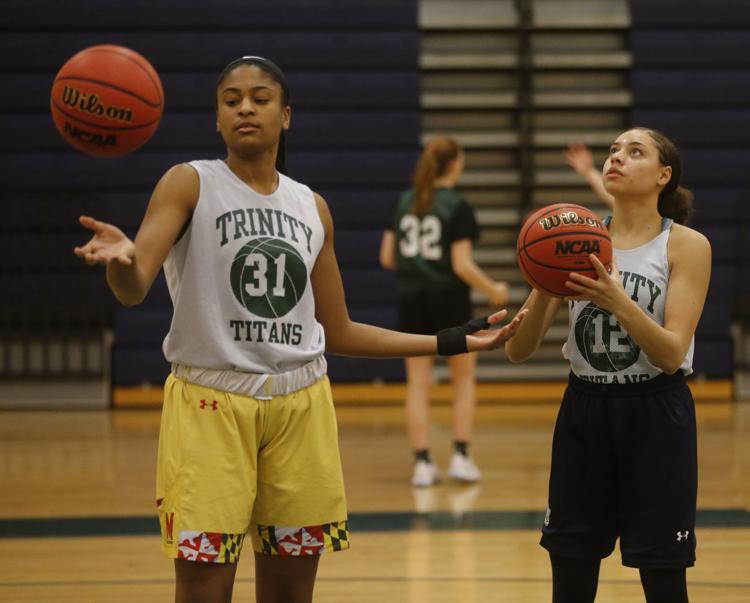 "Elaina is a very clutch individual," Burgos said. "If we need to make a shot or an important play, she's the one to look for to do it. She doesn't make many mistakes. She's got really good hands. Elaina will catch any pass I throw her. … I've never seen Elaina ever really play a bad game."
They're so connected on the court that a look, or a certain situation, often is enough to set a pass in motion.
At UR, Burgos said she'll be used as a combo guard. She's working on getting more consistent on 3-pointers and getting stronger. Chapman is working on jumpers away from the post.
"That's super cool [we're going to play together in college]," Burgos said. "We have a bond when we play, and we can take that to Richmond."