When the state championship game ended, and it had not gone as the girls of the Cosby basketball team had hoped, several broke into tears.
Not their coach, though. Rachel Mead stood stoically at the end of the line of players and assistant coaches, waiting to shake hands with the victorious Woodbridge squad.
A few minutes later, in the postgame interview room, things were different.
The players were asked what it meant to have Mead as their coach.
Mead tried to keep it light.
"Do I have to leave so you can tell the truth?" she said to seniors Nia Covington and Marissa Gallagher and junior Bailey Williams.
Then, Williams started talking, and Mead no longer could maintain her stoicism. She grabbed the hands of Covington and Gallagher and lost the battle with her tears.
"Coach Mead is like a mom to me," Williams said. "She's helped me through a lot."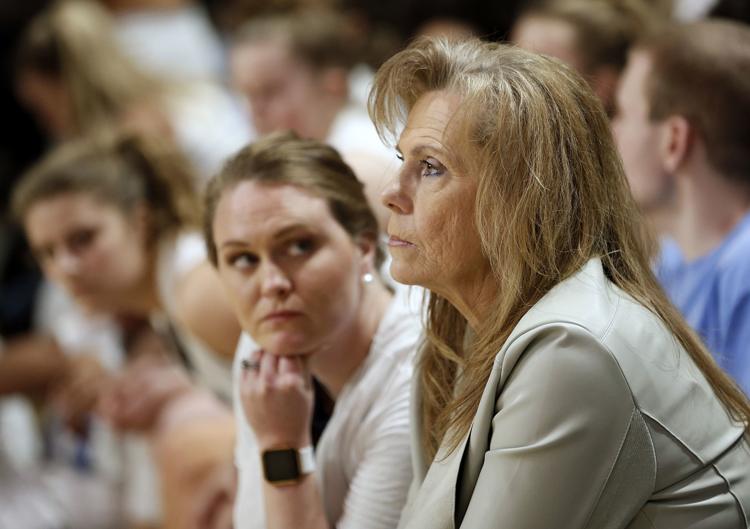 Covington said, "I've been on this team since I was 13. It's been wonderful to have someone help me grow into the person and player I am."
Mead, who also coached field hockey at Cosby, took a deep breath and tried to stop crying.
"I played field hockey, I played basketball," Gallagher said. "I've been with her since I was a little baby, since I was a freshman. She's always been there, picking me up.
"Even freshman year . . . when it was hard being with such competitive people, she was always there . . . saying come on, come on, you got it, we need you.
"When I got down on myself, she would send me a text to tell me to keep my head up. She's always been there for us, and she'll continue to be there for us, even though she's not coaching."
Wednesday's appearance in the Class 6 state championship game is the last game Mead plans to coach.
She's 57, has been teaching and coaching for 33 years. She's retiring from coaching, even though she has one more year to teach.
She knows there will be some withdrawal pains. She realizes that in August when field hockey practice begins and her daughter, Emily Hartman, is coaching the Titans' field hockey team, and Mead is home or at the beach, well, "That's when it's going to be tough," Mead said.
Maybe the regret will fade as she watches her younger daughter, Ellie, play field hockey at Coker College in Hartsville, S.C.
Mead has known nothing but success as a coach at Chesterfield County schools. She won more than 300 games in field hockey at Monacan, James River and Cosby.
Her Cosby basketball teams won four state championships.
She even played basketball and softball at another Chesterfield County school, Midlothian High.
Through all the years as a coach, there have been few reasons for tears, until Wednesday, when her players started talking about her.
"Yeah, they do that to me," Mead said. "I try not to be so emotional around them because they look to me to be that leader. But they also know how much I care about them.
"Oh my gosh. I can't even begin to tell you. I've had this team since we opened [Cosby], 13 years. I've gotten to deal with so many young people. That's why I do it."
Hartman, 24, was one of those young people. She played four years for her mother and has been an assistant in field hockey five years. Hartman, a special education teacher, even works with her mother, a health and physical education teacher, at Cosby.
"For her not to get her fifth ring, it's heartbreaking for me," Hartman said.
And it was her turn to fight back tears.
"She's always been there to support me," Hartman said. "You want her to succeed. She's always cheering for me. To be able to cheer for her is special."
Hartman understands that her mother wants to be a mother, wants to watch her older daughter coach and younger daughter play.
"When I wake up and drive to Cosby in the morning [in August] and I see her car's not in that first spot, and she doesn't have the gate unlocked, and is not already down at the track. It will be, 'What am I supposed to do?' We'll try to continue running the program the same way and having the same success," Hartman said.
When you've had the success Mead has, when you've put in 33 years and when you know you've coached your last game, you feel a certain freedom, which probably is why Mead felt she could be completely candid after Wednesday's 64-43 loss.
"The officiating was not good, by any stretch of the imagination," Mead said.
That's not something you hear from a coach very often. Such comments can bring administrative consequences.
But what are they going to do to Mead, tell her she can't coach next year's opening game?
Mead left the arena without a championship, but at least she had one reason to smile.