When DeMarr McRae wakes up in the morning, he wakes up happy. It's his natural state. And that happiness, he says, translates to energy on the court.
That energy was evident in the second quarter, when he charged up the baseline, jumped, received a pass from Levar Allen and dunked it for an alley-oop. It was there again in the third, when he scored a layup, drew a foul and made the free throw, giving John Marshall a 20-point lead.
McRae scored 28 points, and John Marshall thumped George Wythe 83-64 on Friday night to claim the Class 3, Region B title. The Justices (19-6) will host Tabb next week in the Class 3 state tournament. Wythe (20-3) will visit Hopewell.
Sophomore Isaiah Todd scored 23 points, including four 3-pointers. But he fouled out with 5 minutes left in the game.
A 6-foot-3 junior, McRae is dexterous enough to play guard, but rugged enough to score in the paint. That's where he got most of his points Friday.
He's also one of the funniest players on the team, Todd said. McRae tries to say things that put a smile on his teammates' faces.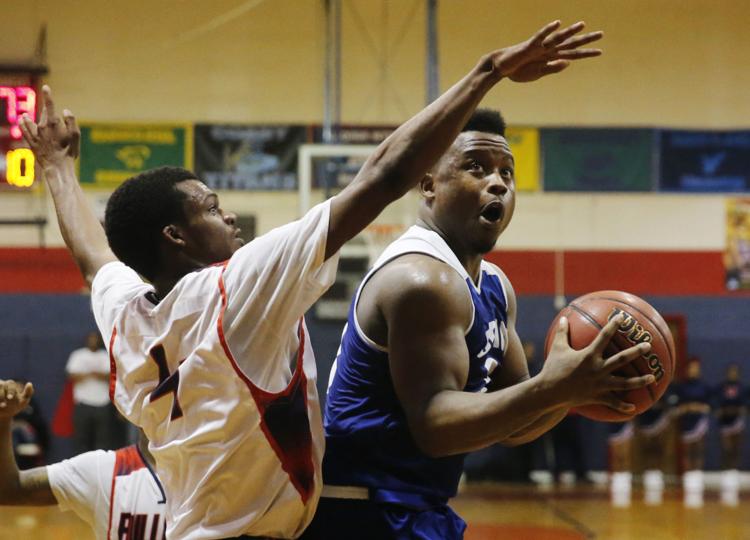 After one quarter, John Marshall and George Wythe were knotted at 17. But JM went on a 22-5 run in the second quarter, and Wythe never recovered.
John Marshall's defense forced 20 turnovers and a bevy of missed shots. In the second quarter, Wythe didn't get its first field goal until there was 1 second left.
It was a sell-out crowd, a rivalry game and a charged atmosphere. In the fourth quarter, Todd was called for his fourth foul. He turned to the crowd and flexed his bicep. For that, he was given a technical foul, ejecting him from the game.
He was trying to amp up his fans, Todd said after the game. It's a gesture he's displayed throughout the season without punishment, so he was confused when it resulted in a technical, he said.
"We had to try coming together as a team," McRae said.
After Todd fouled out, JM pushed its lead from 14 points to 19 and never let up.
Todd was one of three players to foul out, as the whistle was blown repeatedly on both sides. Wythe attempted 32 free throws and made 20. John Marshall attempted 29, converting 20.
"The kids were excited to play," JM coach Ty White said.
Todd got hot at the end of the first quarter, making a 3-pointer at the buzzer. He made three more in a stretch of 3½ minutes, and John Marshall's lead grew steadily. The 6-foot-10 wing proves a matchup problem for nearly any team that plays him.
"He can be high-school unguardable when he wants to be," White said.
---
JOHN MARSHALL (19-6) — Demarr McRae 28, Isaiah Todd 23, Lavar Allen 9, Roosevelt Wheeler 6, Jarius Ashlock 6, Aubrey Merritt 8, Ty Lacy 3, Curvonte Briley 0, Justin Carter 0, Keonte Goodman 0, Trequan Harris-McKenzie 0, Jaden Wilson 0. Totals: 29 20-29 83.
GEORGE WYTHE (20-3) — Darrell Purdie 14, Ikechi Chantilou 20, Eugene Williams 9, Jarec Brown 14, Maurice Laster 2, Kevin Hubbard 4, Kavon Gallishaw 1, Zamare Johnston 0. Totals: 19 20-32 64.
John Marshall 17 22 20 24 — 83
George Wythe 17 5 19 23 — 64
3-point goals: — JM: Isaiah Todd 4, Ty Lacy 1 GW: Darrell Purdie 2, Ikechi Chantilou 1, Eugene Williams 3.