Collegiate used a 12-2 run spanning the third and fourth quarters to pull away from Highland Springs 60-55 in the second Times-Dispatch Invitational Tournament boys semifinal on Thursday at Hanover High School.
The Cougars will meet Huguenot in Friday's championship game at 8:30 p.m.
The Springers trailed 34-28 before consecutive 3-pointers from Damon Werts, Hassan Jones and Jordon Crump flipped the score to a 37-34 advantage. Collegiate answered with its own run, taking advantage of a flagrant foul, a technical foul and a Jackson Watkins 3-pointer to retake the lead, 43-37, at the end of the third quarter.
Highland Springs was unable to successfully crack the middle of Collegiate's defense, thanks in part to the height of Robbie Beran. The 6-foot-9 senior forward blocked or altered several shots, forcing the Springers offense to come predominantly from the outside.
The outside attack was successful in the first half for Highland Springs, which knocked down eight 3-pointers in the first 16 minutes. However, only two were made over the final 16.
Missed free throws allowed Highland Springs to close a 10-point deficit in the final 2 minutes, but Collegiate's lead was too much to overcome.
Beran finished with 20 points to lead the Cougars, while Cody Patterson added 18 points and Mac McDonald scored 10. For Highland Springs, Werts scored 16 points, including four 3-pointers, and Crump scored 12 points, all from long range.
---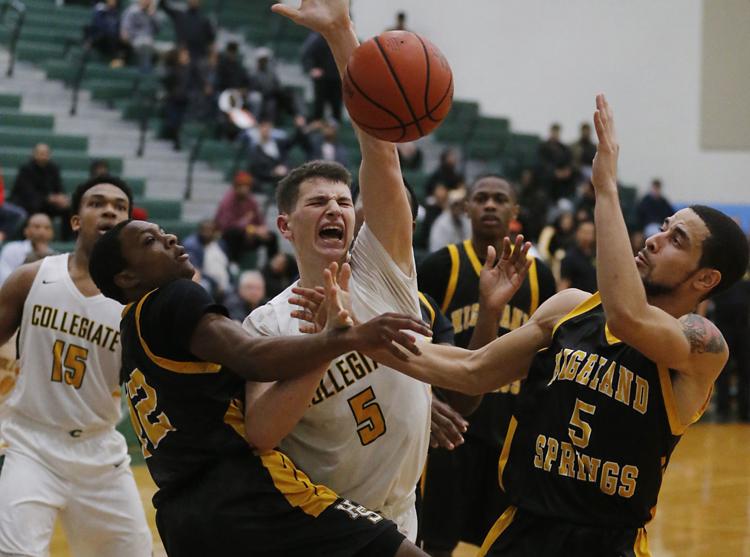 HIGHLAND SPRINGS — Christian Wilson 8, Jordan Crump 12, Damon Werts 16, Isaiah Parker 2, Hassan Jones 6, ZyEder Wingfield 4, Devyn Coles 5, Quanye Venny 2.
COLLEGIATE — Robbie Beran 20, Jackson Watkins 8, Cody Patterson 18, Charles Geho 2, Mac McDonald 10, Quentin Toulson 2.
Highland Springs 16  7  14  18 — 55
Collegiate           14  11 18  17 — 60
3-point goals: — HS: Jordan Crump 4, Damon Werts 4, Hassan Jones 2 Coll: Jackson Watkins, Cody Patterson 2, Mac McDonald 2.
---
Boys schedule
Huguenot 88, Trinity Episcopal 85
Armstrong 68, St. Christopher's 62
Collegiate 55, Douglas Freeman 53
Highland Springs 73, George Wythe 43
Thursday's second round at Hanover High
Trinity Episcopal 55, St. Christopher's 48
Douglas Freeman 71, George Wythe 55
Huguenot 75, Armstrong 60
Collegiate 60, Highland Springs 55
Friday's final round at Hanover
Seventh place: St. Christopher's vs. George Wythe, 10:30 a.m.
Fifth place: Douglas Freeman vs. Trinity Episcopal, 1:30 p.m.
Third place: Armstrong vs. Highland Springs, 5
Championship: Collegiate vs. Huguenot, 8:30
---
Girls schedule
Trinity Episcopal 66, Hanover 27
Cosby 93, Hermitage 27
Monacan 72, Varina 48
Highland Springs 54, Steward 25
Thursday's second round at Hanover High
Hanover 61, Hermitage 39
Varina 53, Steward 38
Trinity Episcopal 76, Cosby 64
Monacan 59, Highland Springs 53 (OT)
Friday's final round at Hanover
Seventh place: Hermitage vs. Steward, 9 a.m.
Fifth place: Hanover vs. Varina, noon
Third place: Cosby vs. Highland Springs, 3:30 p.m.
Championship: Trinity Episcopal vs. Monacan, 6:30