THE PLAINS — When Deep Run's Colby Burcham entered the stretch of the VHSL Class 5 state cross country championships at Great Meadow Saturday, he trailed the frontrunner, Gloucester's Joshua Shackelford, by more than 20 feet.
But Burcham was not deterred. He dug in and found extra speed in the last 200 feet and overtook Shackelford with a step to spare at the finish line to win the individual championship and lead his Wildcats to the team championship.
"It couldn't have been any closer, really," Burcham said. "I was doubting myself at 200 [meters out] because he had such a big gap. I don't know, I just found another gear and I was like, 'It's now or never,' and kicked as hard as I could."
The win capped a day of solid performances by area teams in the three divisions — Classes 4, 5, and 6 — competing in the less-than-ideal conditions. Glen Allen's boys finished second in Class 5. Deep Run finished second and Glen Allen's girls fourth in their championship. Midlothian's boys finished second and the Trojan girls finished fourth in the Class 4 championships, and Cosby's boys finished fifth in Class 6.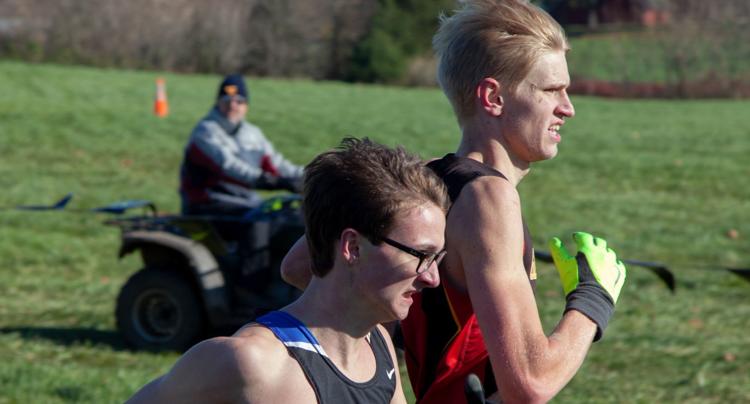 Burcham wasn't the only come-from-behind champion from the metro area Saturday. His Deep Run teammate, Lily Snow, won the Class 5 girls race, overtaking Broad Run's Ellie Desmond and beating her by three seconds with a 18:51 finish.
"I was just, like, this is my senior year and my last cross-country race in a Deep Run jersey, and I just wanted to give everything I had for my team, for my coaches, for everyone that supported me — and for myself. I just really wanted to have a great last race and put it all out there," Snow said.
Snow said she picked up extra motivation on the last straightaway.
"It's really long. My coaches were there, [saying,] 'Lily, come one. This is your day to win," she said. "I was, like, 'It is my day to win. I feel good. There's nothing holding me back. I'm just going to go for it.' So I just decided to kill it at the end there."
A number of area runners posted all-state performances. In addition to Burcham in the Class 5 boys, L.C. Bird's Jacob Plummer and Brendan Taylor finished third and fourth, respectively. Lee-Davis runner Avery Witherow was eighth, and Burcham's teammate Jake Schindel 11th. Glen Allen's Joshua Holtzman and Ali Ibrahim finished 13th and 14th respectively.
Aside from Snow in the Class 5 girls, Atlee's Cabell Franklin finished third and Lee-Davis' Sierra Puleo finished fifth. Douglas Freeman's Liza Neely was eighth and Glen Allen's Rachael Potter 15th.
Thomas Dale's Michael Spragley finished fourth and James River's Aaron Johnson 13th in the Class 6 boys. Cosby's Avery Hairfield was the only All-Stater from the metro-area contingent of Class 6 girls.
The area had three all-state performances from among the Class 4 girls: Hanover's Rachel Crytser finished eighth. Patrick Henry's Emmy Joyce was 12th and Monacan's Gabrielle Garcia 13th. Midlothian's Max Etka (sixth place) was the only metro representative among Class 4 boys.
Class 2
Boys: The Maggie Walker boys won their sixth consecutive Class 2 title. Adam Sachs finished second with a time of 16:46, and the Green Dragons easily outdistanced second-place Radford. Maggie Walker's Ben Neuwirth was fifth, and Carter Morgan was seventh. Oliver Wilson-Cook of Robert E. Lee (Staunton) won the race with a time of 16:12.
Girls: Mary Caroline Heinen of Maggie Walker won the Class 2 state championship, finishing in 18:25. She finished 26 seconds ahead of second-place Madison Webster of Clarke County. Maggie Walker's Mary Kemp was sixth (19:30), and the Green Dragons finished second as a team, snapping a streak of five consecutive titles. Clarke County won the title with two runners in the top four. Grace Juran of Goochland finished 10th.
VISAA
Boys: St. Christopher's won the VISAA Division I title. Sophomore Knight Bowles was the Saints' top finisher, crossing the finish line in 17:14 for third place.
Collegiate's Johnny White was fourth, and St. Christopher's Neal Dhar was fifth.
Girls: Hannah Ballowe of St. Catherine's won the Division I race, finishing in 19:41. St. Catherine's claimed the girls championship with Anne Heaton Noble and Julia Galbraith finishing in the top 10.
Mary Kehoe of Saint Gertrude was second, and Kathryn Sutherland and Maddy Watkins of Collegiate were third and fourth.
Collegiate's team finished third in both the boys and girls races.
Veritas' girls were second in the Division II race as Maya Sweeney (21:20) finished fourth and Reagan Gilman fifth.