Bashir Mosavel-Lo, a senior at Deep Run High School, is fast. Very fast.
He has a gold medal for winning the 3,200-meter race at the 5A state indoor championships this year. Other 2016-17 highlights include the fastest indoor 3,200-meter time in 5A and the second-fastest 800- and 1,600-meter outdoor times.
He holds Deep Run's record for the indoor 500-meter run and has the second-fastest times in school history for many other races. He has committed to attend Virginia Tech in the fall on a track scholarship.
But you've probably never heard of him. Perhaps that's because Mosavel-Lo goes to school 15 minutes down the road from Waleed Suliman, a senior at Douglas Freeman High School, who happens to be a track phenomenon.
Because of Suliman, Mosavel-Lo has become familiar with second place. That reality has encouraged Mosavel-Lo to redefine success.
An admirable attitude
It isn't an exaggeration to say Mosavel-Lo (pronounced muh-sah-vuh-low) would win most of the races in which he participates if Suliman wasn't competing. Mosavel-Lo has finished second to Suliman nearly 20 times in his career, including indoor and outdoor track and cross country. Typically, the margin is a few seconds.
He has beaten Suliman just once, according to MileStat.com. He finished one-tenth of a second ahead of Suliman in the 1,600-meter race at the 2016 5A South Regional indoor championships.
Mosavel-Lo could cruise at a comfortable pace, just fast enough to beat the third-place runner, and not many would blame him. Who could expect him to compete with Suliman, who ran a 4:12.24 mile and placed second in the New Balance Outdoor Nationals as a junior?
That's not Mosavel-Lo's game. A self-proclaimed competitor, he says he's never comfortable in second place. His goal entering every race is to win.
But the odds aren't in his favor. He understands that and has adjusted his perspective accordingly. Running his race — reaching the times he hopes to reach in the manner he hopes to reach them — has become more important than winning.
"I would always definitely take a (personal record) over a win," said Mosavel-Lo. "I've kind of had to adjust how I think about my success and progress. Sometimes you've got to run for yourself and find things out of your own race, even if you can't get the win. I feel like I've grown in how I've dealt with that."
Those closest to him will say Mosavel-Lo carries more than a few admirable traits: humor, leadership, optimism, a positive attitude and the trait of which his mother, Maghboeba Mosavel, says she is most proud: humility.
Some of his humility is natural. He was born with it, his mother says. But much comes from his upbringing. Mosavel-Lo's father, Mbaye Lo, is an immigrant from Senegal, Africa. His mother came to the U.S. from South Africa after having lived through apartheid.
Both are now professors — his father teaches Asian and Middle Eastern Studies at Duke, and his mother is a professor of Health Behavior and Policy at VCU.
That background, his mother said, helped mold Mosavel-Lo into the young man he has become.
"I do think the fact that both his parents are from someplace else, being in that position, I think that has also a huge impact on Bashir," she said.
"I think as a young child, for Bashir to have gone to South Africa, gone to Egypt, gone to Senegal ... to see that juxtaposition that people can be economically disadvantaged, they can be poor, but they have so many other things in life. ... I think that experience, just by visiting, I think that grounds you in a way."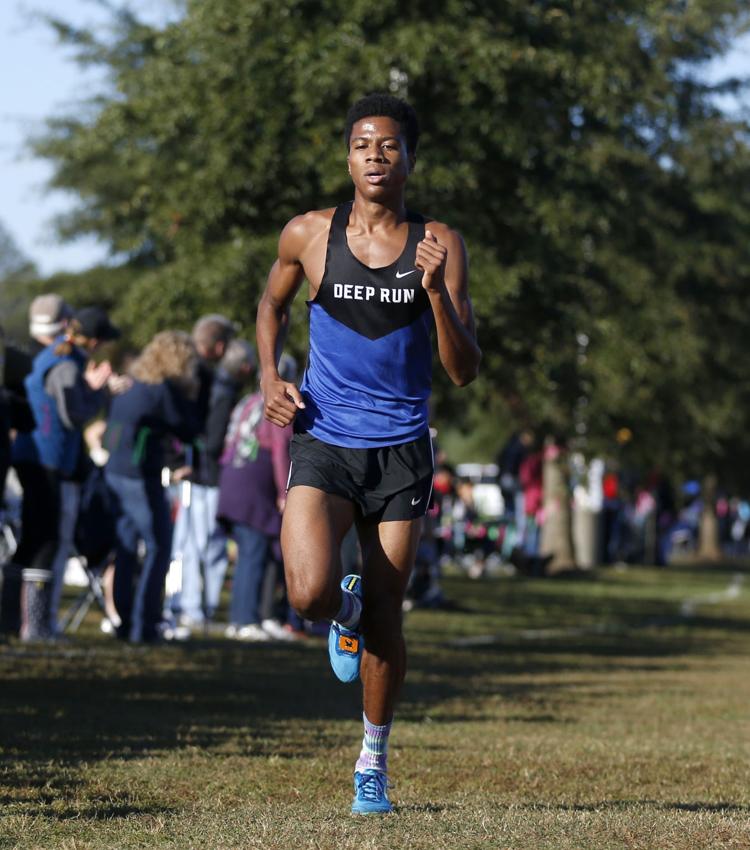 Growth by association
Mosavel-Lo first moved to Richmond when he was 9 years old, after spending the first part of his life in Cleveland, Ohio. In sixth grade, he intended to try out for the fall soccer program at Pocahontas Middle School, but had a stroke of bad luck. Students intending to try out needed a white T-shirt. He was wearing green that day, so the opportunity to play soccer that year escaped him.
That spring, he joined the track team after a friend said it would be fun. It didn't take long for Mosavel-Lo, who used to jokingly declare himself the fastest kid in elementary school, to realize he had natural talent. He stuck with running when he got to high school. He ran outdoor track as a freshman and joined the cross country team as a sophomore.
"He was an awfully quiet kid," said Matt Novak, a former teammate and mentor of Mosavel-Lo's. "All of a sudden he just starts dropping times like crazy. I'm like, 'This kid's going to be really good.' Next thing you know he's on our 4x800 team going to states."
Novak, who is entering his third year as a student and track star at the University of Virginia, held more than 10 Deep Run records after graduating. Mosavel-Lo has either eclipsed or narrowly missed most of them.
"I told him he was going to take down some of my records when he was a senior," said Novak. "So far, he's already gotten some."
His improvement was hastened by the guidance of Novak, who showed Mosavel-Lo the benefits of hard work.
"Matt was huge for Bashir, to have someone to see how it should be done properly," said Drew Spicer, Deep Run's track and field coach.
As Mosavel-Lo learned from Novak at practices during his sophomore year, he was joined in his meet races by a formidable foe: Suliman. The two didn't know each other before becoming competitors, but the beginning of their rivalry was crucial to the path of both runners' careers.
Competition from Mosavel-Lo allowed Suliman, who at the time wasn't an experienced runner, to find the proper pace — which, Suliman said, otherwise might not have occurred.
The two developed a relationship off the track as well. Mosavel-Lo embraced Suliman, who moved to the U.S. from Jordan in 2014, as a friend despite an initial language barrier and their rivalry on the track.
"He was willing to talk to me even when I didn't know how to speak English at all," said Suliman. "All that I wanted to do was make friends from other schools, and he was the first one that I made a friend with."
Embracing leadership
As Mosavel-Lo and Suliman were finishing their sophomore years, the time came for Novak to graduate. Novak figuratively passed the baton to Mosavel-Lo, who would thereafter be looked to for leadership as well as on-track success.
This transition wasn't an easy one for Mosavel-Lo, who is by nature humble and quiet. Nonetheless, he accepted his new role. Zach Levet, a junior runner at Deep Run and close friend of Mosavel-Lo's, described him as "the guy who keeps the team going."
The keys to Mosavel-Lo's leadership, Levet said, are many: his grounded demeanor, his loyalty to his teammates, his commitment to friendship on and off the track.
Mosavel-Lo often plays video games with his peers on the team (he claims to be unbeatable in FIFA), leads freestyle rap battles and is quick to dish out good-natured teasing.
"He's almost everything you can ask from a friend," said Levet. "He's always encouraging people to hang out. He's kind of that guy that he will always be there. ... always make time for you."
While excelling as a leader during his final two years of high school, Mosavel-Lo has had another tall task waiting around every bend. Suliman has become a tour de force as a 1,600-meter runner in Virginia, developing a fourth-lap kick that causes spectators to cheer and gasp and leaves pursuers, namely Mosavel-Lo, trying to figure out the proper strategy against him.
The answer? There isn't one. Mosavel-Lo says he feels as if he's racing alone at times when facing Suliman, because he must pace himself rather than rely on Suliman, who will likely establish an untouchable tempo during the final lap.
Mosavel-Lo might have a point. His fastest 1,600-meter time, 4:13.26, came during his junior year at the 5A South Regional meet in a race in which Suliman didn't participate.
Still, whatever the strategy may have to be for Mosavel-Lo, Suliman says he knows better than to ever underestimate him. Last fall during the 5A state cross country championships, Mosavel-Lo accelerated to nearly catch Suliman from behind toward the end of the 5,000-meter run.
"Bashir started closing the gap. He was really closing on me, which was really scary," said Suliman. "When it comes to racing, you can never trust Bashir. You never know when he's going to go all out."
Suliman is right. Mosavel-Lo has no shortage of talent. Spicer, Levet and Novak all said Mosavel-Lo has the potential to run a sub four-minute mile by the end of his college career.
But there's much more to Mosavel-Lo than fast times and podium finishes. There must be, otherwise he wouldn't hold a 4.39 grade point average and plan to major in engineering at Virginia Tech. Or he wouldn't be admired for his humility, humor and all the other attributes that fall beyond the power and stamina in his legs.
Mosavel-Lo will compete in this weekend's 5A state track meet. He would like to win the 3,200-meters, a race in which Suliman will not participate, and hopes to run 1:53 in the 800-meters. But regardless of whether he meets those goals, he has learned from racing Suliman how to grow from each race and walk away with a positive attitude.
"He wrote an essay for a scholarship and he had to talk about a challenge and a difficulty in his life," his mother said. "He wrote about (racing Suliman), just how much he learned, how much that made him a better person in terms of qualities that he can take with him throughout his life. Whether he comes in first, second or last, it's that of never giving up, doing your best and making it fun."