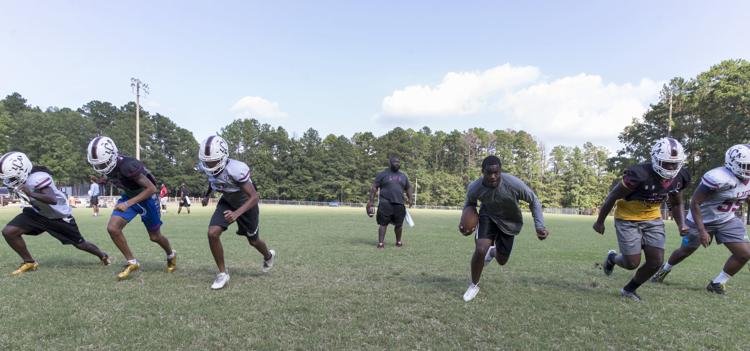 Coach Charles Scott grabbed two footballs from the back hatch of his SUV and tossed them to the football players standing on the sideline of a field in South Chesterfield. The first day of school at Life Christian had ended, and practice was about to begin.
"Hurry up so we can beat the storm," Scott said.
The players pulled shoulder pads and gray practice jerseys over their heads and strapped on their helmets. One of them wore a Hermitage T-shirt under his pads. Another donned green Trinity Episcopal shorts. Almost all the players played elsewhere last year, because Life Christian football didn't exist before 2018. The Eagles are the Richmond area's newest high school football team.
Unlike most new teams, Life Christian has an impressive assemblage of talent. Scott said at least eight players on the roster could play Division I football. A number of students transferred to Life Christian because they believe the coaches, the academic structure and the exposure afforded there give them the best chance to play college football.
"It's a different mindset here than a public school," said junior defensive back Antonio Webb, who has orally committed to Virginia. "Everybody's trying to go D-I."
In Scott, students and parents see a coach who cares about them as people and makes their recruitment a priority. Most of the players on the team have reclassified — the act of repeating a year of high school in order to graduate later and gain an edge on other players.
Scott assembled the toughest schedule he could. The list of opponents for Year 1 included St. Frances, a nationally ranked squad in Maryland, and a trip to Texas. The players hope big games played on big stages will lead to greater distribution of their names.
And the school offers online classes that allow players to focus more time on football and personal training.
Joe Johnson III, a junior defensive back and receiver, transferred to Life Christian from Hermitage during the summer. His father, Joe Johnson Jr., enjoys the atmosphere so much he volunteers at practice, helping fill water coolers.
"I love being here," Johnson Jr. said.
---
"It's a different mindset here than a public school. Everybody's trying to go D-I."
---
Though he's never coached high school football before, Scott is hardly a rookie. He founded a youth football program in 2012 called the Central Virginia Hurricanes. Only 14 kids signed up the first year, but the program grew to include more than 250 youngsters ages 5 to 14.
A former football player at Thomas Dale and Chowan, Scott considered accepting a high school coaching position. Instead, he tried something much bolder — he decided to create his own high school team. He approached Mike Cherry, the administrator at Life Christian, and pitched the idea of starting a football team.
But the school was growing — enrollment has reached approximately 230 students prekindergarten through 12th grade — and Cherry decided the timing was right.
"There's something to be said about building your own program from the ground up," Scott said in a recruitment video posted to Facebook last December. "We're going to make history and set the bar higher and higher every year."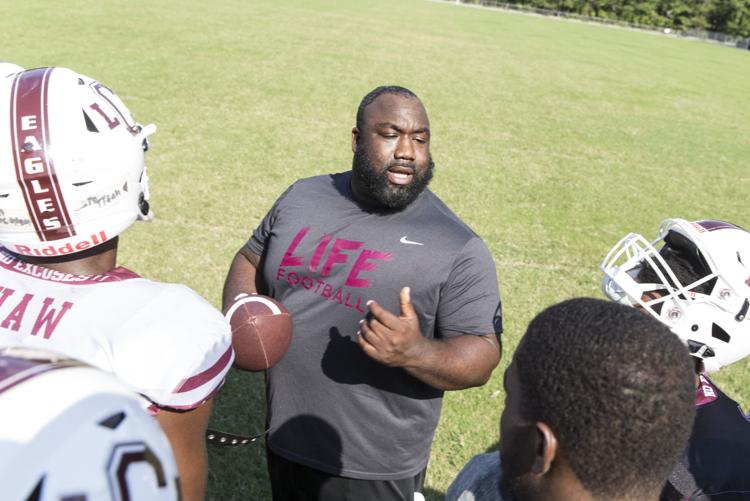 Scott used his connections through the Hurricanes to start building a roster. About half of the 41-member Life Christian team once played for the Hurricanes, he said.
And the Hurricanes allowed him to meet other players who didn't play for him, such as quarterback Jalen Smith. Smith was a junior at Stafford High School last year and was named all-state in Class 5 after leading his team to the state semifinals.
But 2017 was his first year playing varsity quarterback, and that wasn't enough time for him to build a résumé, he said. So he decided to transfer to a private school and reclassify to improve his chances for a scholarship.
His younger brother played for the Hurricanes, and he was familiar with Scott. The coach invited Smith to play 7-on-7 with Life Christian in the spring. Smith used the spring season as an opportunity to get a feel for the coach and the team.
By the second weekend, he was sold. He made up his mind that he would join Life Christian. He moved in with a family friend in Chesterfield to ease his daily commute, and he pushed back his graduation year to 2020.
While other private schools have put limitations on reclassifying, Life Christian has embraced it. Scott estimated that about 50 percent of the players have reclassified.
An extra year of high school helps a player grow physically and better attract college attention. But Scott says it does a lot more.
"What it definitely does is allow kids, especially young men, to have another year to mature socially, academically, morally and physically," Scott said.
But not every player came to Life Christian to become a Division I recruit. Some were D-I prospects before they ever stepped foot in the building.
Webb, who has committed to U.Va., was a student at Norview High School in Norfolk last year. He got his first offer last spring. He met Scott through another former youth coach, and Scott impressed him so much that when the year ended, Webb decided to transfer to Life Christian and reclassify.
In June, Virginia offered him a scholarship, and he committed shortly thereafter. He's repeating his junior year, and he plans to sign in December of 2019 and enroll at Virginia the following January.
What appealed to him about Life Christian, he said, was the exposure the football program provided. The Eagles played St. Frances in Baltimore and took trips to Texas and Connecticut for games.
"This will prepare me for college," Webb said.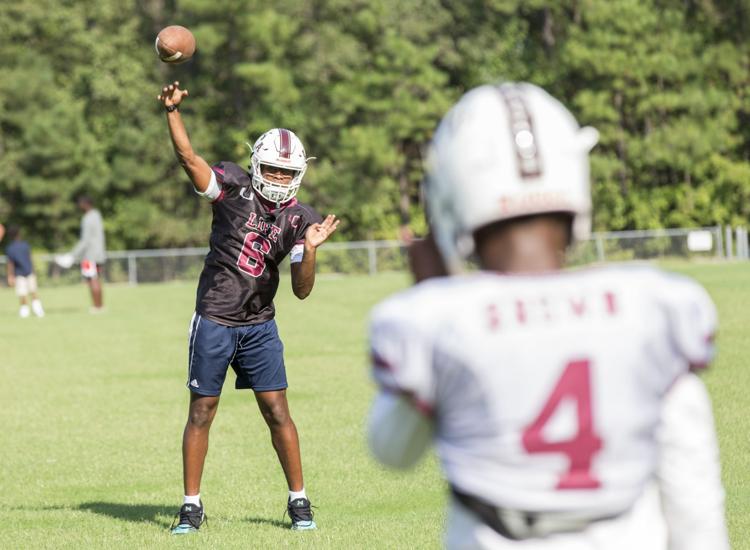 But it's not just the level of play that he believes will help prepare him for the speed and intensity of college football. The entire academic structure does so.
Life Christian offers online classes, and that flexibility, he said, will give him the chance to watch more game film and focus on personal training. He's looking to put 15 pounds on to his 170-pound frame and cut one-tenth of a second off his 4.4 time in the 40-yard dash.
With more than 700 online classes at their disposal, students can take nontraditional courses such as macroeconomics or music theory.
Public schools too often teach to the standardized tests, said Cherry. He's seen students arrive at college who don't really know how to learn.
"We're teaching them to learn, not to pass an SOL."
Originally called Evangel Christian, the school changed its name in 2013 to Life Christian and is accredited by the Association for Christian Teachers and Schools. Tuition is about $7,000 per year, Cherry said. While it doesn't offer athletic scholarships, need-based financial assistance is available.
Some classes, such as math, are taught by teachers. But others that lend themselves to online learning, such as history, are taken on the computer.
About 75 percent of the school's classes are taught in person, and 25 percent are online, Cherry said.
---
"We're teaching them to learn, not to pass an SOL," he said.
---
Students can learn at their own pace but have weekly benchmarks they must meet, and they have to maintain a C average to be eligible. They can take classes at home, but the Virginia Independent Schools Athletic Association mandates that students take at least five classes on campus to stay eligible for sports. The school offers a computer lab where students can take their online classes, and a teacher is present to answer questions.
Life Christian has a "college feel," said Shaun Sledge, whose son Akim is a freshman on the team.
Getting kids into college is one of Scott's priorities, players and parents said. Promoting players and connecting them to college coaches has become an increasingly larger part of a high school coach's job at any school. Some coaches say it's their most important role.
And it's a big reason why Joe Johnson III is enrolled there now. He attended Hermitage last year, and when the school's coach resigned and was replaced by a new one, Johnson III and his father began looking for a new school. They attended a meet-and-greet during the winter, and they were one of 86 families to show up.
Then Scott invited Johnson III to work out with the Life Christian team in the spring and travel to college camps with the other prospective players. After Johnson III attended camps at St. Francis and Virginia University of Lynchburg, he was offered a scholarship by each school.
Johnson III had played high school football at Hermitage for three years and never attracted an offer. In just three weeks practicing with Scott, he had attained two. Johnson Jr. felt he had to send his son to Life Christian — Scott had earned it.
"What else could I do?" Johnson Jr. said.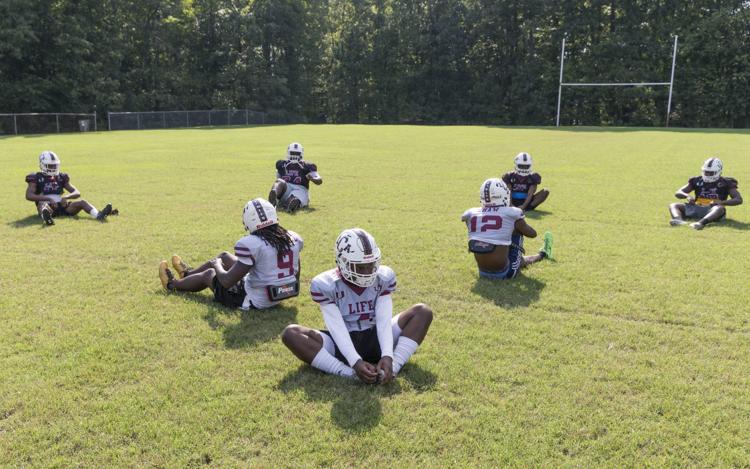 In the past year, Scott has won over players and parents with his laid-back personality and his approach to coaching.
"What I like about the coaches," Johnson Jr. said, "they're all about the kids."
"You can't find one flaw in Coach Scott," added Webb, who cited Scott as a primary reason for transferring to Life Christian. "Coach Scott is for it — family, team, brotherhood, everything."
Scott describes himself as a players' coach. He says helping kids with their life plan is as important as coaching football. For many of his students, that means finding a path to a college football team.
"He wants to get kids to the next level," Shaun Sledge said.
---
"You can't find one flaw in Coach Scott."
---
Sledge's son Akim is a freshman receiver who has attracted an offer from Virginia. Teammate Gerrien Christopher, a junior linebacker, has several Division I offers, including Tennessee. Scott believes more offers are on the way for some of his other players, including Trevyon Green, Michael James and Deshaun Williams.
It's rare to see a VISAA Division III team with so much talent, which makes Life Christian an uneven fit in its division. (LCA is slotted in Division III because of its enrollment.) Several VISAA teams declined to play Life Christian, including last year's Division III state champion, Roanoke Catholic.
"We got the feeling that Life was going to be a very strong team, and we decided that we had already put together what is probably the toughest football schedule Roanoke Catholic has ever played," school athletics director Matt Peck said. "We simply felt it was best to maybe look at scheduling Life Christian some other time."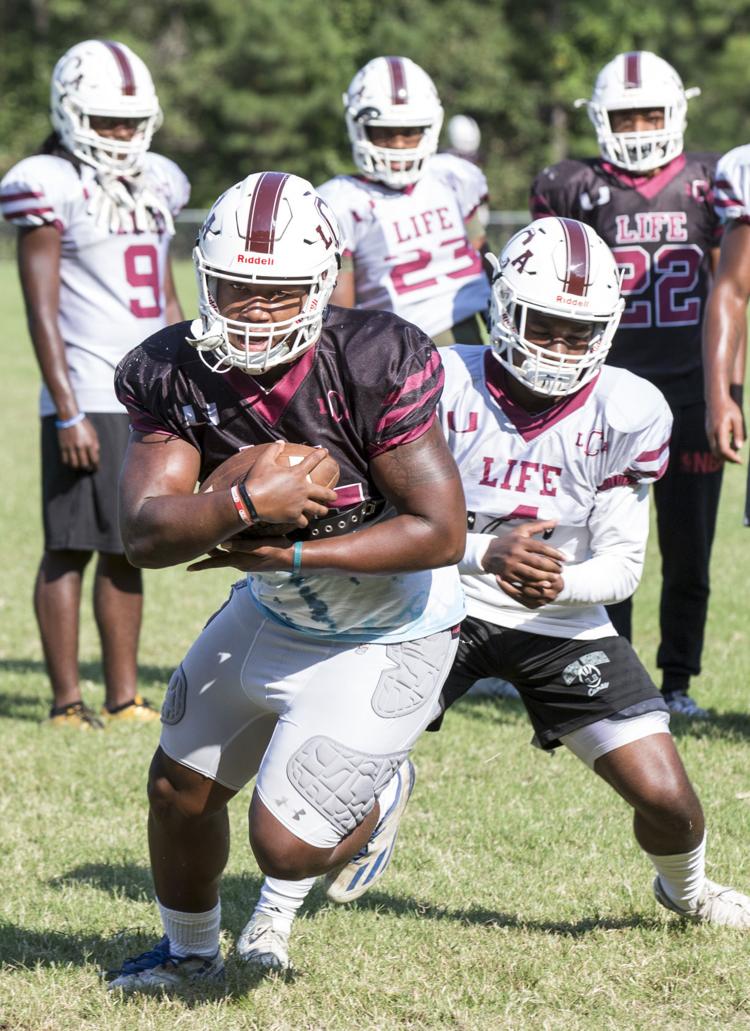 Because of its schedule, Life Christian isn't eligible to compete in the VISAA playoffs. Dick Kemper, the executive director of the VISAA, says a school that isn't a member of a conference must play 50 percent of its schedule against other VISAA opponents. But Life Christian has just two on its schedule: Bishop Sullivan and Christchurch.
Finding opponents outside the VISAA wasn't difficult. Plenty of schools in Virginia and Maryland were looking for games, Scott said. A feature on Maxpreps.com allows teams to see what other schools share open dates on their calendars.
When one team fell off the schedule, it was replaced by another. Life Christian already played St. Frances of Baltimore and Freedom of Prince William, a Class 6 public school with a 6-1 record.
So far, Life Christian has struggled to compete with more established programs and has won two of the seven games it has played.
The contest against St. Frances ended in a 51-6 loss. Trips to Avalon and Cornerstone Christian in Texas resulted in losses by 1 point and 9 points. A trip to National Christian in Maryland resulted in a 32-18 victory and the team's biggest win yet.
Though Life Christian has a losing record so far, playing big-time opponents on big stages is part of its long-term strategy.
"Our goal is to be the top program in Virginia," Scott said in the Facebook video. "And ultimately, the nation."