Things looked bleak for Blessed Sacrament Huguenot's football team as 2018 began.
Athletics director James Poore held a meeting to consider a move from traditional 11-man to eight-man football, as some past competitors within the private school ranks had done.
Enter Shawn Pickett, two seasons removed from a stint on the King William football staff. Pickett learned of the program from friend and former college teammate Brice Fritts, the Knights' former AD, and was intrigued by the opportunity. He also knew the immense challenges before him of fielding a traditional football team at the Catholic school.
First, he worked to win over the players.
"I would drive from King William High School, get there any chance I could, set the weight room up," Pickett recalled. "Anytime I was off from King William, I would go to the lunch room and talk to the kids and start building those relationships."
Those hourlong commutes began to pay off. Reilly Dickerson, who hadn't suited up to play football since his pee wee days, got the message.
"All of the (seniors) were sitting at our (lunch) table, and Coach Pickett came in, introduced himself, and we got to talking," Dickerson, the team's starting center and a defensive lineman, said. "We all got a good vibe from him. We all thought, heck, it's our senior year, let's all get together and play."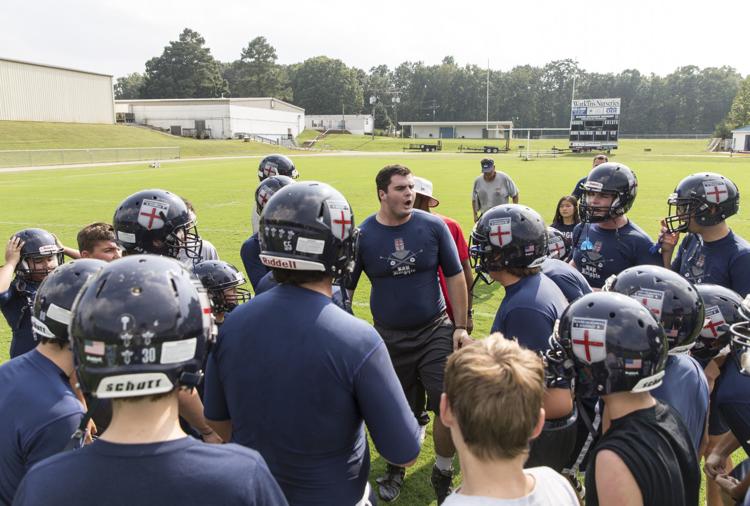 Suddenly, Pickett had a core group of 14 would-be seniors who were committed. His recruitment work continued through the lower classes. With a school population of 96 in grades 9-12, and only 55 boys, the task was daunting.
"I probably asked those kids every day I went up there, Pickett said with a laugh. "But the BSH boys are really good kids. There really is a strong brotherhood."
Luke Freudenthal is one of only six returning players from 2017, and a member of the "Group of 14." An offensive tackle, he showed his appreciation to Dickerson and others in a tangible way, joining the baseball team last spring, reciprocating and solidifying the brotherhood.
"He was our baseball captain," Dickerson said of Freudenthal. "The deal was we'd play football if he kind of helped out on the field with baseball."
Whether it was keeping score or getting water for teammates, Freudenthal was there. But while the juniors continued to grow their bond in preparation for this fall, an opportunity fell into Pickett's lap.
Gary Brock, who won 107 games as coach at one of the school's predecessors, Huguenot Academy, agreed to meet Pickett one day, ostensibly to learn about the single-wing offense.
"We were supposed to have a 30-minute meeting, and I think we ended up meeting for five hours," Pickett said. "I offered him a position, and the next week, he accepted. That was a huge win for the football program, for morale, and a lot of stress off my back."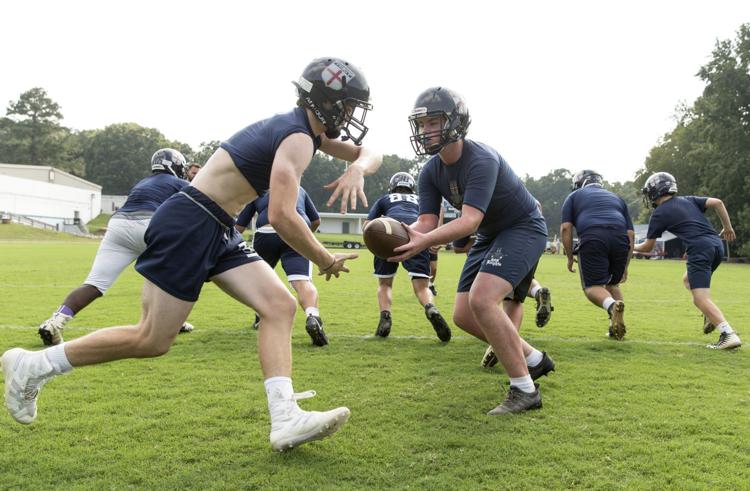 Built upon the foundation forged by the Class of 2019, the Knights came to camp ready to learn. They had to do so quickly with so many players in their first high school football preseason. Countless hours in the gym over many months behind them, now it was all about X's and O's.
"I completely felt prepared by the time of our first scrimmage," Dickerson stated. "Coach Pickett and Coach Brock are great leaders. They still hold us accountable and push us to work hard. They know we are new players, but that we also have to go out there and do our jobs."