Signing day is a day for wearing hats. High school football players regularly pull baseball caps over their heads in order to reveal the colleges they plan to attend.
But on Wednesday, when Matoaca senior Immanuel Hickman was making his commitment to East Carolina, he let his friend Michael Murphy do the honors. Michael was given a purple ECU hat and some help pulling it down to his ears. Once Michael had his Pirates football hat on his head, Hickman was ready to tell the world his college destination.
Michael is a freshman at Matoaca who was born with Down syndrome and autism, and he's a big fan of Hickman. He smiles when his father shows him pictures of himself next to Hickman. He got a big hug from the 6-foot-2, 240-pound defensive end when the ceremony had ended Wednesday.
He plays for Matoaca's basketball team in the Medford League, a Chesterfield organization for kids with disabilities, and Hickman is the team's coach. Hickman swings by Murphy's classroom to say hello when he gets the chance.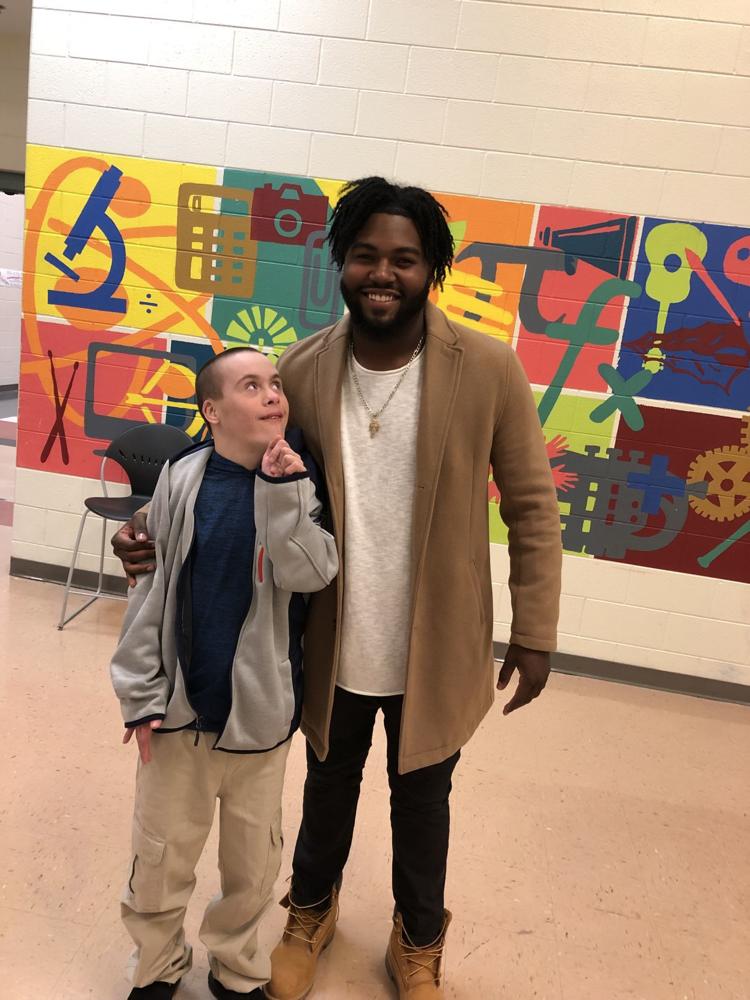 "He's someone I'm going to miss," Hickman said. "I was able to see life from his perspective."
Hickman's parents work with adults born with disabilities, and spreading goodness is something that comes natural to the football player. His presence brings out Michael's personality, said Michael's father, Mike.
Michael has endured heart complications and multiple stays in the hospital through the years. He didn't learn to walk until he was 3 years old, but his father gave him a basketball, and he learned to dribble it before he could walk. Playing basketball now has helped raise his self-esteem, his father said.
"He just loves Manny," Mike said.
After Hickman's commitment to East Carolina was revealed, Matoaca teammate Jonathan Coleman unzipped his jacket to reveal an ECU T-shirt. He would be come a Pirate, too. The two football players stood up, and each put an arm around Michael, who smiled and clapped.