The first Henderson Bowl is in the books, and the favored team, led by the elder of the two Henderson head coaching brothers, won.
Monacan, ranked No. 4 in The Times-Dispatch Top 10 and coached by Jim Henderson (sixth season), raised its record to 6-0 with a 22-15 victory over James River, coached by Bobby Henderson, the youngest of four Henderson brothers.
Bobby spent three years as Monacan's defensive coordinator before taking over as the Rapids' coach this season, so not only was he coaching against his brother, he faced players he had mentored and developed.
He set up a ball-control game plan to keep Monacan's offense off the field. On defense, the Rapids attacked at the line of scrimmage and with blitzes. James River followed through almost to perfection.
Monacan running back Korey Bridy scored the game-winning touchdown from 10 yards out on the second play of overtime. Luke Walls kicked the extra point, and the Monacan defense finally figured out how to stop the Rapids' wildcat-style running game.
Bridy's overtime touchdown was the 50th of his career at Monacan and his third of the game. He scored on 29-yard run to open the scoring on Monacan's first possession after James River began the game with an onside kick. Quarterback Syour Fludd (10-15-108-1) passed to Martiese Phipps for the 2-point conversion.
"I knew they would be well coached, and they would come out with a good game plan," Jim Henderson said. "They did what they knew how to do. They kept the ball out of our offense's hand. We didn't get the ball as much as we're used to. It's tough to get in rhythm offensively when you do that.
"Their offensive line moved us around all night, but I tip our hat to our defense for solving the puzzle and figuring it out at the end. … (Bobby) put his guys in position to win at the end of the game, and that's what you want to do as a coach."
Bridy's second touchdown, a 35-yard burst through a packed-in James River front, pulled the Chiefs even at 15 in the third quarter. He finished with 118 yards on 14 carries. He also caught three passes for 59 yards.
The Chiefs had to make their offense count. In the first half, James River ran 31 plays to 19 for Monacan. The Rapids began the second half with a 17-play, 80-yard drive that lasted eight minutes and was helped along by two major penalties against the Chiefs. Hasan Gibson ran in from the 1 for the touchdown, and Jackson Phillips booted the extra point to give the Rapids a 15-8 lead.
The Rapids' first touchdown came in the second quarter on a 4-yard run by quarterback Graham Scholl. James River also was successful on a 2-point conversion to tie the score.
The Rapids lost big to Manchester, a team Monacan beat by a touchdown, last week. They were a different team Friday night.
"This was more exciting than I thought it would be," Bridy said. "They came and played their best game. It was a hard game. Coach Bobby coaching them helped a lot because he knows all of us. He knows what we like to do."
Coming up with big plays stems from confidence, Bridy added.
"We have been in this situation before. We knew what we had to do," he said.
The Rapids made the Chiefs work for everything.
"We knew coming in it would be tough to match up with them," Bobby said. "We tried to slow the game down, put them in a box. It worked for four quarters. … Our kids didn't quit the whole night. It was hard to watch them fight that hard and not come out in the end. They deserved it. I feel really bad for them because I know they gave everything they had."
---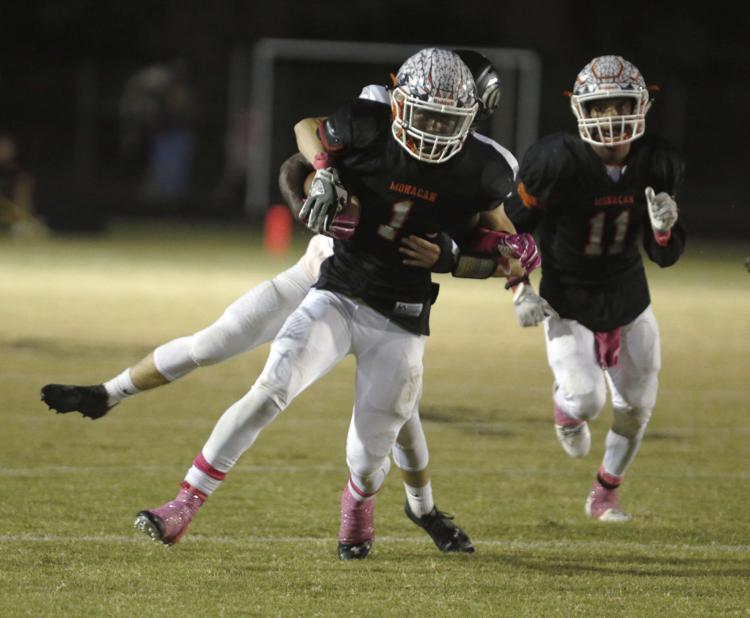 James River 8 0 7 0 0 — 15
MON—Bridy 29 run (Phipps pass Fludd)
JR—Scholl 4 run (Phipps pass Dusenbury)
JR—Gibson 1 run (Phillips kick)
MON—Bridy 35 run (Walls Kick)
MON—Bridy 10 run (Walls Kick)
JR: Scholl 17-74, Gibson 17-23, Mayo 20-63, Holloway 4- -1. MON: Bridy 14-118, Fludd 12-10.
JR: Scholl 1-2-0-17, Gibson 2-7-1-25. MON: Fludd 10-15-1-108.
JR: Morris 2-27, Holloway 1-15. MON: Reeves 3-2, Bridy 3-62, Powell 2-20, Green 1-8, McLeod 1-15.