When Keith Braxton became head football coach at Patrick Henry 17 months ago, he contacted the school's soccer program in search of kickers. One coach had an idea and a name.
Three months later, on the first day of her summer vacation, Rian Pecci-Young met her eventual special teams coach, none other than legendary former Patrick Henry head coach Ray Long.
"At the time he was kind of surprised, but I could tell excited, to have a girl kicker," Pecci-Young recalled wryly. "Because he had a Hanover game he lost because of a girl kicker when he was coaching. It was pretty cool meeting him, as I'd heard all the legendary stories."
That was the Hawks' first win over Patrick Henry, 24-21, more than a decade ago. Their kicker at the time was Rachel Moore. So, while Pecci-Young is not the first female to take the football field in Hanover County, she's happy to continue paving the new road of opportunity while making a difference both on and off the field.
Early on, there were no guarantees. Braxton had two kickers on his roster last year. But, rather than animosity, the duo developed a kinship that not only helped Pecci-Young develop a rapport with her teammates, but earn their respect as well.
"I was kind of nervous," Pecci-Young said, remembering her first game as a Patriot. "They were letting our senior Gavin [Roland] kick; it was also his first year. He was more nervous than I was. If anything, I was calming him down a little bit, not myself."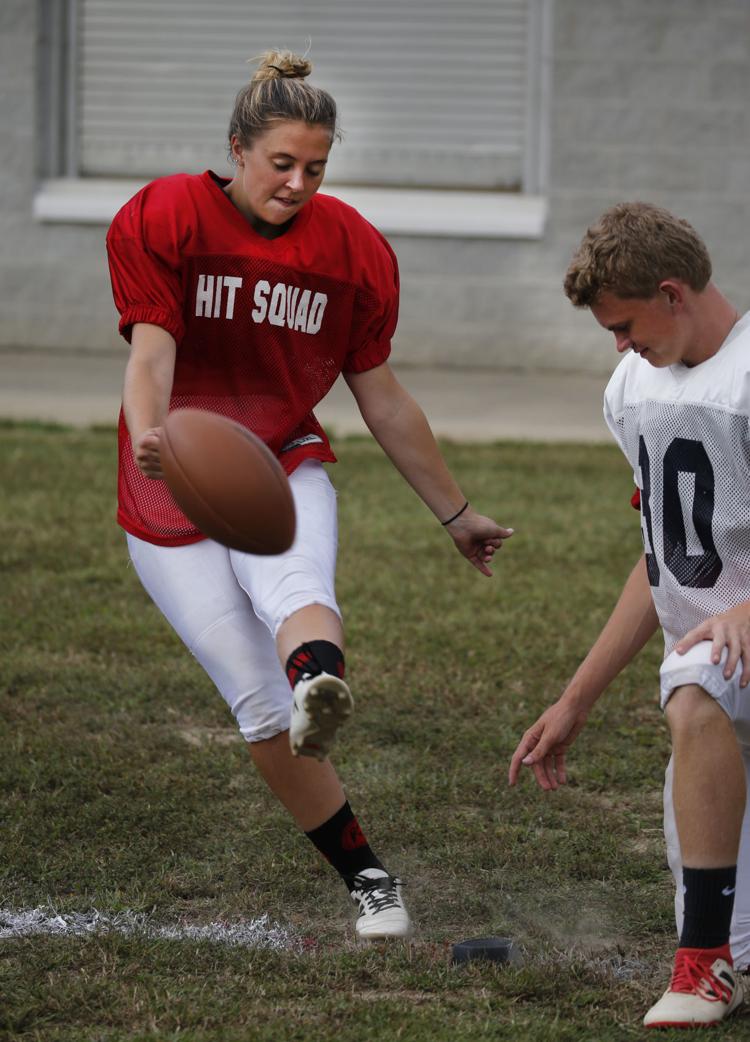 Pecci-Young converted on her lone point-after attempt that day, teaming with Roland to help Patrick Henry's special teams in the Patriots' drive to their third playoff appearance in four seasons, one that ended in a painful loss to unbeaten Eastern View on a frigid November night in Culpeper. It's a memory that drives Pecci-Young to higher expectations this season.
"I'd like a home playoff game this year. I remember wrapping up in three blankets my mom gave me on that bus coming home, it was so cold," Pecci-Young said.
Now she's a senior and in her second year on the varsity team. She started this season by converting all five extra-point tries in Patrick Henry's 51-6 triumph over Caroline at home last Friday night. Last year, she made seven PATs and converted one field goal of 23 yards.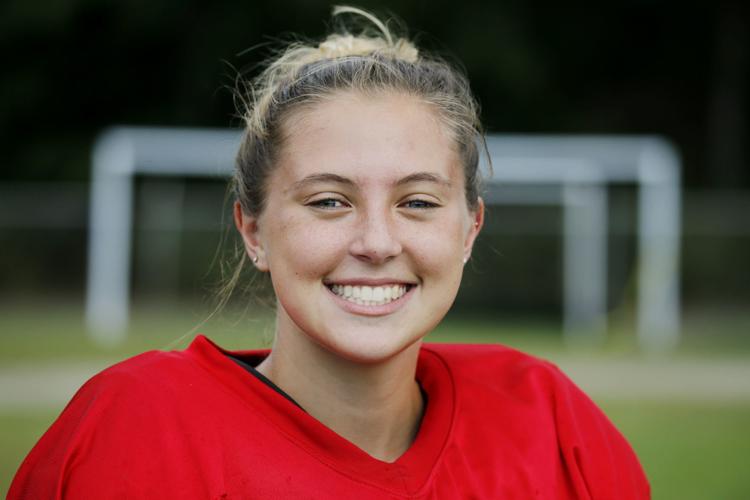 As for Braxton? A glimmer comes to his eye when asked about his kicker.
"The thing I like about her is she has a lot of spunk, and she is tough as nails," Braxton said. "Most people would think that being the only girl on the team would be an intimidating situation. It's not."
Once this season concludes, Pecci-Young will return to her soccer roots, a sport she has played since age 4. After a final season for the Patriots in the spring, she plans to play in college for North Carolina Wesleyan, a Division III school in Rocky Mount, N.C.
Pecci-Young was one of 2,401 women to play high school football nationwide in 2017. As she follows Moore and former Midlothian kicker Ashley Hancock in paving the way for female football players, she leaves with Braxton and her teammates a powerful message about opportunity and equality.
"One of the most important things for me, having her on the team, is it lets other young girls know that, hey, look, this is possible," Braxton said.