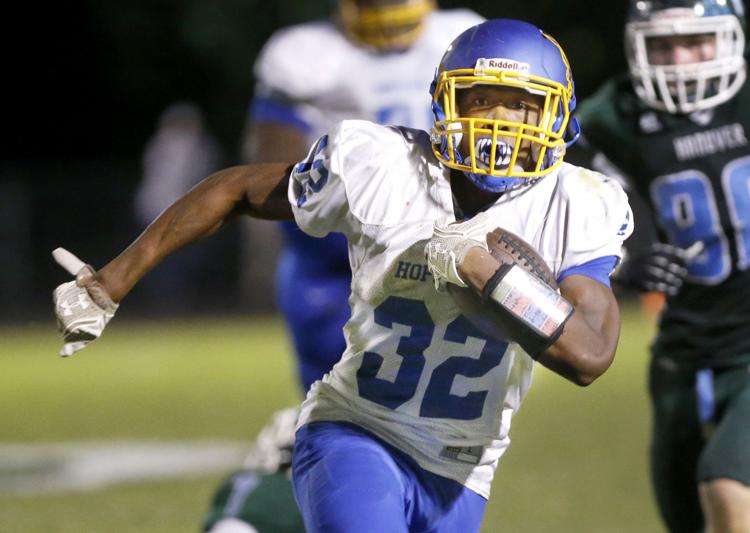 CLASS 3, REGION A
Colonial Heights Colonials
Offense: Edwards expects senior WR/RB Rayquan Rogers to have the ball in hands frequently. Junior QB Hunter Spence also will get the ball to junior RBs Dashaun Lilly and Maurice Sykes, and senior WRs Andrew Daisey and Jayme Ramsey. Senior G Colin Mott and sophomore T Carson Cox anchor the line with C P.W. Smith, G Austin Hart and DTs Mike Barron or Julian Armstead.
Defense: The Colonials surrendered gobs of points last season, and Edwards wants to get his best players, some doing double duty, on that side of the ball. Hart and Armstead will stay on the field on the line, with senior Tristan Echols and sophomore Cameron Washington. Sykes, junior Tyron Porter and David Beasley are the linebackers. Rogers, Ramsey, Daisey and Spence are in the secondary.
Outlook: Edwards takes over after serving as the offensive coordinator at Dinwiddie, which has had prolific offenses under Billy Mills. Small steps may be required turning around a program that has won eight games since 2011. Depth is a concern with several players lining up on both sides of the ball.
---
Hopewell Blue Devils
Offense: RB Ronnie Walker rushed for 127 yards per game as a junior and was named second-team All-Metro. The 5-10, 200-pound senior is one of the top recruits in the state. Greg Cuffey is back at quarterback. The dual-threat senior started six games when Cameren Hill went down with an injury, and Hopewell won five of them. Cuffey has offers from Navy and Richmond. Three receivers are back, including junior Sean Allen and senior Reizon Murphy. The skill players for Hopewell are very good. On the line, only one starter returns, senior T Daryan Blowe (5-11, 255). The rest of the starters are underclassmen.
Defense: Two starting linebackers return, Zyreon Jones-Walker and Dre' Thomas. There's good speed in the secondary, which includes Cuffey and freshman S Trey Henderson, who already has a Division I offer from Indiana. But the defensive line is young and undersized. The front four will include a senior, junior, sophomore and freshman.
Outlook: Hopewell's program has elevated itself to the point where it has the same goal every year: win the Class 3 state championship. Hopewell has reached the state semifinals the past two years. This year, the Blue Devils have some of the pieces necessary to get them back to the state tournament. Their running back is among the best in the state. But whether the offensive and defensive lines round into shape will determine if Hopewell can challenge teams like Dinwiddie or run the table in the state tournament. Hopewell's postseason path will look a little different this year. Hopewell now plays in Class 3, Region A, which now includes Phoebus (9-1 last year) and Park View (8-2). The three best teams from 3A East last year are now in the same 12-team region. I.C. Norcom (5-4), Tabb (6-4), Powhatan (8-3) are Hopewell's out-of-district schedule, and they'll be a good challenge for the Blue Devils.
---
New Kent Trojans
Offense: Nine starters are back on offense, including junior RB Evan Branch (5-8, 160) and senior RB Kyle Coles (6-1, 190). Senior Ryan Curle will start at quarterback. There's a decent amount of size on the offensive line, especially in junior T John Holland (6-2, 300) and C Cody Long (6-1, 240). A freshman, Wade Grubbs (6-1, 230) is expected to start. Slater Gammon and Wyatt Terry will line up at wide receiver.
Defense: Seven starters are back on a defense that showed a lot of improvement in 2016. There's size and experience on the defensive line, which includes Holland, DT Jason Godbey (6-1, 220) and DE Darius Jones. The linebackers are a mix of old and young with senior Garrett Edwards, playing beside a junior, Terry, and a sophomore, Adam Cable. There's just one senior in the secondary –CB Michael Gatlin (6-5, 180). Two sophomores, Jacob Terry and Brody Smith, and a freshman, fill out the back four. Harrell says he's looking for more depth out of the unit.
Outlook: New Kent won two games in 2015, its first season under coach veteran coach Clark Harrell. It improved to 4-6 last year, but missed the playoffs by one spot. The defense needs to continue to improve in 2017, and the offense needs to play like an experienced group. If the Trojans can improve by one or two wins, they should be playoff bound. New Kent has just one out-of-district game, its season opener against Colonial Heights.
---
Petersburg Crimson Wave
Offense: Petersburg will be young in two key spots. Freshman Meziah Scott (6-0, 195) will start at quarterback. His job will be to make short and mid-range passes to open up the defense from the run. He's Mike's son and has a lot of experience playing quarterback. Sophomore Upton Bailey, who saw action as a freshman, returns at running back. He's the offense's most explosive player, Scott said. Senior WR Antoine Brown (6-3, 198) is a tall receiver who's effective in the middle of the field. He's got good after-the-catch ability, too. The line has three starters back, including senior C Xavier Butts and T Dominick Kelley. The line needs to get more consistent, Scott said.
Defense: Most of the defense is back, though it needs to replace second-team All-Metro LB Fred Raspberry (Virginia State). The whole secondary returns, including two tall cornerbacks, Brown and Nashawn Reid-Carlos (6-2, 175). Three starters are back on the line, including senior DE Darryl Griffin. Senior Chris Jones is the only starting linebacker returning. He's the defense's leader. Altogether, the linebackers are undersized. Scott is looking for more depth on the defensive line so there aren't too many players playing both ways.
Outlook: Petersburg made the playoffs last year as a fifth seed with a record of 3-7. If Petersburg wants to improve that record, it'll need to win some games in the first half of the season. Its first five opponents are Class 3 schools: John Marshall, George Wythe, James Monroe, Hopewell and Colonial Heights. The final five are against larger classification schools: Prince George, Thomas Dale, Dinwiddie, Meadowbrook and Matoaca. How well Petersburg plays in the first five games will be a good gauge for what it can do in the postseason. If it can win three of the first five, then steal one or two in the second half of the season, Petersburg will be in good position for the playoffs. With a freshman quarterback and sophomore running back, Petersburg is still building for the future. This year is still about building a foundation for the next three seasons.
---
CLASS 3, REGION B
Armstrong Wildcats
Offense: The Wildcats will revolve around sophomore QB Jacqueal Thomas and two sets of brothers – HB Marlin and TE/athlete Myles Osborne, and WRs Deshaun and Treshaun Bailey. Also expected to play roles are WR Jairus Stewart, WR/athlete Tywann Jackson, WR Oliver Basnight, HB Jacob Kirby, WR Tim Moore, Tyeshawn Steward and Trevon Epps. Junior Corvel Poag anchors a young offensive line.
Defense: The unit allowed almost 45 points per game last season. DEs Charles Smith and Myles Osborne return, along with DLs Shawn Reed, Poag and John Jones, LBs Jameel Bowers and Kirby, and SS Stewart. LB Tavarus Leeper and DE Joshua Crawford should find playing time, along with Basnight, T. Bailey and Moore in the secondary.
Outlook: Since going 6-5 in 2014, the Wildcats are 2-19. New coach Kenny Painter believes his team can improve behind its skill players and speed. Depth, youth, size and the schedule will be issues. Armstrong plays only two games (Thomas Jefferson, John Marshall) in its classification (3), with the rest against Class 4 and Class 5 teams.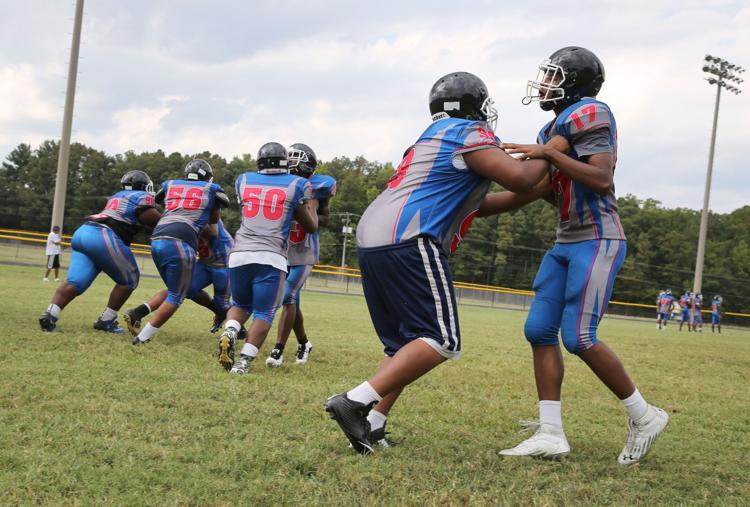 George Wythe Bulldogs
Offense: The strength of the offense will be line and the receivers, Jeter said. The line includes senior Mark Spears, junior Tievelle Gary and senior Kavon Gallishaw. Eugene Williams, a starter on the basketball team, will play wide receiver along with senior ZaMare' Johnston. Demetrius Atkins (6-1, 188) will play quarterback, and senior Maurice Laster will line up at running back.
Defense: The defensive line, which includes Robert Wood and Joseph Bissue, will be a strength. So will the secondary, which includes CB Marquise Dunbar, CB Atkins, S Williams and S Carl Brown. The linebackers include Levondus Lightfoot and Ke'Relle King.
Outlook: George Wythe won its season opener in 2016, beating Armstrong 8-6. It was Wythe's first win in three seasons. But then Wythe lost its next 10 games and changed coaches in the offseason. Thanks to its strength of schedule, Wythe made the postseason with a record of 1-9. Its offense, which scored 10 points or more just three times, will need to get better. A good offensive line is a good starting point. The Bulldogs have fellow Class 3 opponents John Marshall and Petersburg on their nondistrict schedule.
---
John Marshall Justices
Offense: John Marshall will be young on offense, with just three seniors projected to start – WR Jordan Woods, OL Ed Boisseau and OL Kavon Harris. But the offense is fast and athletic, Sims said. Sophomore Damian Harris (5-8, 165) is back at quarterback after becoming the starter his freshman season. Fraquell Williams will line up in the backfield, and junior Kei'trel Clark adds to the receiving corps.
Defense: The Justices' defense is young, too, with just two seniors listed in the starting lineup, Boisseau and Woods. The unit can run to the ball in a hurry, Sims said. And the defenders have speed and length. Junior Daquan Cain adds some size to the defensive line, and freshman Jamel Stewart (5-11, 195) adds to the linebacking corps.
Outlook: John Marshall hasn't had a winning season since 2012. But a new coach, one with NCAA and NFL experience, brings a renewed sense of optimism to the team. Still, rebuilding will take time. With a small roster, avoiding injuries will be a key for the Justices. So will endurance. Many players will go both ways and won't get much of a break throughout the game. The Justices have a schedule that starts with like-sized opponents: Class 3 members George Wythe, Petersburg and Armstrong. Then J.M. plays six games against Class 5 opponents. It finishes the year with Thomas Jefferson. Hermitage is no longer on the schedule. Last year, George Wythe made the playoffs with a record of 1-9 thanks to its strength of schedule. The Justices will need a few more wins than that. But a playoff berth isn't out of the realm of possibility. Beat its Class 3 opponents, and the Justices can make the postseason.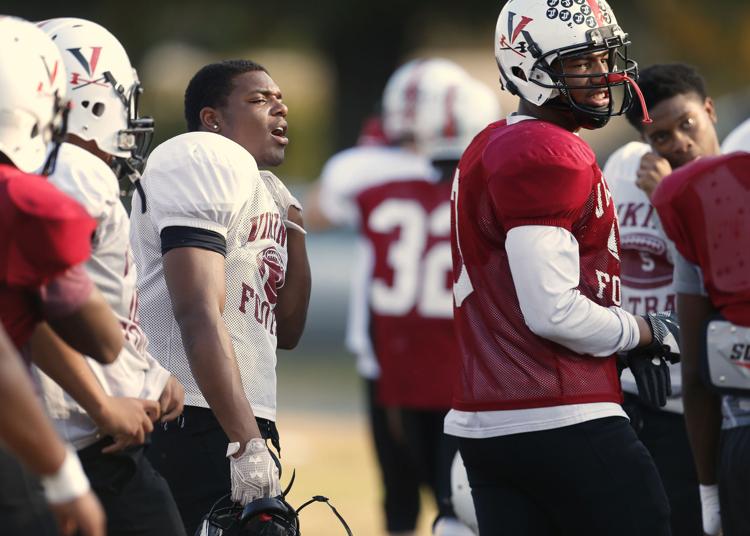 Thomas Jefferson Vikings
Offense: The centerpiece of the T.J. offense is RB Jalen Jackson. Last year, he played quarterback, running back and receiver, totaling more than 1,300 offensive yards. This year, he'll primarily play running back. A Villanova pledge, Jackson is the biggest name to come from the T.J. football team in years. Anwar Wilson Bradley (6-2, 190) is back at receiver and has really emerged, Adams said. Senior Alex Jacobs (6-1, 175) will start at quarterback. Adams called him a stabilizing factor on the offense and said Jacobs has the potential to be the most consistent T.J. quarterback in many years. There are three starters back on the offensive line, including C Pope Bland (6-1, 280). But the front five is young. Three of them are sophomores.
Defense: With five starters back, the defense is half new. The secondary has good size and depth. But Dominique Williams (5-9, 170) is the only starter back. The front seven is undersized, but has good speed. Bland will play both ways, as will other linemen. Senior LB Gyasi Hale is back for his fourth season on the varsity and will be counted on as a major contributor on defense.
Outlook: Last year, Thomas Jefferson won four games, its highest win total since 1997. T.J. has a new coach – its third in three years. But Jackson, the most important offensive player, is back on offense. If T.J. is going to be successful in 2017, Jackson will need to have a big year. T.J. has been at the forefront of a statewide movement to eliminate lopsided district games from its schedule. It has dropped Freeman, Godwin and Hermitage – opponents it hasn't beat in many years. T.J. plays only four Colonial District games: Glen Allen, Deep Run, J.R. Tucker and John Marshall. Its six out-of-district games come against teams with more similar enrollments: Goochland (2A), Armstrong (3A), Greensville (2A), Caroline (4A), Essex (1A) and William Campbell (1A). Goochland and Essex are two of the top teams in the state in their classifications. T.J. showed it can reach the Class 3 playoffs. It should do so again this year. The question is whether or not the Vikings can win in the postseason.
---
CLASS 2, REGION A
Goochland Bulldogs
Offense: Like last year, Goochland will have a deep stable of running backs, including seniors Jasper Carter (59 ypg), John King and Cole Nuckols. As many as six guys could get the ball. Sophomore Devin McCray (5-11, 155) is new quarterback. He started on defense last year. Dallas Coles, the team's leading receiver last year, is back for his senior season. G Ethan Kopczynski (6-0, 215) is a three-year starter on the offensive line, but the only returning starter among the five. This offensive line is bigger than previous years. Kopczynski and Coles are the players who were full-time starters last year.
Defense: Contrasting the offense, much of the defense is back from 2016. The defensive ends are tall. Ricky Mayfield (6-3, 240) is back for his fourth year as a starter. Keiston Carter (6-3, 210) will start for the first time. Junior Sam Brooks and John King are back at linebacker. Cole Nuckols, a three-year starter at cornerback, returns for his senior season. Goochland intercepted 19 passes last year, and the players who return this year accounted for 12 of them. P/K Zach Gordon is back for his senior season and is a big asset.
Outlook: While Goochland has a lot of new starters on offense, several of them played regularly or started some of the season. Plus the junior varsity went undefeated last year, so a lot is expected of the new talent. Goochland has enough depth to play close to two platoon, a luxury not afforded to every Class 2 school. Its defense looks strong again. Can the new offense produce at a high level? The question for the Bulldogs isn't "How many games will they win?" as much as "How many playoff games will they win?"
---
King William Cavaliers
Offense: King William has to replace quarterback Ryan Huffman, a two-year starter. He averaged 135 passing yards per game last year. Sophomore Lance Alfonso (6-1, 180) will be the new starter. King William is young on both sides of the ball. The offense has just three seniors in the starting lineup. The skill positions are especially young. RB/WR March Gresham and RB Corey Stewart are just sophomores. WR John Williams is the lone senior starter among the skill positions. There's experience on the line, though, where four starters are back, including senior G Trevor Herendeen and junior T Tommy Riffe.
Defense: There's less experience on the defense than the offense. There's only one senior in the starting lineup, LB Tyler Kirby, and just three starters back from last year. NG Trevan Holmes is the only starter back on the line, but there's good size in that unit. OLB Eric Johnson is the only starter back among the linebackers. S Stewart is the only starter back among the secondary, which has all sophomores in the starting lineup.
Outlook: Seven wins last year was King William's lowest win total in several years. Now the Cavaliers return a team with a new sophomore quarterback, youth at the skill positions and an experienced offensive line. The defense is young and inexperienced. For King William to be successful in 2017, the youth will need to step up. King William gets Essex on Sept. 8. The Cavaliers are likely to get a good challenge.