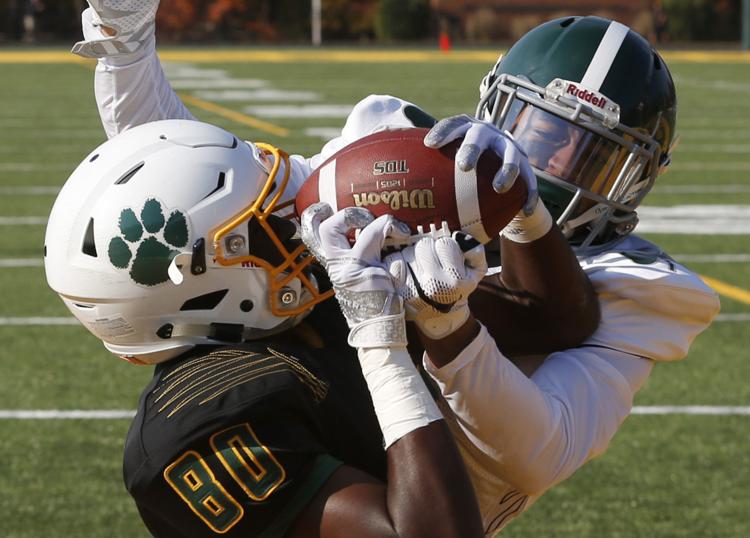 VISAA DIVISION I
Benedictine Cadets
Offense: RB Caleb Grimes (Navy pledge) rushed for 1,300 yards last year and is back for his senior season. QB Andrew Puccinelli (6-2, 175) saw plenty of action as a part-time starter last year. Now a junior, he'll be the full-time starter. There are four starting offensive linemen back, and they have good size. G Daric Cotman (6-4, 280) is the biggest among them. The receiving corps, which includes Christian Dunn and Conner Robinson, is new and young. Dunn and Robinson are both sophomores. Chris Collins (6-5, 220), a North Carolina pledge, will line up at tight end again.
Defense: There are two players committed to Division I schools on the defense, DE Collins and LB Wendell Davis (Pittsburgh). Also back at DT is senior Isaiah Jones. LB Deonte Logan leads the secondary. He's one of three starters back, including senior S Andrew Mulvin and CB Bobby Bradley. But the defense will feature five new starters, so the Cadets are young and inexperienced in some spots. The defense has to replace Ellis Brooks (Penn State), who was one of the best linebackers the school ever had. Junior Kyle Miller will kick and punt. He replaces three-year starter Will Pittman, who was named second-team All-Metro.
Outlook: Benedictine won VISAA state championships in 2014 and 2015. Then, halfway through the 2016 season, its quarterback left the team, changing the identity of the offense. Puccinelli and Brooks both played quarterback. Despite the turmoil, the Cadets still reached the VISAA state title game, falling to Collegiate. The Cadets have the pieces to get back to the state championship game. They have a big offensive line, a dependable running back and standout defenders. The question is whether the new pieces can come into form. If Puccinelli can bring some balance to the offense, if the receivers can run their routes and catch their passes, and if the young players on defense jell, then Benedictine can get right back where it was in 2015 and 2016.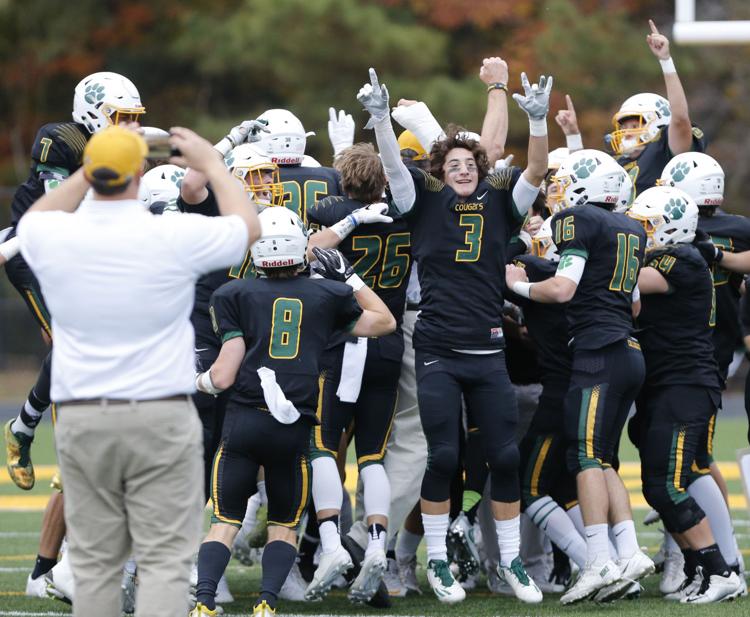 Collegiate Cougars

Offense: Senior QB T Brewer and receivers Aynide Budd (junior), K.J. Rodgers (junior) and Travis Reifsnider (senior) return, and they'll be joined by senior Andrew Cooke. Brewer averaged almost 150 yards passing, and Budd and Rodgers are college prospects. The line has three returning seniors: T Somers Wilton, C Charlie Willingham and G Thomas Graeber. Two seniors, G Logan Little and T Brett Oney, will be up front.
Defense: Collegiate had a stingy defense last season, but it is losing eight starters. LB Evan Clark and CB Nigel Williams will lead the way. Wilton, Graeber, Oney and Little will do double-duty on the line, with senior Nick Stepanian and Owen Scher on the second tier at LB. Senior CB Brad Cornell, senior S Ben Tavenner and S Cooke are in the secondary.
Outlook: The Cougars won the VISAA Division I state title but have holes to fill. The passing game and experience on offense will make Collegiate dangerous, especially if it finds some productive balance at RB, where Excellence Perry averaged 113 yards during the regular season. The defense will have to come along for the Cougars.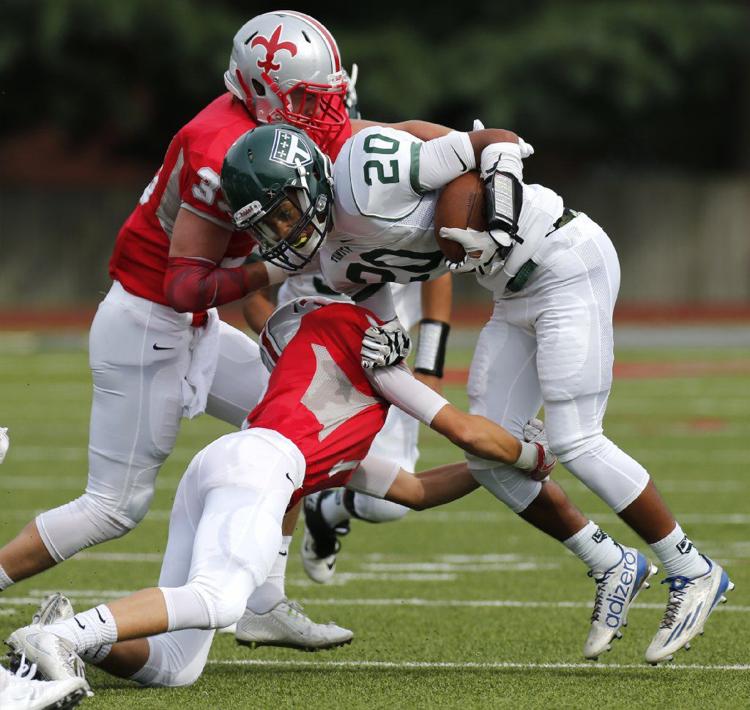 St. Christopher's Saints

Offense: The Saints have three all-state players who will make them formidable: senior RB Jens Ames, senior WR Justin Jasper and senior guard Henry Schroeder (6-4, 260). Also returning are senior WR Will Forrest, senior G Michael Chapman and senior T Will Tappen. Junior Patrick Routsis will be the QB. Junior Hartley Jordan joins Ames in the backfield, and junior Will Hayes is part of the receiving corps. Seniors C Ralph Levy and T Jack Pendlebury are up front.
Defense: Like the offense, much of the unit returns, led by S W. Forrest and DE Tappen. Schroeder and senior DE Carter Davis both started last year, as did junior LB Charlie Boggs and LB Ames. Sophomore Hayden Forrest and junior DayMone Fleming move in at the other LB positions. Senior CB Logan Hingst returns, joined by senior CB Will Bird and senior S Thomas Caravati.
Outlook: St. Christopher's figures to move up and be one of the favorites in the Prep League. The Saints are heavy on seniors and have standouts who will enable them to be a force. Schroeder has committed to JMU. Jasper, who caught 45 passes for 664 yards and seven TDs, has committed to Richmond.
---
Trinity Episcopal Titans
Offense: Trinity's top weapon is senior WR Tink Boyd (6-0, 185). He averaged 45 receiving yards, 40 rushing yards and played some quarterback last year. The Titans have a new signal caller, JR Taylor Eggers (6-5, 220), who transferred from Godwin. Also back at receiver is junior Patrick Way. Seniors Donavan Goode and Zareaon Pettifrod will play running back, looking to balance out a pass-friendly offense. There are three starters back on the line, including Jeremy and Foster Singleton and senior T Lance Johnson (6-5, 315).
Defense: Seven starters are back on defense, including three of four on the line. The Singletons, plus senior DE George Pearson are slated to start. One starting linebacker returns in the 4-2 scheme, junior Reed Powell (6-2, 220). Three defensive backs return, including CB Michael Lomax, WS Jaylyn Lomax and Way.
Outlook: After winning the VISAA Division II title in 2015, Trinity had a less experienced team that finished 3-6 in 2016. Now there's a lot of experience on the defense, and core to build around in the offense. There are plenty of questions about what direction Trinity will head in 2017. Can the offense find ways to consistently get the ball in Boyd's hands? What will the new quarterback bring? Trinity is in VISAA Division I for the second year, meaning it faces a good deal of competition to make the playoffs.
---
VISAA DIVISION III
Blessed Sacrament Huguenot Knights
Offense: Unit has eight returning starters but is breaking in a new QB. Senior RB Dion Butler is back, as are WRs Colby Johnson (senior), Chris Gupton (senior) and Michael Kemp (junior). They'll go behind a line that has some size: senior Gs Christian Strauss (221) and Wesley Clements (223), senior T Peyton Mulligan (282), junior C Luke Freudenthal (6-4, 303), junior T Manny Murillo (271) and junior TE Jack Lyons.
Defense: Robinson expects BSH to be physical up front with Ts Mulligan and Freudenthal, Strauss and Lyons. Butler and Clements return at LB. In the secondary are senior Alston Purcell, Kemp, Johnson, sophomore Jack Hatfield and freshman Anthony Greenhow.
Outlook: Offensive line should pave the way for BSH to improve while the QB spot is settled. Junior Kemper Roudabush and sophomore Raymond Avery are competing for the job. Depth is a concern. Robinson has a limited roster and has eight players going both ways.
---
Richmond Christian Warriors
Offense: Richmond Christian will run a wing-T offense this year under a new coach. Richmond Christian has to replace Trevor Laury, who rushed for 165 yards per game last year. FB E.J. Layne and junior QB Tony Reid will get a number of the carries. Split end Latrell Collins and WB Kevin Venable will contribute to the offense, too. There are three experienced linemen: senior Nick Braden, junior Cooper Chatham and junior Roman Trettle.
Defense: Ben Newton will play linebacker and defensive line for the Warriors. Trettle will see time at linebacker and defensive end. Layne will play defensive line, and Josh Spriggs will play safety and cornerback. Collins will play corner. Cornerback and receiver Antonio Jones is back on the team, too.
Outlook: Richmond Christian has achieved winning seasons and playoff berths in its first two seasons of varsity football. It starts Year 3 with a new coach and some new pieces on offense. RCS faces two big opponents in September – Quantico and Roanoke Catholic, which handed Richmond Christian three of its four losses last year.