Staff writers Eric Kolenich and Tim Pearrell make their picks for this weekend's public school region semifinal games and the VISAA Division I state championship. Games are Friday at 7 p.m. unless otherwise noted.
Class 6, Region B
No. 3 Thomas Dale (9-2) at No. 2 Manchester (10-1): Manchester's rushing attack has greatly improved from the beginning of the season. Sophomore Isaiah Todd rushed six times for 108 yards and two touchdowns last week against Clover Hill. QB Brendon Clark ran for two touchdowns and passed for another. Thomas Dale lost one of its three starting running backs, Collin Holmes, to an injury. In his place, A.J. Chavis rushed three times for 117 yards and two touchdowns last week. He scored on touchdowns of 94 and 20 yards. Chris Tyree needed just four carries to go for 149 yards and score two touchdowns. These teams last met in 2010, though the rivalry dates to the 1940s. Eric: Dale 22-20 Tim: Manchester 28-21
Class 5, Region B
No. 5 Varina (8-3) at No. 1 Hermitage (10-1): After a rash of injuries, Varina is finally healthy. Its depth showed last week against L.C. Bird. Varina used seven different ball carriers to rush for 206 yards. QB Brion Logan led the bunch with 49 yards and two touchdowns. Logan also passed for 108 yards. Hermitage's defensive line showed off last week, shutting down Meadowbrook's offense and holding the Monarchs to six points. Jahmol Robinson had four tackles for loss. Turnovers have been Varina's undoing. In three losses, the Blue Devils have committed nine of them. They gave away two interceptions last week, but only after building a big lead. On Sept. 15, Hermitage beat Varina 42-21. Eric: Hermitage 14-7 Tim: Hermitage 35-23
No. 3 Henrico (9-2) at No. 2 Highland Springs (10-1): Highland Springs' athleticism and special teams were on display last week against Mills Godwin. Billy Kemp returned a punt 89 yards for a touchdown, and Tremayne Talbert recovered a blocked punt and returned it for a touchdown. Henrico was down 17-7 at halftime last week against Lee-Davis but scored the next 31 points and ran off with a 45-31 victory. Theo Chambers, the Class 5, Region B player of the year, completed 17 of 23 passes for 242 yards. These teams met on Sept. 29, and Highland Springs won 23-6. Eric: Highland Springs 20-13 Tim: Highland Springs 35-22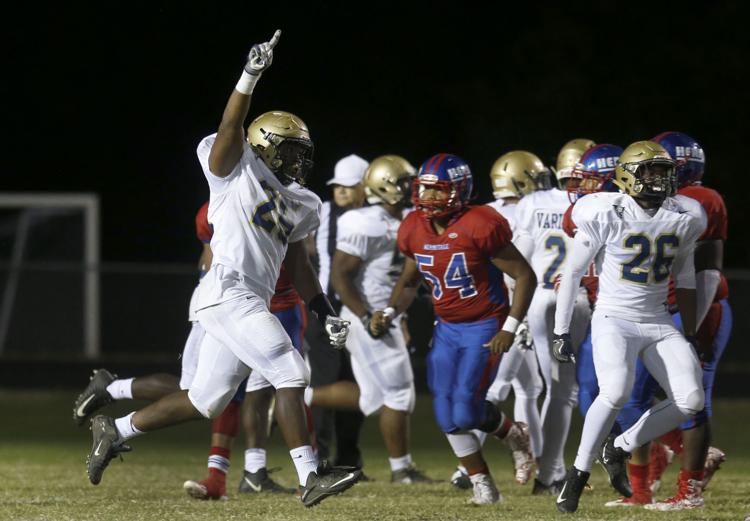 Class 4, Region B
No. 4 Eastern View (11-0) at No. 1 Dinwiddie (11-0): Dinwiddie has played the past two weeks without RB Zyan Sturdivant, who has been injured. Junior QB K'ymon Pope did most of the rushing work last week, carrying 13 times for 136 yards. Joseph Tyree and Tyre Dalton also contributed in the run game. Pope has been a breakout star for the Generals, completing 85 of 160 passes for 1,536 yards, 16 touchdowns and seven interceptions. K'Vaughan Pope (committed to Ohio State) has played mostly linebacker this year. But he had a huge effort on offense in the playoffs last year and could see time at wide receiver on Friday. Eastern View's Trey Holmes has rushed 158 times for 1,597 yards. Matt Lowry has completed 95 of 140 passes for 1,467 yards, 25 touchdowns and two interceptions. Eric: Dinwiddie 42-31 Tim: Dinwiddie 38-35
No. 3 Louisa (11-0) at No. 2 Monacan (11-0), 7:30 p.m.: RB Korey Bridy had another big game last Friday against Midlothian. He carried 25 times for 145 yards and scored his 60th career touchdown in the third quarter. Syour Fludd ran for a touchdown and passed for one. Monacan has tied the program record for most wins in a season, last met in 2014. Last year, Monacan beat Louisa 42-24 in the first round of the playoffs. Louisa runs the single wing and has two 1,000-yard rushers: Malik Bell (1,103) and Job Whalen (1,029). Bell, the quarterback, has completed 35 of 71 passes for 581 yards, 10 touchdowns and five interceptions. Louisa coach Mark Fischer plans to step down after the season as he continues to battle cancer. Eric: Louisa 21-17 Tim: Monacan 42-38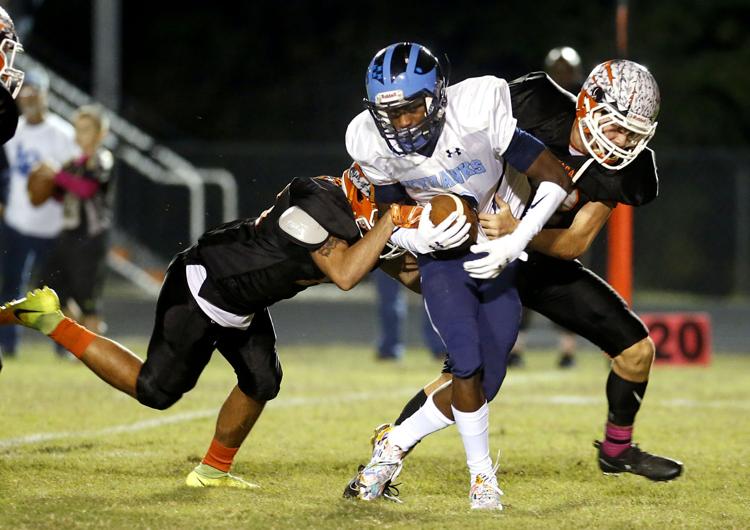 Class 3, Region A
No. 4 Hopewell (7-4) at No. 1 Phoebus (11-0), Saturday at 2 p.m.: After losing three in a row, Hopewell got its mojo back last week against Southampton. On Hopewell's first offensive play, Greg Cuffey threw a 40-yard touchdown pass to Ronnie Walker. Walker finished with 83 rushing yards on 11 carries. Robert Briggs had 124 rushing yards. Hopewell's opponent Saturday is a team that won six state titles between 2006-2011. Sophomore Chris Daniels threw four touchdown passes last week in Phoebus' 42-14 victory over Booker T. Washington. RBs Daniel Wright and Daequan Fleming split the carries for the Phantoms. Eric: Hopewell 22-14 Tim: Phoebus 27-14
Class 3, Region B
No. 5 Culpeper (5-6) vs. No. 1 Thomas Jefferson (8-3) at Huguenot: QB Anwar Wilson-Bradley was the key to Thomas Jefferson's offense last week, rushing for 154 yards on 19 carries. Thomas Jefferson's 13-12 win over Armstrong was its first playoff victory in school history. There was more pressure on Wilson-Bradley, with star running back Jalen Jackson nursing a sore ankle. He carried 10 times for 11 yards. Altogether, Jackson has 214 carries for 1,446 yards. He'll be a game-time decision on Friday, according to coach P.J. Adams. Culpeper is 5-1 since naming Javae Colelough its starting quarterback. He's thrown just one interception in six starts and has rushed for 946 yards. Capone Hoffman has 519 rushing yards. Eric: T.J. 36-14 Tim: T.J. 28-27
Class 2, Region A
No. 5 Amelia (8-3) at No. 1 Goochland (11-0): Amelia's pass-first offense meets Goochland's grinding ground attack. They played on Nov. 3, and Goochland won 42-28. It was the most points Goochland has allowed all season. Devin McCray threw his 10th touchdown pass of the season last week in Goochland's 42-8 rout of Brunswick. Goochland got most of its production on the ground, as usual. Jasper Carter ran for 159 yards and three touchdowns. Amelia edged Nottoway 18-15 last week, as Jalen Brown passed for 291 yards. Greg Archer had six catches for 134 yards. Eric: Goochland 31-24 Tim: Goochland 35-21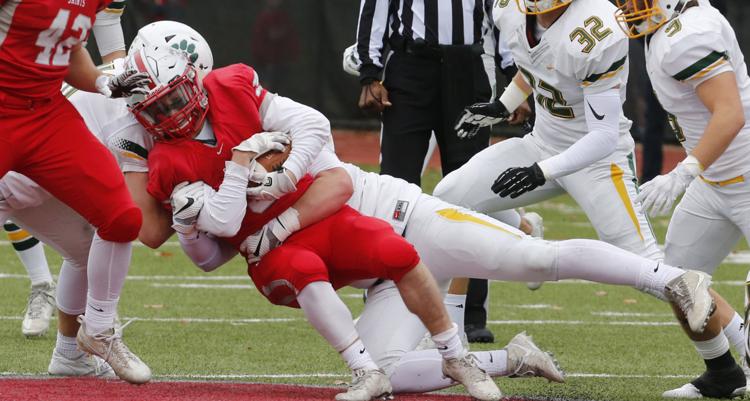 VISAA Division I state championship
No. 2 Collegiate (8-2) at No. 1 Flint Hill (10-0), Saturday at 1 p.m.: The defending state champ, Collegiate is looking for its second straight state title. The Cougars have been balanced this year. They got 182 rushing yards from Joseph White last week in the semifinals against St. Christopher's. T Brewer threw three touchdown passes, two to Ayinde Budd. Flint Hill junior RB Jordan Houston has offers from Penn State and Virginia Tech, among others. He has rushed for 1,782 yards and 22 touchdowns this year. Quarterback Miles Thompson has completed 77 of 117 passes for 1,613 yards, 23 touchdowns and three interceptions. Eric: Collegiate 24-21 Tim: Flint Hill 34-24
Picks record
Eric: Last week -- 15-2; Season -- 212-62
Tim: Last week -- 15-2; Season -- 221-53
Pick of the week: Tim nearly had a perfect pick. He predicted Hermitage to beat Meadowbrook 35-7. The final score was 35-6.