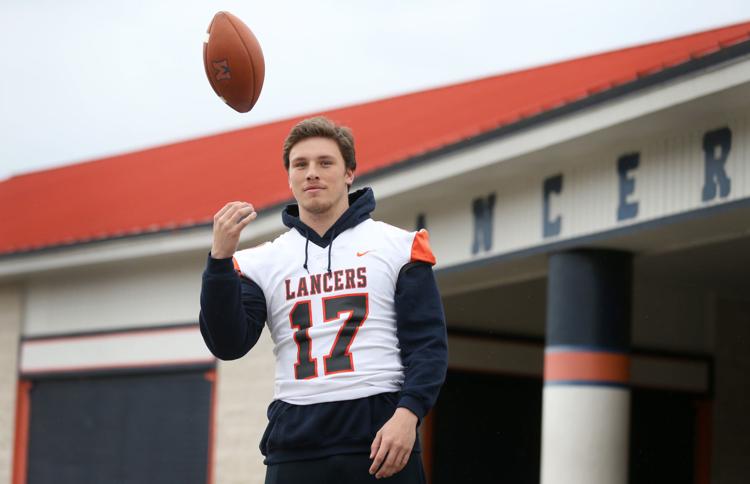 1. Brendon Clark, Manchester
Quarterback, Notre Dame, 6-2, 215
When recruiters talk about Brendon Clark, they often praise his intangibles: "It's the leadership. He seems like a big-time leader," one said. "Poise, experience...He never gets rattled from what I've seen," said another. Clark was a four-year starter at Manchester who displayed a strong arm, a keen sense for throwing the ball to the right place at the right time and strong enough running ability to be labeled a dual threat. "He knows how to play quarterback," one scout said. "They taught him the right ways." He committed to Wake Forest as a junior, but his stock increased last spring when he excelled at Elite 11 quarterback competition. He was named MVP of the event in Charlotte and was one of 24 quarterbacks nationwide to be invited to the national competition in Los Angeles. Notre Dame, Clemson, Tennesse and North Carolina offered, and he rescinded his commitment from Wake Forest in June. On July 4, he chose the Fighting Irish. He'll be the second Richmond-area player on the roster, joining defensive back Jalen Elliott, an L.C. Bird alumnus.
---
---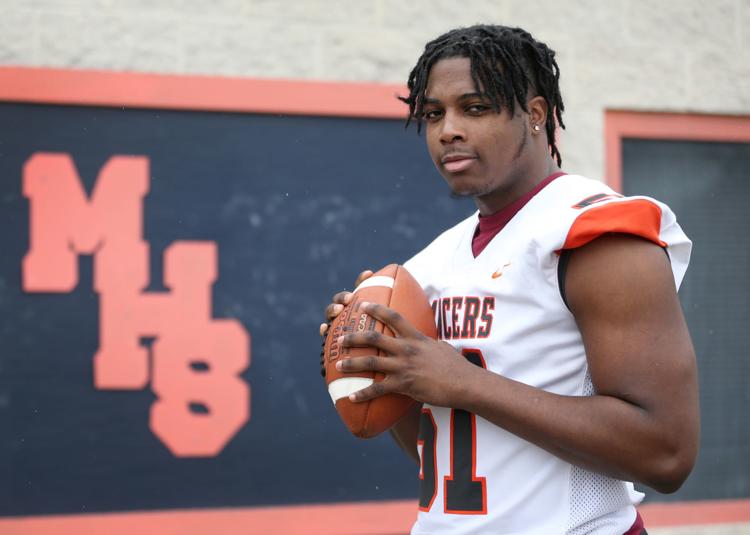 2. Hakeem Beamon, Manchester
Defensive end, Penn State, 6-3, 255
Beamon played defensive end at Manchester, a position that is highly valued in college football and the NFL – just look at Clelin Ferrell, a Benedictine and Clemson alumnus predicted to go high in this year's NFL draft. Beamon is versatile and has a body that could be molded in different directions to play one of several positions. "Beamon is almost built like a high jumper," said Gary Criswell, a radio commentator and former college coach. "We might not recognize him by the time his college experience is over with." Coaches disagree on what kind of college player he'll be. He could gain weight and play on the interior of the offense or defense. "In my opinion, he's going to end up being an inside guy," one recruiter said. "It wouldn't shock me if he went to the other side of the ball." Or he might thin down and play outside linebacker. He originally committed to North Carolina, but after receiving offers from Alabama, Arkansas and Penn State last spring, he picked Penn State in June. "He's going to fit into whatever [Penn State] wants," Manchester coach Tom Hall said last summer. "He's that athletic."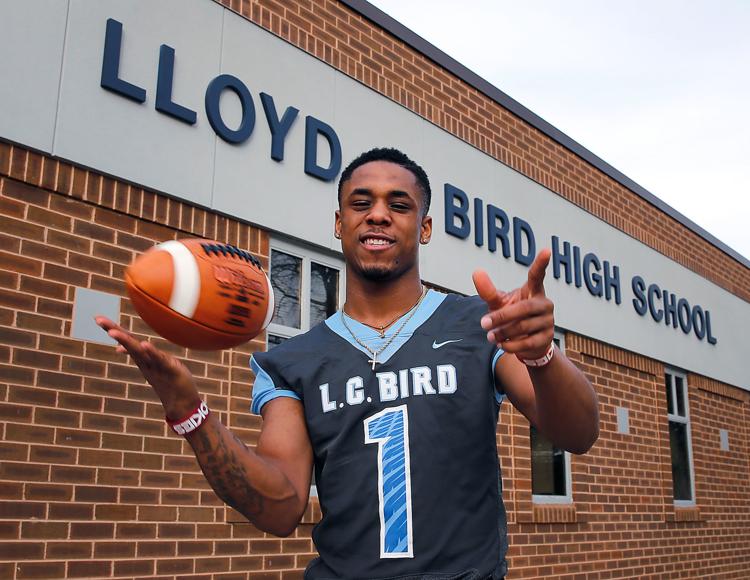 3. Jaden Payoute, L.C. Bird
Wide receiver, Virginia Tech, 6-2, 195
In one year, Payoute rose from a low-Division I recruit to an All-American. His name wasn't on last year's junior list, but his future changed in June when he won the Class 5 state track and field championship in the 100-meter dash and a day later ran the 40-yard dash at Pittsburgh in 4.35 seconds. Three days after that, Virginia Tech offered him a scholarship, and a week later he committed to the Hokies. He's the top-ranked recruit in the area by 247Sports and Rivals, and he was the only player in greater Richmond chosen for The All-American Bowl. "He blew up," L.C. Bird coach Troy Taylor said. One scout said he'll be Tech's most athletic player when he joins the team. "Jaden's a superior, freak athlete," he said. "Whether it's track, basketball, football…he's at another level of athletics." Others pointed out that there's an unknown quality about Payoute. He's recruited to play wide receiver, a position in which he saw little action, because Bird runs the ball so often. He switched to quarterback as a senior and at least became a regular part of the offense. "Nobody really knows," one scout said. "He's got a good upside, maybe a really big upside." He also had offers from Boston College, Pittsburgh and Tennessee.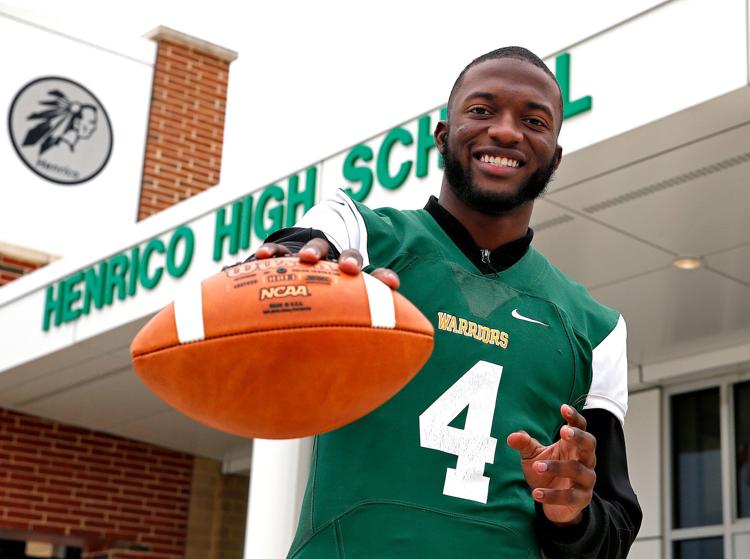 4. Jalon Jones, Henrico
Quarterback, Florida, 6-3, 205
Jones bolstered the Richmond area's recruiting class when he transferred back to Henrico for his senior season. The dual-threat quarterback played for Varina as a freshman, Henrico as a sophomore and senior and St. Frances in Baltimore as a junior. He displayed speed, a strong arm and accuracy. Perhaps his biggest strength was his ability to improvise when a play broke down. He could scramble out of the pocket and run for 80 yards or find a receiver who had broken loose. "Jones can make a coach tear up his playbook and build a playbook just for him," Criswell said. "Potential-wise, he's got a lot of it," said another scout. "He's got as much as anyone in the group." Jones originally committed to Mississippi State, but when Bulldogs coach Dan Mullen was hired at Florida, Jones followed him there. Alabama, Ohio State, Virginia and Virginia Tech also offered. Jones graduated from Henrico early and enrolled at Florida in January.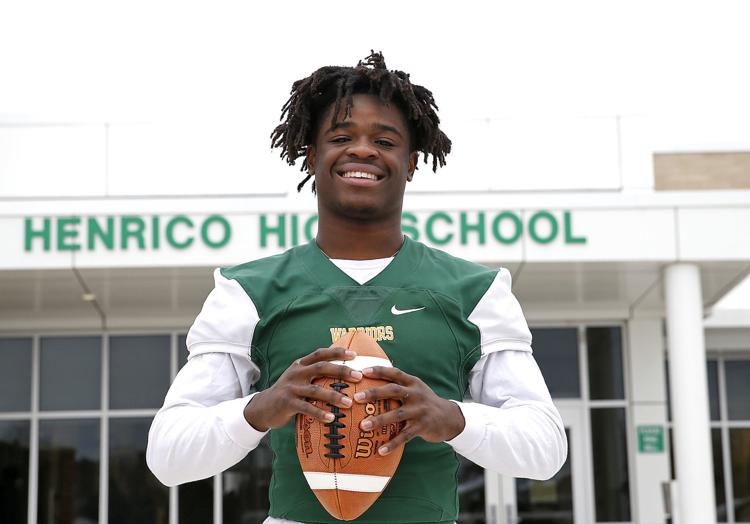 5. Ja'Had Carter, Henrico
Wide receiver, Virginia Tech, 6-0, 185
There were times when Carter's athleticism dazzled observers. Sometimes the jersey numbers for Henrico were hard to read, Criswell said, and a player would make a sensational catch. But you knew it was Carter, because he was the only one on the field with that kind of ability. "He's got receiver instincts and size, speed…He could be a steal for Virginia Tech." Carter had offers from N.C. State, Michigan and South Carolina, among others. He chose the Hokies in September of his junior year. He didn't sign in December because of outstanding academic obligations, but he still intends to formally commit with Virginia Tech. Though he missed several games during his senior season with off-the-field issues, his on-field talent was unmistakable. "He's a two-way player," said another scout. "I think the sky's the limit with his athletic ability."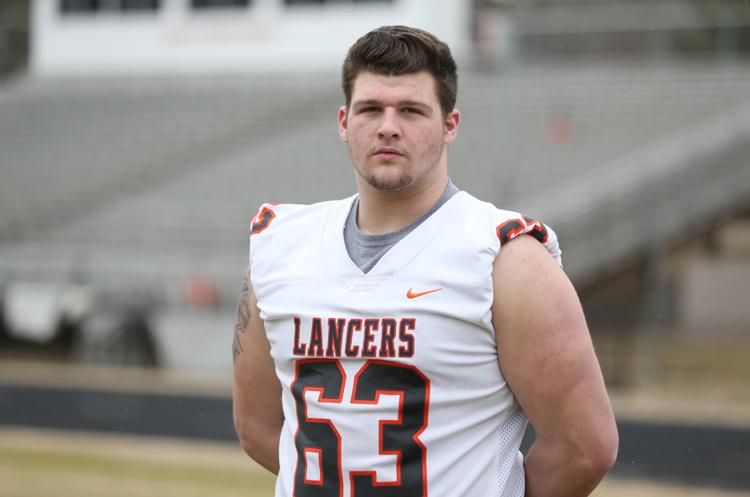 6. Will Pritchard, Manchester
Offensive lineman, Virginia Tech, 6-3, 290
Pritchard is 6-foot-3, which is on the short end of the scale for an FBS offensive lineman. But he has so many positives, including his football IQ, and his tenacity on the field. "Will is hard-nosed, relentless, tough," one scout said. "He's just a bruiser." He needs to gain weight, but he's joining an offensive line that was a strength for Virginia Tech last year, Criswell said, so Pritchard has time to do so. "He's definitely an overachiever," Criswell added. "I think he'll be very successful at the next level." He played offense and defense for Manchester, helping the team win the Class 6 state championship, and he projects as an offensive guard or center in college. Pritchard received a number of FCS offers, including Richmond and James Madison, after his junior season. His recruitment took off in May when Virginia Tech, Illinois, Syracuse and Tennessee threw their hats in the ring. He chose Virginia Tech on July 1.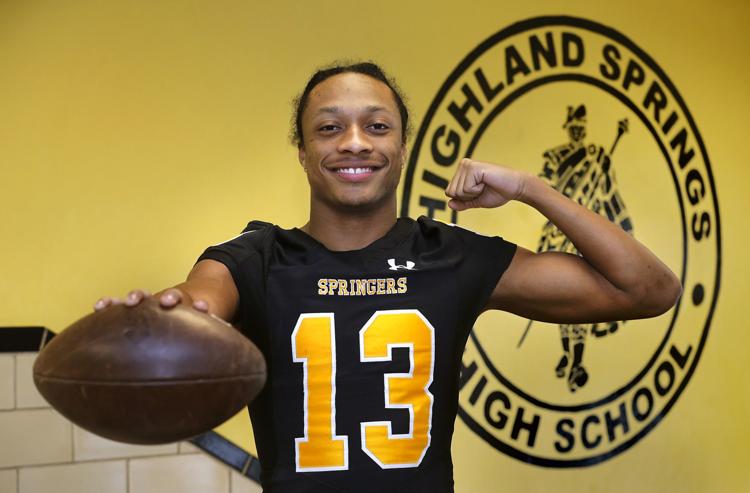 7. Ali Jennings, Highland Springs
Wide receiver, West Virginia, 6-2, 185
Recruiters called Ali Jennings "fine-tuned," "polished," and in ownership of a "great work ethic." "Great ball skills, great leaping ability," another scout said. He described Jennings as a strong possession wide receiver, meaning Jennings has sure hands and the fearlessness to run routes in the middle of the field, keeping the offense in possession of the ball. Another said Jennings might be the most underrated player on this list. "I think he might be a sleeper in the group," a recruiter said, noting the success of other Highland Springs athletes such as Greg Dortch, K'Von Wallace and Felton Davis, who played under coach Loren Johnson. "Loren's players kind of do that," the scout said. If there's one knock on Jennings' ability, coaches said, it's his speed. But even that has the potential to improve after Jennings gets stronger in college. Though Virginia and Virginia Tech never offered, West Virginia, Illinois, North Carolina, Georgia Tech and Michigan State did. Jennings chose West Virginia in October and signed with the Mountaineers in December. WVU coach Dana Holgorsen left for Houston, but Jennings has stuck with West Virginia.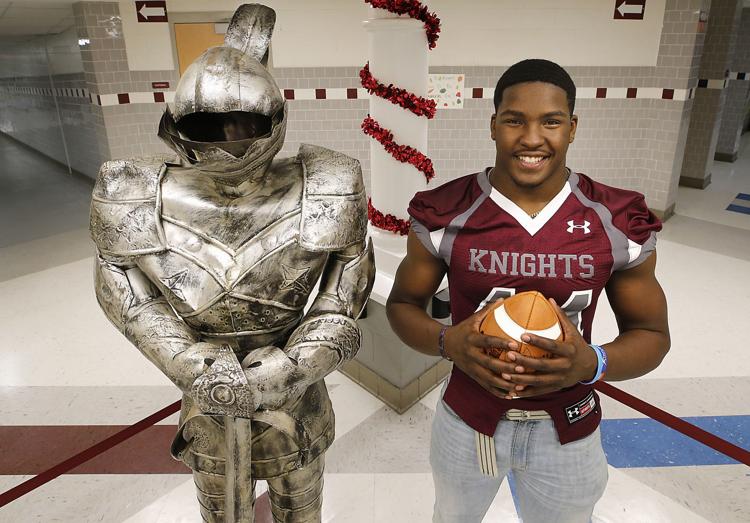 8. Rick D'Abreu, Thomas Dale
Defensive end / linebacker, undecided, 6-2, 240
The first thing you'll notice about Rick D'Abreu is his size – he's 6-foot-2, 240 and looks like a body builder. "He's a good-looking kid," one scout said. "Explosive off the edge, great body, great instincts," said another. "Depending on Mother Nature has the ability to stand up or put his hand in the dirt." D'Abreu wasn't on last year's junior list and didn't become a big recruit until the spring. "D'Abreu kind of came out of nowhere and blossomed over the summer," said another recruiter. Had he not suffered a season-ending injury in the third game of the season, he could have gotten ACC offers, another scout said. But he played a lot during his four years at Thomas Dale and was a productive player. He committed to James Madison in August before coach Mike Houston departed. Now he's considering JMU and East Carolina. Army, Air Force and Coastal Carolina are among the schools that offered him.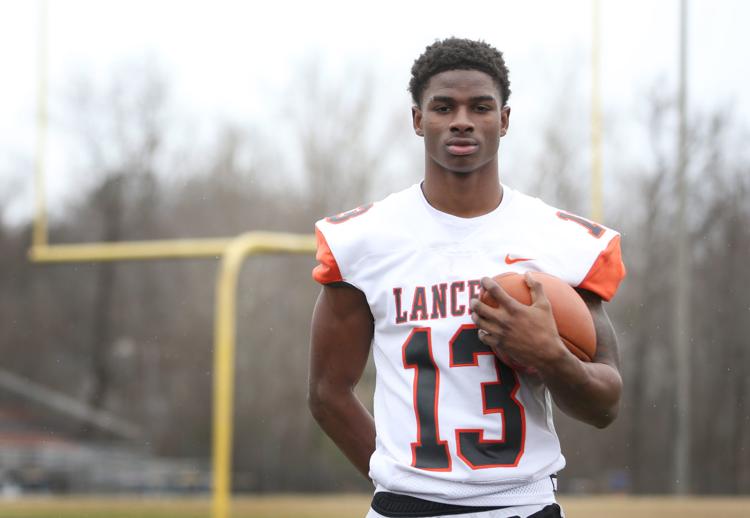 9. Tre Clark, Manchester
Wide receiver / defensive back, undecided, 5-11, 165
In August, Clark committed to Charlotte over offers from Stony Brook, The Citadel and U.Va.-Wise. His senior season was a good one – he almost never came off the field, playing receiver, defensive back and returner, earning All-Metro honors. After the season, he reopened his recruitment. Now, Western Michigan, James Madison, Marshall and Kent State are on his list. "I like that kid a lot," one recruiter said. Criswell noted that Clark's versatility increases his recruit-ability. "Explosive. He's instinctive," another said, noting that Clark is adept at reading routes and breaking on the ball at the perfect moment. Clark intercepted five passes as a senior, including multiple in the playoffs.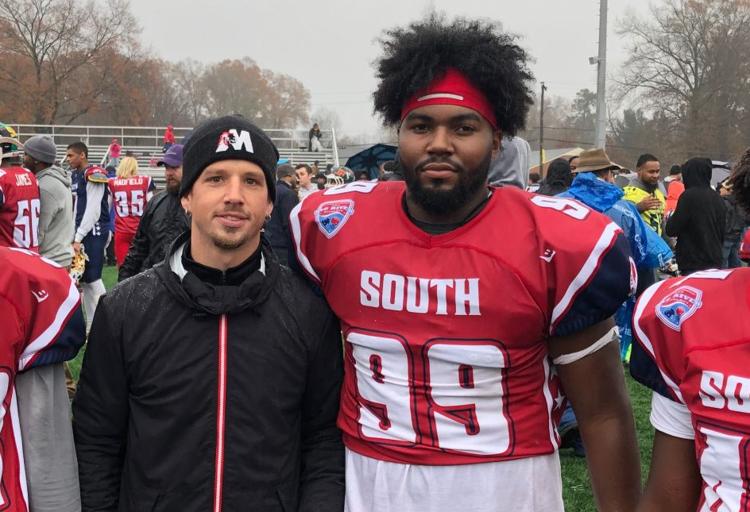 10. Immanuel Hickman, Matoaca
Defensive end, undecided, 6-3, 245
Hickman committed to Cincinnati in June, but after the season, he reopened his recruitment. He intends to announce his new school on signing day, and his finalists are James Madison, Central Florida, Tulane and East Carolina. He played defensive line and linebacker as a junior and primarily defensive line as a senior, earning a second-team All-Metro honor. "Manny is big, explosive, good hands, high motor, high football IQ," one recruiter said. "He wants to be a good, hard worker." Matoaca coach Jay Parker says Hickman's strength as a defensive end is setting the edge, stuffing run plays and lining up opposite tight ends. "He's got pretty good feet for that size," Parker said. The coach added that Hickman is an intelligent football player who doesn't simply rely on his size and strength. "He's really the total package."
11. C.J. Jackson, Hermitage
Running back, James Madison, 5-10, 195
Jackson's No. 1 attribute is his mobility. "Speed is his thing – speed and explosion," Hermitage assistant Timothy Jean-Pierre said. The coach described Jackson as an every-down back and a guy who can catch the ball out of the backfield. "He's got some really good hands and some blazing speed," Jean-Pierre said."Ever since he got to Hermitage, he was the fastest kid in the program." JMU primarily used three running backs last year, and all are graduating, creating an opening. Jackson missed his senior season with an ankle injury but is back to 100 percent, Jean-Pierre said. Jackson committed in June and had offers from Purdue, Air Force, Army, Campbell and Chattanooga.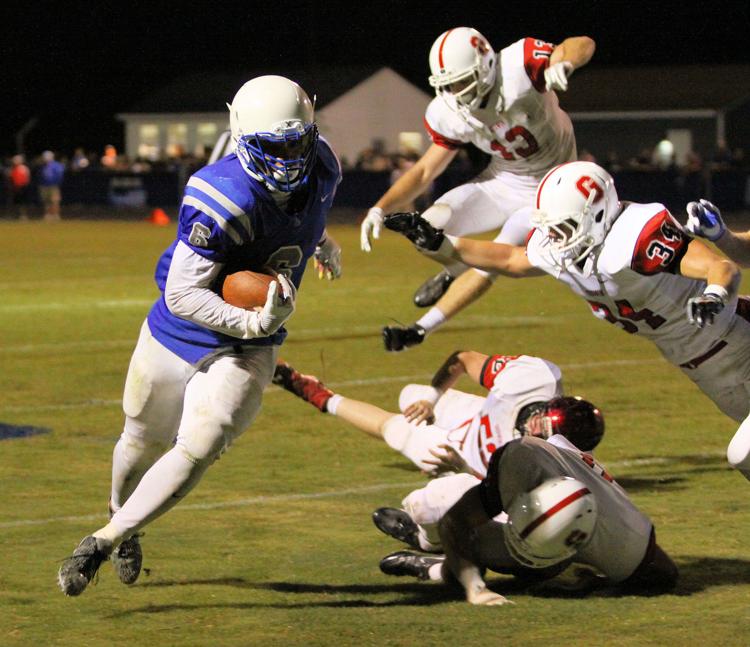 12. Isaac Abel, Atlee
Tight end, Old Dominion, 6-1, 255
Abel played running back and defensive line at Atlee, earning second-team All-Metro honors for defense, but he'll play tight end or H-back at Old Dominion. "I think he's a very good football player regardless of position," Atlee coach Matt Gray said. Abel chose Old Dominion over offers from Fordham and Norfolk State. "Physically, he just dominates people," Gray said when Abel committed. "He's a specimen....And he can run, and he's athletic. He's got a lot going for him." Criswell added that Abel is both big and in possession of a high football IQ. "He's thick and bright," Criswell said.