It's a sun-drenched Thursday practice at Huguenot High School. During a break, a few players make plans to see the new "Halloween" movie. But junior wide receiver Kevin Gayles isn't one of them.
Receiver drills? He's there. Punt drills? Check. When it's time to practice extra points, Gayles serves as the kicker. While it isn't unusual to see players in all three phases of the game at the high school level, Gayles is different.
From the meticulous "Virginia Is For Donors" sticker placed on his helmet's left side supporting blood donation, to checking an imaginary line of scrimmage, Gayles does everything, every time, for two purposes. He wants a second straight playoff appearance, and he craves an opportunity at the next level.
"I don't know why he doesn't have as many offers as he should have," said first-year Falcons head coach Jared Taylor. "He's amazing. I've seen him do everything from catching a pass in between five guys, and get one toe down in the back of the end zone for a touchdown."
Gayles has 36 receptions for 705 yards and seven touchdowns for Huguenot (4-4), which is battling Powhatan and Chancellor in a three-team race for the final two playoff berths in Class 4, Region B. It's an impressive performance for a Falcons team that not only lost an important senior class from the 2017 playoff season, but its head coach as well.
After guiding Huguenot back to the postseason, Bryan Jennings left to take the coaching position at Clover Hill, a Dominion District rival. Who would enter to help Gayles and the Falcons continue their upward trajectory?
Enter Taylor, a Houston native who spent 2017 coaching quarterbacks at Virginia Union. He quickly took control, and left a quality impression on Gayles.
"My first impression of him was really strong," Gayles remembered. "He has a way of talking to us that gets us motivated, gets us ready to go. We were ready for anything at that moment."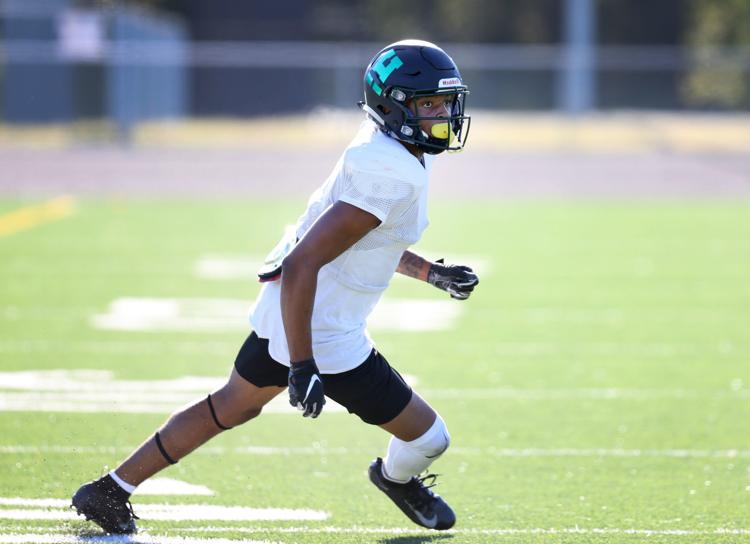 With the ship righted, Gayles could return attention to his quest to play college football. While other area juniors such as Chris Tyree of Thomas Dale, Ethan West of Cosby, and David Laney and Malcolm Greene of Highland Springs all have received offers from Power Five schools, Gayles focuses on his work ethic, determined to create his own opportunity. His cheering section begins at home.
"My family really pushes me to do what I have to do," Gayles, a Richmond native, said. "That's the reason I wear (jersey) number 3, for my mother and my brother."
In the end, it's possible Gayles will be seen on Saturdays in the future trying to shut down wide receivers rather than being one.
"A lot of people don't know that Kevin may be one of the best safeties in the state if he transitioned over to play defense," Taylor explained. "He attacks the ball with his hands, he's physical, loves to hit, has the motor. He's just an exciting guy."
For the time being, Gayles uses his defensive abilities to make the most minute, but important, of adjustments to get the advantage over his defender.
"I talk to my quarterback in the huddle, let him know who's checking me," Gayles said. "I let him, and my coaches, know."
Two Power Five schools have been in contact with Gayles this season. While there are no offers yet, Taylor believes that will change soon.
"He is our leader. When Kevin catches a pass, we get fired up as a team. It seems like every time he touches the ball, he's trying to go to the house," Taylor said. "He's an elite superstar that we are very blessed and fortunate to have."