Neither an early-week snowstorm nor nonstop game-day rain could prevent the North from clipping the South 25-13 in The Big River Rivalry all-star high school football game at Randolph-Macon College on Saturday afternoon.
The game had some of the earmarks of unfamiliarity that typically accompany all-star games, but this one was mixed in with unmistakable moments of brilliance that defined the outcome. The North won for the fourth time in the game's six-year history and triumphed for the first time since 2016.
It did it via the comeback route.
On the opening possession of the game, South quarterback Ky'mon Pope (Dinwiddie) showed off his strong arm and penchant for escape, engineering a long-distance, time-consuming drive. Pope used his legs to avert congestion, leading the South deep into its opponent's territory before powerful Tanner Addams of Monacan punched it in from the 1-yard-line.
The North's D'Vonte Waller, quarterback of the Class 5 title-winning Highland Springs squad, broke some of the ensuing first-half monotony, connecting with Freeman's Liam Simpson on a 26-yard strike to make the score 7-6.
The North used the big play again to grab a 12-7 lead with just over a minute remaining before intermission, a score that unfolded with another Highland Springs thread. Lee-Davis quarterback Zach Lass found Springers' wide receiver Antwane Wells along the left sideline; Wells tiptoed to stay inbounds, slipped a tackler and outran pursuers all the way en route to a 59-yard circuitous path to the end zone.
After marching 77 yards for its opening score, the South's offense stalled, collecting 78 yards in the first half as the North's hard-hitting defense tightened.
Pope used his feet again to seesaw the South back ahead late in the third quarter. His explosiveness was on full display when he broke containment and used blocking behind him to outrun everyone up the right sideline for a 73-yard bolt of lightning. His score, however, would be the South's last.
The North controlled most of the fourth quarter.
Down by a point (13-12) following Pope's score, Lass stoked a rally and the North showed a determination as constant as the precipitation. He lofted a perfect 18-yard pass on fourth and 2 that Wells ran underneath for their second scoring connection, resulting in the game's go-ahead touchdown.
Lass and Wells had the right play for the close coverage on the wideout at the line of scrimmage. The pitch and catch helped Wells to most valuable player honors for the North team.
"We checked to a fade route and it was wide open," Wells said with a smile. "If you press me, I have a chance to run right past you. This is what I planned on this season and it is great to do it."
It seemed appropriate that a Highland Springs player would make a defining play after the program won its fourth consecutive state title last Saturday. In the late-going, Springers' defensive back Tremayne Talbert picked off South quarterback Taylor Eggers in the middle of the field and showed off his game-changing ability. He evaded a couple of tacklers and punched the accelerator for a momentum-securing score, giving North a 12-point advantage with just over 5 minutes remaining.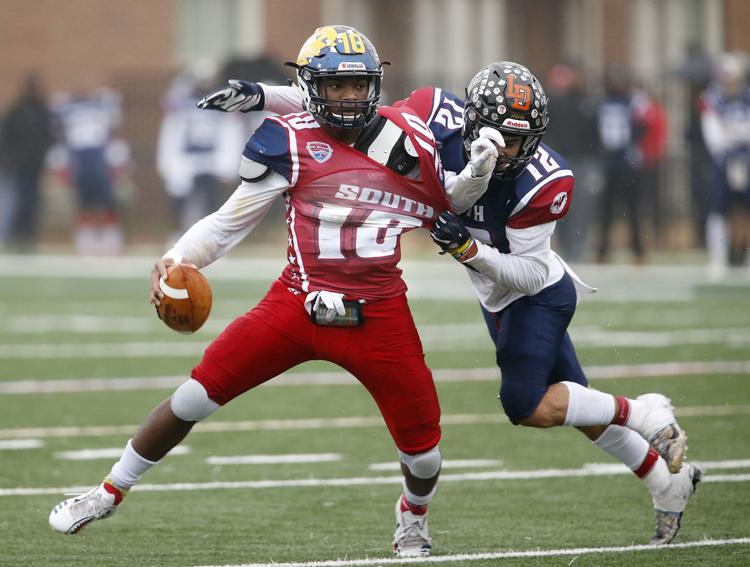 Pope, who rushed 25 times for 140 yards, took home most valuable player accolades for the South squad.
"It was a good environment with great players," said Pope. "I'm happy with how we played and glad that we didn't break apart."
The South was without Manchester quarterback Brendon Clark, a Notre Dame commit.
---
South — Addams 1 run (Graves kick)
North — Simpson 26 pass from Waller (run failed)
North — Wells 59 pass from Lass (kick failed)
South — Pope 73 run (pass failed)
North — Wells 18 pass from Lass (pass failed)
North — Talbert 61 interception return (Vaughan kick)
North: Riddick 2 carries, 11 yards, Bratton 5-1, Johnson 5-0, Taylor 1- minus-1; South: Pope 25-140, Addams 6-24, Anderson 1-10, Houston 1-7
North: Waller 9 completions, 22 attempts, 109 yards, Lass 5-14-144; South: Pope 4-15-51, Eggers 3-12-9.
North: Wells 5 catches, 125 yards, Talbert 3-43, Sampson 2-49, Simpson 2-32; South: Harding 3-35, Singleton 2-23, Anderson 1-4, Gibson 1- minus-2