Britton Wilson, a senior at Mills Godwin, posted two of the nation's all-time best performances in high school indoor track this weekend at The VA Showcase in Lynchburg.
On Friday, she ran the 300m dash in 37.71 seconds, the 10th fastest time in U.S. history. A day later, she returned to Liberty University for the 500m, where she recorded the nation's second-best finish to date, 1:10.82.
"I want to try to PR as much as I can," Wilson told Milesplit.com. "Once I get there I want to try to break records and just do as many big things as I can before I go off."
The senior who signed to Tennessee has done some big things in her high school career, but none as impressive as the times she recorded this weekend.
Last year, Wilson had the best time in the 300m among high school females in the U.S. during the 2017-18 season. Her personal record last year was 38.33. When she cut more than half a second off her PR Friday, she posted the fastest time in the nation this year.
Now that she's ahead of so many others, she's worrying more about her self and less about her competition, Godwin assistant Gene Scott said.
"I definitely think it's been mental for me," Wilson told Milesplit. "I've kind of learned to go with my confidence, know my race plan and be able to put it out there on the track."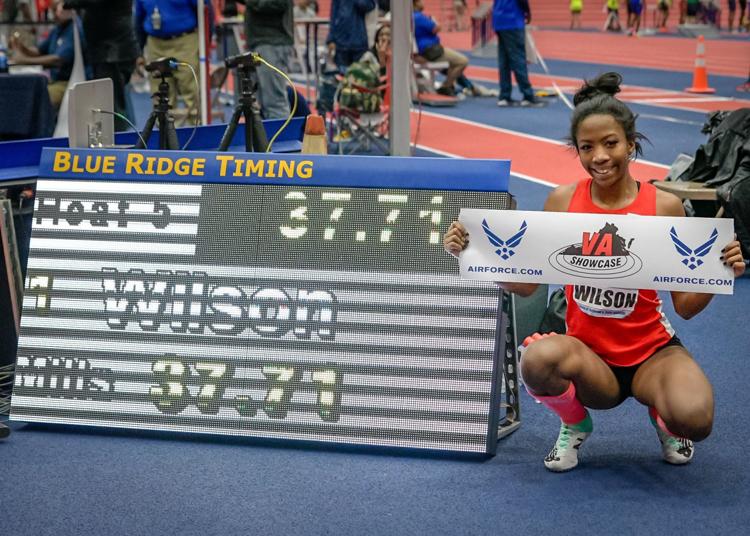 But here's the stunning part of Wilson's race Saturday: She didn't win it. The winner was Charokee Young of Jamaica, who caught Wilson on the final lap, passed her in the final straightaway and crossed the finish line a fraction of a second ahead of Wilson.
Young finished in 1:10.61. It was a time so good, if Young were an American, she would place second on the U.S.'s all-time list.
Among runners from the United States, the record belongs to Chanelle Price of Easton, Penn., set in 2008 with a time of 1:10.30, about a half-second faster than what Wilson ran Saturday.
While there are nine times ahead of Wilson in the record book for the 300m, there are only four runners. Sydney McLaughlin, an Olympian from Scotch Plains New Jersey, holds the record and four of the top-10 finishes of all time. Francena McCorory, an alumna of Bethel High School in Hampton and also an Olympian, holds three of the top-10 times.
That means Wilson is the fifth fastest high school female in U.S. history in the indoor 300m dash.
She's one of the top runners to come through Virginia, which made her an easy pick as USATF's 2018 female athlete of the year for the state. Wilson was notified of her honor this weekend.
She'll compete in the Millrose Games in New York City next month, then hurry back to Richmond the next day to accept her award.
L.C. Bird claimed the top three spots in the 500m dash invitational at The VA Showcase. Jeremiah Hill (1:04.77) won the race, closely followed by his twin brother, Josiah, who crossed the finish line in 1:05.28. Freshman Jayson Ward was third with a time of 1:05.62.