After more than 50 years in coaching, Quest Swimming coach and owner Dudley Duncan is calling it a career.
Duncan, who also owns part of SwimMetroManagement, has coached in the Richmond area since 1978. He was the primary coach for U.S. Olympians Whitney Hedgepeth (1988, 1996) and Rada Owen (2000). A 2017 inductee to the International Swim Coaches Association Hall of Fame, Duncan has been instrumental in shaping the Richmond swimming community.
He coached in the South Side from 1978 to 1989, helped form and coach at Poseidon Swimming from 1989 to 2000, and bought Quest in 2003. Duncan will remain the CEO of Quest and plans to stay active in business ventures involving Quest and SwimMetro.
After spending most of his life mentoring young athletes, Duncan said it's tough to step away from the pool, but he knew the time was right.
"I think there's a point where things need to happen anew. … Mentally, I was ready to let somebody else take over," Duncan said. "I miss the kids of course, that's a pretty important part of it, but I don't miss the actual hours that I was doing, and trying to do it in between running my business was quite a challenge."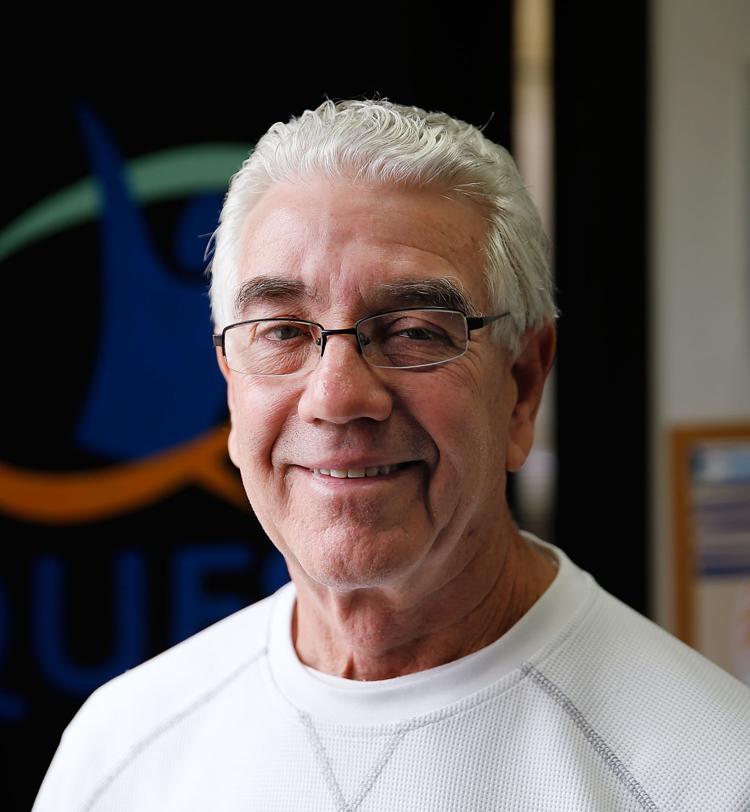 Quest has risen to national prominence under Duncan's leadership. It has been recognized as one of the top 100 swim clubs in the country by USA Swimming, and is home to current U.S. national team members Clark Beach and Jeff Newkirk.
A key factor in Duncan's decision was the maturation of his successors, Chad Onken and John Smithson, who will be co-head coaches. Smithson has been an assistant coach at Quest since 2004. Onken swam for Duncan as a youth at Poseidon, and the two have maintained a close relationship throughout Onken's career.
"Thanks to Dudley, I got to travel the world to swim in different meets, [and] got to swim at the Olympic trials in 2000. So Dudley was a huge part of my career, as a mentor, as a coach, as a friend," Onken said. "[He] was very instrumental in my coaching career and getting me started, and for laying the groundwork for the kind of coach I wanted to be."
Onken, a Midlothian native, has been the head coach and senior director of competitive swimming at the YMCA of the Triangle Area for the past 12 years. He has built an extensive coaching résumé over almost 20 years of experience. Onken helped develop world record holder, NCAA champion and two-time Olympic gold medalist Cullen Jones, and is a six-time recipient of the American Swimming Coaches Association "Award for Coaching Excellence." He was also an assistant at Auburn in 2006 when the Tigers won the men's and women's NCAA championships.
Onken and his wife, Lauren, who attended Midlothian High School together and grew up in Queensmill, are thrilled his career has brought their family back home.
"Dudley could have picked anyone, I'm honored. The fact that he chose somebody from the area that swam for him, I pinch myself everyday," Onken said. "It's such an honor to have one of the world's best coaches say 'I want you to take over and do this.' The fact that he's also a very close friend, someone who's so important to me in my life, it's just such an honor. It's so special."
Duncan envisions Smithson and Onken sharing equal responsibility in developing the competitive program at Quest. Onken's interests lie more in the business side while Smithson will focus on continuing Quest's tradition in the pool. The pair have known one another for about 20 years.
"Great guy, unbelievable coach, amazing father," Onken said of Smithson. "I think together we can — [Smithson] with an idea of tradition and the Quest way — and me with a vision for the future and ideas for growth and maybe some new business ideas and technological advances, we can make Quest a really special, unique place to be.
"I think the future of Quest is very bright. We have the ability to be the premiere year-round competitive swim team south of the James, and we're gonna do everything we can to make that happen."