It was May 1, deadline day for choosing a college, and Lexi Long hadn't made a decision. She had spent two hours that day talking to her counselor, going back and forth, weighing the pros and cons. The options before her were: 1) Stanford, the dream school since her childhood days, and 2) MIT, the college recruiting her to play soccer.
"It came down to the very end," she said.
The deadline was midnight, and just minutes remained. That night, she made her pick: She would attend Stanford.
On Monday night, the Deep Run girls soccer player was named the Times-Dispatch / Sports Backers girls scholar-athlete of the year. Alongside her, J.R. Tucker swimmer Matthew Whelan was honored as boys scholar-athlete of the year.
When you've won as many academic honors as Long and Whelan, there are a multitude of college options. When you're also good enough to play college sports, choosing a post-high school destination enters a whole new realm.
Long and Whelan each weighed the academic and athletic factors at the colleges they chose. Whelan examined the schools' academic qualities first. He considered Cornell, Pennsylvania and Princeton. Duke was on his list too, but he didn't consider it a front runner.
When he took a visit to Duke, it was the swim team that sold him. He joined the guys for a poker game in a dorm common area. A diver on the team slipped him cards, rigging the game so Whelan would win. That sort of friendly atmosphere won him over.
"I felt like I fit in best at Duke," he said. The excitement he felt from his visit to Duke was unmatched by his other trips.
While Whelan chose a school that recruited him for his sport, Long chose a university where playing soccer wasn't an immediate option. She's talked to the coach about walking on there, and the club team remains an option.
"Soccer's been my whole life," she said. "I'm not ready to give it up."
Long and Whelan each win a scholarship of $7,500. Their awards were announced Monday night at the Jefferson Hotel.
Long is a captain on the soccer team. She and her teammates knew they'd be good this year. But this good? Undefeated on the eve of the state quarterfinals? They didn't expect this.
She's also president of the National Honor Society and Deep Run's valedictorian (GPA 4.7). She'll study computer science next year.
Whelan won two Class 5 state championships in swimming this year, in the 100 butterfly (49.33) and the 4x100 freestyle relay (3:10.49). The 100 butterfly victory came by just a few hundredths of a second. And the relay team, he said, "came out of nowhere" to win its title. Tucker's boys were seeded fifth going into the final race.
It was a season that exceeded his expectations, he said. When it was all said and done, he had placed on the All-Metro first team in three events (50 freestyle, 100 butterfly and 200 butterfly.
He also took six International Baccalaureate classes this year, was the treasurer for the National Honor Society, a member of the math honor society and science honor society. He's J.R. Tucker's first scholar-athlete of the year in the 32-year history of the program. Long is Deep Run's fourth winner.
They were chosen from a pool of 92 local seniors who either were nominated by their school or chosen as scholar-athletes of the month.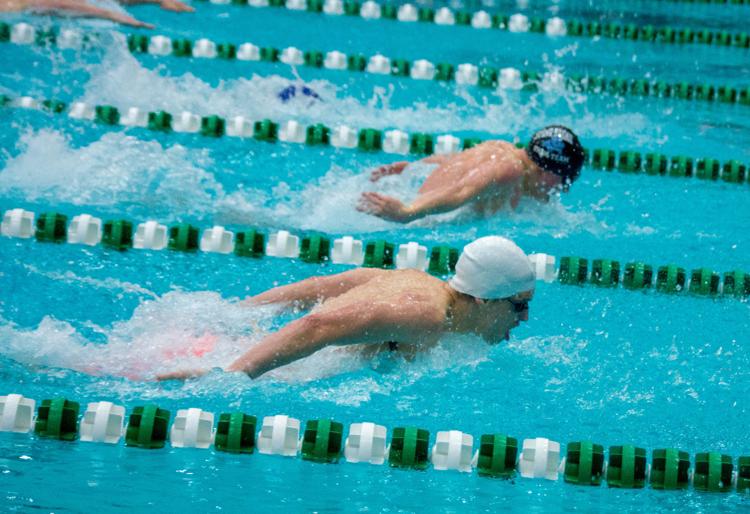 Two runners-up were awarded scholarships of $5,000. They are Madison Jiranek - a lacrosse, field hockey and indoor track athlete from St. Catherine's - and Cory O'Shea - a baseball, basketball and volleyball player from Mills Godwin.
O'Shea is Godwin's valedictorian. He played shortstop for the Eagles and hit .465 this year. He'll play baseball for MIT next year.
Jiranek is St. Catherine's valedictorian. She'll play lacrosse and field hockey next year at the University of Pennsylvania.
Sixteen other scholar-athlete finalists won $2,500 each. Altogether, The Times-Dispatch and Sports Backers awarded $70,000 in scholarships.
HCAVa Sports Medicine presented comeback athlete of the year awards to Morgan Whitaker of Deep Run and Jeb Boswell of Lee-Davis. Whitaker as a freshman tore left ACL and meniscus and sprained her MCL while playing basketball. After surgery and recovery, she store her right ACL.
She returned to be named Conference 11 player of the year in lacrosse in 2017 and All-Metro in field hockey this past fall. She'll play lacrosse for Michigan next year.
Boswell fractured his fibula and dislocated his tibia in his left leg. After weeks in a wheelchair, he returned to earn second-team All-Metro honors. He'll play football for Hampden-Sydney next year. Whitaker and Boswell each receive a scholarship of $1,000.
Williams Mullen honored two boys and two girls teams that are finalists for team of the year: Prince George softball, Deep Run girls soccer, Deep Run golf and St. Christopher's baseball.
St. Christopher's and Deep Run golf won state titles. Prince George softball and Deep Run girls soccer continue their seasons in the state quarterfinals Tuesday.
Samiya Jackson of Thomas Jefferson won the Cheryl L. Oliver memorial scholarship, $2,500 toward her future studies at Xavier University. Christopher Jones of Petersburg won the Raymond D. Patterson memorial scholarship, also worth $2,500.