St. Catherine's junior Lilli Marcia has a reputation for taking long-range shots. From 35 or 40 yards out, she's comfortable and capable of finding the goal.
On Monday evening against Douglas Freeman, her left-footed goal from 35 yards out made the difference. She scored with 8:48 left in the game, sending No. 4 St. Catherine's to a 2-1 home victory over No. 2 Douglas Freeman.
"Long-range shots are my thing," Marcia said. "I felt the shot and took it."
When shooting from so far out, Marcia visualizes the goal without the keeper in front of it. Usually, she chooses a corner and aims. This time, she slipped the ball in between the cross bar and the outstretched hands of Freeman goalkeeper Lauren Hargrove.
Marcia kicked the ball high. As it came down, Hargrove timed her jump, hoping to deflect it. But the ball was placed perfectly — too high for Hargrove to snag it and too low to knock off the cross bar.
The ball came off Marcia's left foot, even though it's not her dominant foot. When she was younger, her father encouraged her to practice kicking with both feet to make her a more versatile player. Now, her right foot is still a little stronger. But the left, she said, might be more accurate.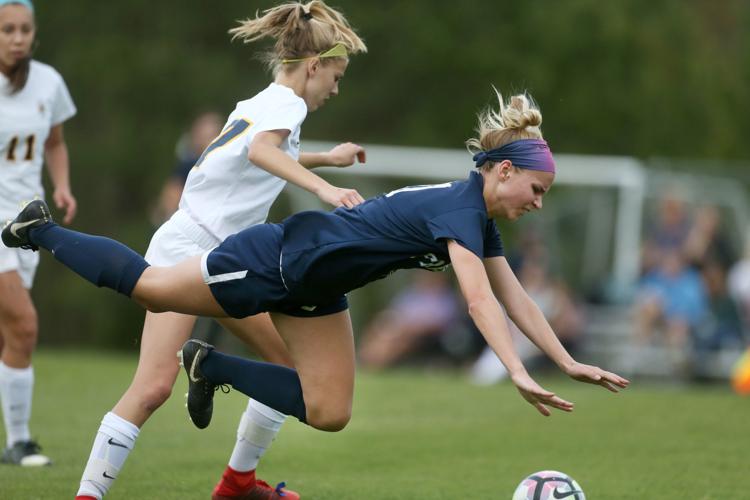 The score was 1-1 at halftime, and in the second half, St. Catherine's (9-3-1) was finding it hard to penetrate Freeman's back line. So instead of going through the line, Marcia simply went over it.
Freeman got one more chance to tie the game. Lauren Bruns crossed the ball to Renee Jervey about 25 yards from the goal with fewer than two minutes to go. Jervey shot it hard, slicing it toward the left sideline. But Saints keeper Ashley Boardman put up both hands, knocked it down and recorded her eighth save of the game.
St. Catherine's went up 1-0 when Marcia kicked a picture-perfect pass up the middle of the field to senior forward Cara Menges. There was nothing in Menges' way except a goalkeeper. So Menges shot low and to the left, and there was nothing Hargrove could do to stop the shot.
"If I know she's there, she'll get it," Marcia said of her teammate.
Menges showed off her speed, getting to the ball then firing off a shot in just a few steps.
Freeman (8-1-1) managed its only goal when Bruns attempted a free kick just outside the penalty area. She took a shot, but the ball went high, ricocheting off Boardman's hands and then the cross bar. Freeman's Ashley Hemp waited for the rebound, then tapped the ball into the goal with her forehead.
Both teams are amid a difficult stretch of games. St. Catherine's lost to Deep Run 2-1 on Friday and faces Trinity Episcopal, which beat St. Catherine's earlier this year, on Tuesday. Then it faces No. 5 Collegiate next week.
Freeman played Collegiate, Cosby and Godwin last week and gets Deep Run on Friday. After recording two wins and a tie, Freeman finally suffered its first loss.
---
Saves: Hargrove (DF) 10. Boardman (STC) 8.
Records: Douglas Freeman 8-1-1; St. Catherine's 9-3-1.