Staff writers Eric Kolenich and Tim Pearrell make their picks for the first round of high school football playoffs. Games start Friday at 7 p.m. unless otherwise noted.
Class 6, Region B
No. 7 James River (3-7) at No. 2 Manchester (10-0): Manchester has 38 seniors on the roster, and the backups have played a lot of minutes after the starters built big leads this seasaon. James River is much younger with just 16 seniors. The Rapids start three or four freshman on defense and one at quarterback. After starting 0-7, James River has won its past three games and earned a playoff spot. "The kids had every chance to pack it in and finish 0-10," Rapids coach Bobby Henderson said. Eric: Manchester 35-10 Tim: Manchester 48-14
No. 6 Cosby (4-6) at No. 3 Thomas Dale (8-2): Quarterback Ejay Walker and receiver Jasiah Williams are back from injuries, and Thomas Dale coach Kevin Tucker said the Knights are getting healthy at the right time. Cosby has a big-time recruit in junior LB Ethan West. The Titans have lost four in a row, including two in overtime, and didn't score more than 14 points in those four losses. Eric: Dale 28-10 Tim: Dale 31-14
No. 5 Clover Hill (5-5) at No. 4 Franklin Co (6-4): Under first-year coach Bryan Jennings, Clover Hill improved from a 2-win season last year to 5-5 this year. Chris Houston has rushed for 907 yards this year. Clover Hill beat Huguenot in week 10 to end a four-game losing streak. Eric: Clover Hill 32-28; Tim: Clover Hill 21-16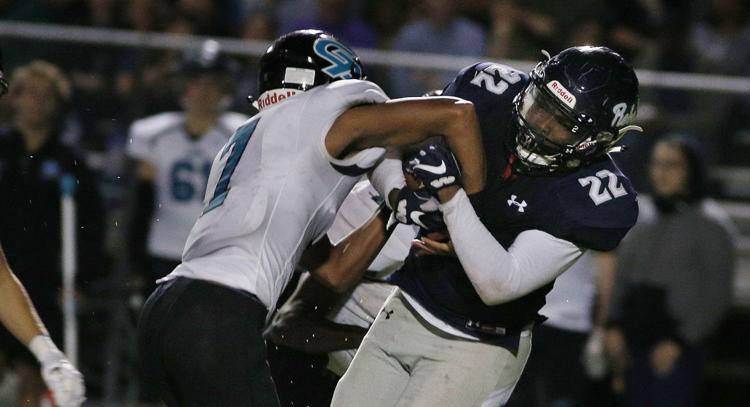 Class 5, Region B
No. 8 Deep Run (5-4) at No. 1 Highland Springs (10-0): After three years of finishing 9-1, the Springers completed a perfect regular season. "It just means you can't lose one down the stretch," coach Loren Johnson said. When these teams last met, in the first round of the 2016 playoffs, Highland Springs claimed a 55-0 victory. Deep Run is making its fourth playoff appearance in school history. The Wildcats start 12 sophomores, including QB Bo Kite. Coach Chad Hornik said it's the most sophomores he's ever started on a team. Eric: Highland Springs 34-9 Tim: Highland Springs 45-7
No. 7 Douglas Freeman (7-3) at No. 2 L.C. Bird (8-2): With QB Andrew Bland back from injury, the Rebels return to a two-quarterback offense. "You just go by feel," Freeman coach Mike Henderson said of how he chooses who will play. He said the team is selfless and doesn't care who scores the touchdowns as long as the Rebels win. Freeman lost its season opener 17-7 to Midlothian then won seven of its last nine games. Bird has won five games by a margin of 10 points or less. "It's been fun," coach Troy Taylor said. "I like to win those close games." Eric: Freeman 17-14 Tim: Bird 21-20
No. 6 Varina (8-2) at No. 3 Henrico (8-1): Varina QB Dwayne Taylor returned last week and threw for 79 yards, a touchdown and an interception against Highland Springs. He missed the first Henrico game, which Henrico won 28-27. The Blue Devils scored in the final minutes, but missed an extra-point attempt. Henrico QB Jalon Jones was the key to the Warriors' success, passing for 219 yards and rushing for 153. Eric: Henrico 38-35 Tim: Varina 30-28
No. 5 Glen Allen (8-2) at No. 4 Atlee (7-3): Both teams made big strides in 2018. Glen Allen won just two games last year, but almost finished 9-1 this year. A missed two-point conversion against Freeman was the difference. "It's been a wild ride for us," Jaguars coach Sal Camp said. "It's very surreal." QB Donovan Riddick has provided more than 2,300 yards of offense for Glen Allen. Atlee improved from three wins last year to seven this year. It beat Hanover 27-7 last week, ending a two-game scoreless streak. Eric: Atlee 20-14 Tim: Glen Allen 28-22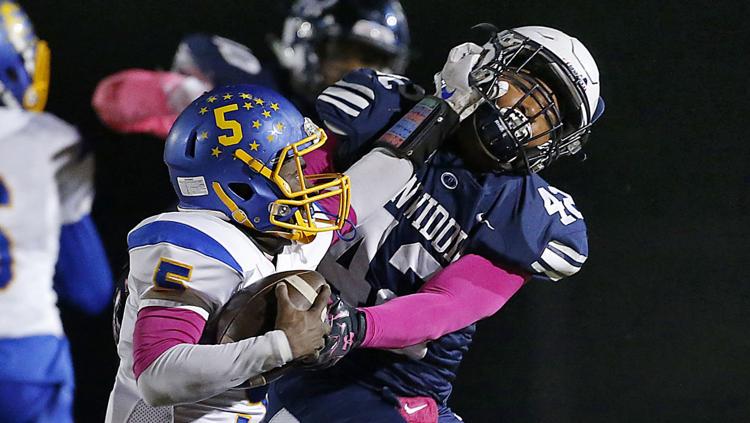 Class 4, Region B
No. 8 Huguenot (4-6) at No. 1 Louisa (10-0), 7:30: Huguenot QB Jaylen Tyler has averaged 207 passing yards this year, and junior Kevin Gayles is one of the area's top receivers. Louisa has one of the state's most recruited players, senior LB Brandon Smith, who has committed to Penn State. Eric: Louisa 28-14 Tim: Louisa 35-7
No. 7 Powhatan (6-3) at No. 2 Monacan (8-2), 7:30: Powhatan coach Jim Woodson said he'll retire after this season. "We have a game plan that we have to execute perfectly for it to work," Woodson said. Monacan is the second seed for the second year in a row. Monacan senior QB Stone Snyder averages 200 rushing and 114 passing yards. Eric: Monacan 28-27 Tim: Monacan 21-14
No. 6 Courtland (8-2) at No. 3 Dinwiddie (9-1), Saturday at 1: Dinwiddie's winning streaks in the Central District and regular season came to an end in October against Hopewell. "It was time for us to get knocked down a notch," coach Billy Mills said. Louisa, Monacan, Dinwiddie and Eastern View are the top four seeds in this region for a second straight year, but in a different order. "Our region, top to bottom, is solid," Mills said. "I don't think there's an easy out anywhere." Eric: Dinwiddie 34-31 Tim: Dinwiddie 35-13
No. 5 Midlothian (6-4) at No. 4 Eastern View (10-0): Midlothian pulled off its biggest win in awhile in Week 9 when it beat Monacan 24-20. Then it dropped its 10th game of the season, 21-10 to James River. The Monacan win showed the Trojans "We can do this," coach Matt Hutchings said. He said it showed Midlo is no longer the "little brother" of the Dominion District. Eastern View is 10-0 for a second straight season. Eric: Eastern View 21-20 Tim: Eastern View 34-14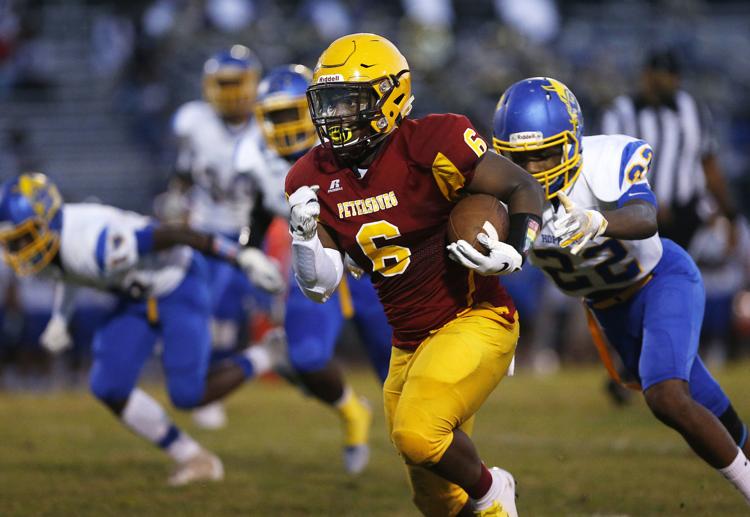 Class 3, Region A
No. 7 Petersburg (7-3) at No. 2 Hopewell (8-1): Hopewell allowed 99 points in nine games this season — 49 of them came in a double-overtime loss to Thomas Dale. Hopewell beat Petersburg 35-14 in September, but Petersburg didn't have RB Upton Bailey, who has returned from an injury. Hopewell also has QB Daniel Greer back. Eric: Hopewell 21-8 Tim: Hopewell 42-20
Class 3, Region B
No. 8 Armstrong (1-9) at No. 1 Culpeper (6-4), 7:30: Armstrong won only one game this year, but the margins of defeat were more narrow this year, coach Kenny Painter said. "Inch by inch it's coming," Painter said. "I tell the kids every day you got to believe in the process." For the first time, all five Richmond city schools made the postseason. "That's history man," Painter said. "We got something to smile about." Eric: Culpeper 23-17 Tim: Culpeper 34-16
No. 7 George Wythe (0-10) at No. 2 Spotsylvania (6-4): The closest George Wythe came to a victory this year was against Midlothian, when it lost 43-32. In that game, Diyonte Plummer threw for 127 yards and rushed for a touchdown. Wythe got on the score board in eight games this year. Eric: Spotsylvania 37-14 Tim: Spotsylvania 42-6
No. 6 James Monroe (3-7) at No. 3 Thomas Jefferson (5-5): Last year, Thomas Jefferson was the top seed in this region. But with a new, younger team in 2018, T.J. finished 5-5. RB Shamar Graham averages 70 rushing yards per game. "We play ugly football," T.J. coach P.J. Adams said. "We enjoy ugly football." Adams said the team plays a "3-yards-and-a-cloud-of-dust" kind of football. Eric: Thomas Jefferson 16-12 Tim: Thomas Jefferson 20-13
No. 5 John Marshall (4-6) at No. 4 Brentsville District (5-5): This is John Marshall's first playoff appearance in 26 years, which is the same age as its coach, Phillip Sims. "I think we're changing the narrative of John Marshall football," Sims said. The Justices lost five consecutive games in the middle of their season then won their last two against J.R. Tucker and Thomas Jefferson. Eric: Jayem 37-26 Tim: Jayem 26-20
Class 2, Region A
No. 8 Brunswick (3-7) at No. 1 Goochland (10-0): Goochland wrapped up a perfect regular season last week by beating Amelia 17-12. Quincy Snead and Devin McCray each scored a touchdown for the Bulldogs. It was the second time Goochland has allowed more than 10 points in a game. The Bulldogs recorded four shutouts this year. Eric: Goochland 38-7 Tim: Goochland 45-12
No. 7 Arcadia (5-5) at No. 2 Amelia (9-1): After winning its first nine games, Amelia fell in Week 10 to Goochland 17-12. Jalen Brown threw for 305 yards, but Amelia turned the ball over three times. In the four games before Goochland, Amelia had scored 46 points or more. Eric: Amelia 44-22 Tim: Amelia 40-17
No. 5 Greensville (6-4) at No. 4 King William (9-1): Last year, King William started 0-5 before finishing 5-5. This season was much smoother for the Cavaliers, who won their first four games and finished 8-1. Eric: King William 29-8 Tim: King William 35-6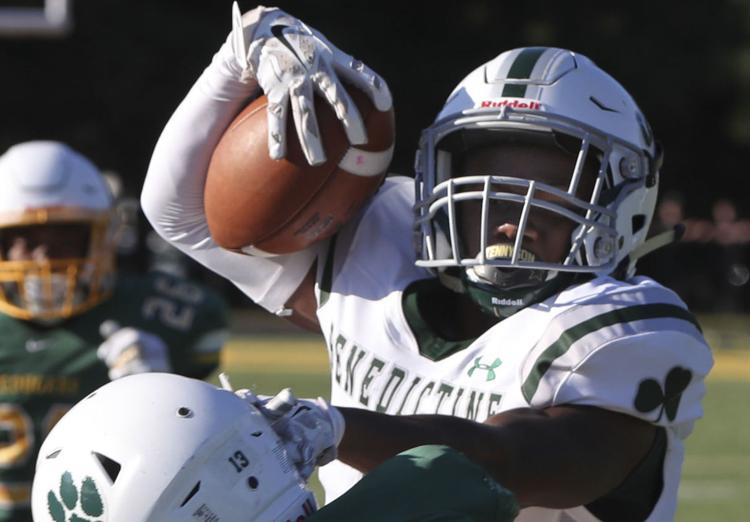 VISAA Division I
No. 3 St. Christopher's (5-4) at No. 2 Benedictine (5-3), Saturday at 1: Benedictine won its final two games against Avalon and Blue Ridge to secure a home playoff game. Andrew Puccinelli has thrown for 972 yards, and Stevie Walden has rushed for 647. Jay Woolfolk has rushed for 434 and passed for 295. The Saints have lost three in a row, including a 35-21 defeat to Collegiate in the regular season finale. Will Tazewell caught seven passes for 88 yards, and Patrick Routsis completed 24 of 40 passes for 298 yards, two touchdowns and two interceptions. Eric: Benedictine 38-31 Tim: Benedictine 31-28
VISAA Division III
No. 3 Fuqua (4-5) at No. 2 Blessed Sacrament Huguenot (6-2): In the offseason, BSH's administration considered dropping down to eight-man football. Instead, the school kept its traditional 11-man team and found plenty of success in 2018. "This hasn't been a surprise to us at all," coach Shawn Pickett said. "This is the best senior class I've ever been around." The team has rushed for more than 3,000 yards in nine games, with Trevor Parker and Mike Kemp leading the way. Kemp rushed for 221 yards last week against Richmond Christian. Eric: BSH 38-20 Tim: BSH 26-13
Picks record

Last week: Eric 20-1; Tim 18-3
Season: Eric 190-60 (.760); Tim 197-53 (.788)
Pick of the week: Eric was pretty close in his prediction of last Saturday's East End matchup between Highland Springs and Varina. He picked the Springers to win 35-10, and then the Springers won 33-12.
Weather forecast

Friday evening brings yet another good chance for rain across central Virginia. If there's any advantage to chilly game time temperatures in the 50s, it'll keep the thunder chance at a minimum.
Saturday afternoon will feature beautiful sunshine but a brisk, chilly breeze. Expect temperatures in the lower 50s with winds from the northwest gusting to 25 mph.