Class 3, Region A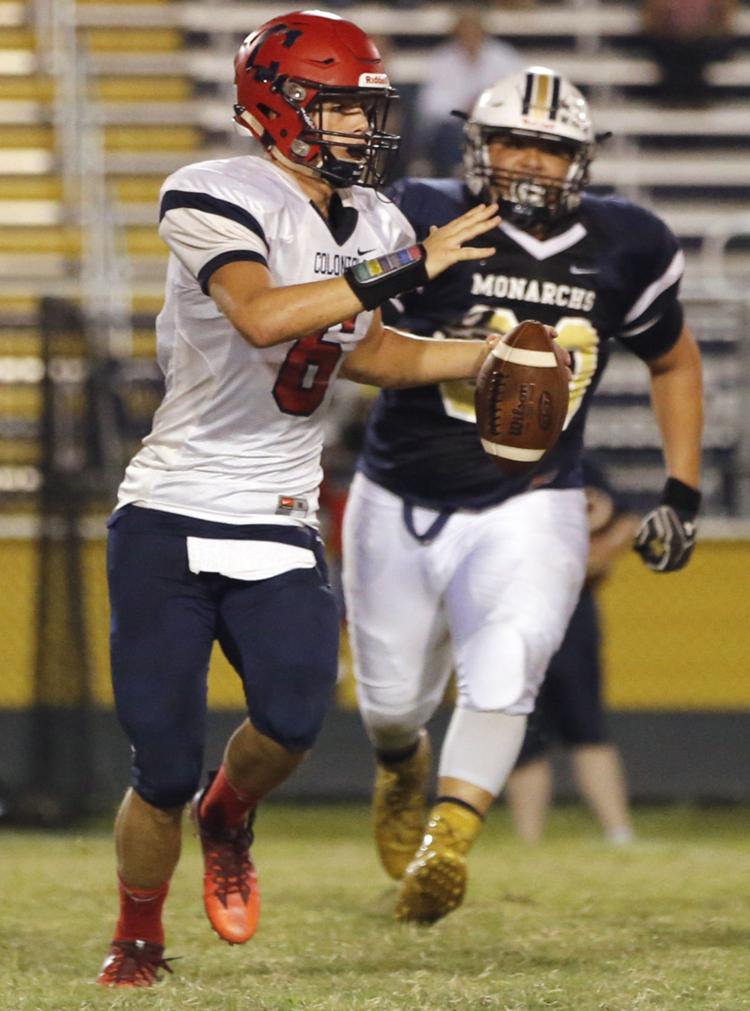 Colonial Heights Colonials
Offense: QB Hunter Spence is back for his senior season. So are running backs Maurice Sykes and Deshaun Lilly. The tackles are the only starter back on the line – Carson Cox and Austin Hart. The line has good size. The receiving corps, which includes senior Demarea Richardson, is all new. Tiller expects an offense that will be sound and capable of making sustained drives. Just how explosive they are remains a question.
Defense: Colonial Heights will be old up front and young in the secondary. The three linemen are all seniors, and Tyron Porter and Austin Hart are returning starters. The starting linebackers will be two sophomores and two freshmen. OLB Deshaun Lilly is a returning starter. The starting secondary is all freshmen, but S Jaden Newby (6-2, 180) shows potential. Altogether, Tiller expects a strong defensive unit.
Outlook: Even though Colonial Heights won only three games, the season was an improvement because it didn't win any games the year before. The Colonials started the year 3-0 then lost seven straight to six Central District opponents and Appomattox. That happened under a first-year coach, Buzz Edwards, who has since moved to Ohio. Former Meadowbrook coach Adam Tiller takes over the team now, and his challenge is to seize the momentum Edwards started. Though Colonial Heights is a Class 3 school, it'll need to knock off a Central District opponent to make the playoffs. But the Colonials couldn't score more than 14 points in any district game last year. The offense has to be better. Hopewell and Petersburg have found ways to take games against bigger schools. Colonial Heights needs to find what works.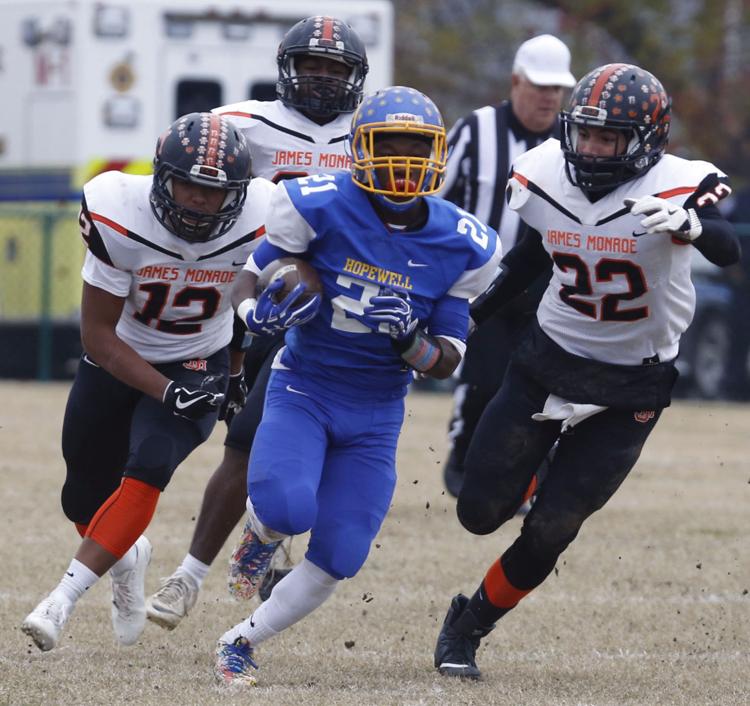 Hopewell Blue Devils
Offense: Hopewell loses its two biggest names from last year, All-Metro player of the year and QB Greg Cuffey (William & Mary) and RB Ronnie Walker (Indiana). But most of the other starters are back, and there are some intriguing new faces on the roster. Daniel Grier starts at QB after playing receiver last year. He has a stronger arm than Cuffey, but isn't as athletic and needs to develop the intangibles that made Cuffey so good. Sophomore Robert Briggs will start at running back and is expected to be a big-name player. Sean Wood-Allen is back at receiver and will start alongside sophomore Tre Henderson, a Division I recruit. Most of the line is back, including senior C Preston Haden.
Defense: Hopewell will have a fast, athletic defense with seven starters back, including DL Reggie Ruffin and LB Kaiveon Cox. Sean Allen is back to play corner, and so is Trey Henderson. Zyreon Jones-Walker is back at linebacker, but two new starters will need to step up. The defense was a big key to Hopewell's state championship last year.
Outlook: Hopewell has a shot to repeat as Class 3 state champion. But this year's team will look different. The two big playmakers from last year are gone, and much will be expected of Grier, Briggs, Allen and Henderson. Hopewell's offense struggled last year, scoring six points against Thomas Dale, Dinwiddie and Meadowbrook. Its offensive line often was overmatched against larger-classification schools. Its defense – which was key in a 7-6 playoff victory over Phoebus and a 20-14 victory over Heritage in the state final – will need time to mature. The offense could be good enough to carry Hopewell while the defense jells. 
New Kent Trojans
Offense: The Trojans have players to ride in back/receiver Evan Branch (ran for more than 1,000 yards last season), back/receiver C.J. Reeders (missed last season with an injury), back Adam Cable and receiver Joey Campbell. Fulks hopes to have balance while breaking in a new quarterback, Brody Smith. Tackles John Holland (6-2, 305) and Dean Powell (6-4, 275), and guard Wade Grubbs provide experience and some size up front. Hayden Smith adds to the stable of receivers.
Defense: Offenses will have to contend with Powell, a tackle/end who has committed to Old Dominion. Holland returns at tackle. There's a lot of experience behind the line with linebackers Cable, Grubbs and Jacob Terry, and backs Reeders, Branch, Smith and Wyatt Terry.
Outlook: Fulks was highly successful at Essex and other stops, and there's no reason to think he won't be competitive with a program that once was a consistent force. He can start a turnaround with Powell up front and depth in the skill spots with Branch and others. With the exception of the opener against nondistrict foe Colonial Heights, New Kent sticks to a challenging Bay Rivers District schedule, where Lafayette has been the kingpin. Four teams from the district made the playoffs in various classifications last year. The playoff bar for Class 3, Region A, though, wasn't all that high: two sub-.500 teams made the eight-team field.
Petersburg Crimson Wave
Offense: Scott has a nucleus of skill players with quarterback Meziah Scott, running back Upton Bailey and receiver Zyshawn White. Scott got valuable experience last season as a freshman, throwing for 1,441 yards with 10 TDs and 12 interceptions. Bailey ran for 849 yards, had 277 yards in receptions and scored 13 touchdowns. Line is big but has only two starters returning: tackle Rashaad Moore (271) and guard Xtreme Jones (315). Center Daijon Coleman is listed at 385 pounds, guard Trayvon Tucker at 245 and tackle T.J. Coleman-Bonner at 275.
Defense: The Wave returns most of the unit. Front line of Moore, Da'monte Briggs, Sha-lah Solomon and Kayreign Lundy are back, as our linebackers Daivion Tribbey and Brandon Harvell. Ke'Andre Easter, Bobby Traynham and Bailey are experienced in the secondary. Moving into the lineup are linebacker Julian Gonzales and safety Tre' Garris.
Outlook: Petersburg may have to rely on the more experienced unit on defense to make headway against a schedule that's usually demanding. Offense is returning six starters, but the previous group averaged only 20 points. While the Wave has the potential to do some damage with Bailey, Scott and White, opening holes and providing protection with the line is a question mark. Back half of the schedule may be telling, with back-to-back games against powers Thomas Dale and Dinwiddie in games seven and eight.
CLASS 3, REGION B
Armstrong Wildcats
Offense: QB Jacqueal Thomas averaged 102 passing yards and 36 rushing last year. He's a junior now and a three-year starter. His top target, Oliver Basnight, is gone. But RB Tye'Shawn Steward is back, and so is WR/RB Myles Osbourne. TE Edward Curtis Dooley and WR/HB Orlando Logan are new skill players. There are four senior offensive linemen back, including T Corvell Poag and T Andre Jackson. Developing depth in the offense has been a concern.
Defense: Five starters are back, including Osbourne at defensive end and Andre Jackson at tackle. Thomas will play linebacker again, and Perry Holmes is among the new starters beside him. Logan and Steward return to the secondary, where senior Hector Colon moves into a starting spot. Sophomore Jalen Wright will be a new starting outside linebacker. Altogether, it's a fast defense that has aggressive man coverage skills, Painter said.
Outlook: Armstrong took a step forward in 2017 when Painter was in his first year as coach. The team snapped a 21-game losing streak when it beat John Marshall in Week 3. It won two in a row after topping Churchland the following week. It reached the playoffs and fell 13-12 to Thomas Jefferson. Painter installed a pass-first offense that featured multiple quarterbacks and threw for 2,000 yards last year. This year, Thomas is the sole quarterback. The most important games are Weeks 2, 3 and 4 when Armstrong plays Teejay, Jayem and Churchland. The goal for Armstrong is to win all three of those games. Another goal should be to knock off a Capital District team. If Armstrong wins three or four games, its postseason position would be favorable. Getting back to the playoffs and winning a playoff game are realistic expectations for this team.
George Wythe Bulldogs
Offense: RB Isaac Jackson returns for his senior season. He's one of three starters back on offense. RB Joseph Bissue (6-1, 217) brings some size to the backfield. Junior Emontre Bass (6-4, 215) takes the job of starting quarterback. He's got two tall receivers to throw to: Mark Henriques (6-4) and Diyonte Plummer (6-1). The line has one starter back, senior Tievelle Gary (6-4, 353). The rest of the line is young, comprising three juniors and a sophomore. There's pretty good height and size on the line.
Defense: Three starters are back and they're all linebackers: Bissue, Jasper Lewis and Rakeese Greene. The defense is almost all juniors. DE Ke'Relle King is the only starter on the line. Juniors Jaiden Harris and Marquise Dunbar will play tackle. The secondary includes just one senior, Plummer. He'll be joined at safety by junior Jayveon Anderson. Aaron Bowie and Carlin Mansfield will play corner.
Outlook: George Wythe has won just two games in the past four years, and Jeter enters his second season. Wythe's best chance for wins will come in the first two weeks when it plays John Marshall and Petersburg. Those are the only Class 3 opponents on Wythe's schedule. Because of all the higher classification teams on the schedule, Wythe will get help in the power rating. One win could be enough to get the Bulldogs to the playoffs.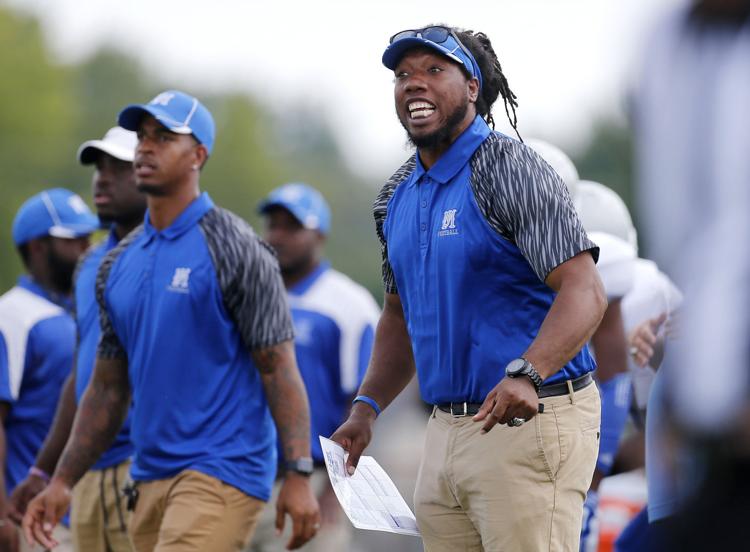 John Marshall Justices
Offense: The offense has two tall playmakers in sophomore RB Jamel Stewart (6-2, 215) and senior WR Shoye Sampson (6-2, 195). They'll look to replace the production of Jayem's top offensive player last year, Eric McDaniels, who transferred to Henrico. Junior Aarek Thomas will play quarterback, and he's got some big linemen in front of him, including G DaQuan Cain (5-10, 288) and Devantae Moon (5-9, 280). There's good experience, speed and physicality on the offense. But depth could be an issue, as usual.
Defense: Eight starters are back on the defense, and it's a fast, experienced group. Eli Garrett and Germany Reavis are seniors on the line. There's more youth in the back seven. The corners – Nehamiah Scott and Linwood Miller – are sophomores. The safeties – Amardi Johnson and Damian Harris – are juniors.
Outlook: There were some highs and lows for John Marshall last season. Under first-year coach Phillip Sims, the Justices scored 62 points in the season opener against George Wythe, its best offensive game in more than 20 years. Then Jayem lost its next nine games, and star running back Eric McDaniels transferred after the season. Can Sims and his team build momentum in Year 2? Even at 1-9, the Justices were just one spot out of the playoffs in 2017. Getting to the playoffs and winning a playoff game is a goal within reach for John Marshall. Getting off to a good start – when John Marshall faces Wythe, Petersburg, Armstrong and Prince George – is essential.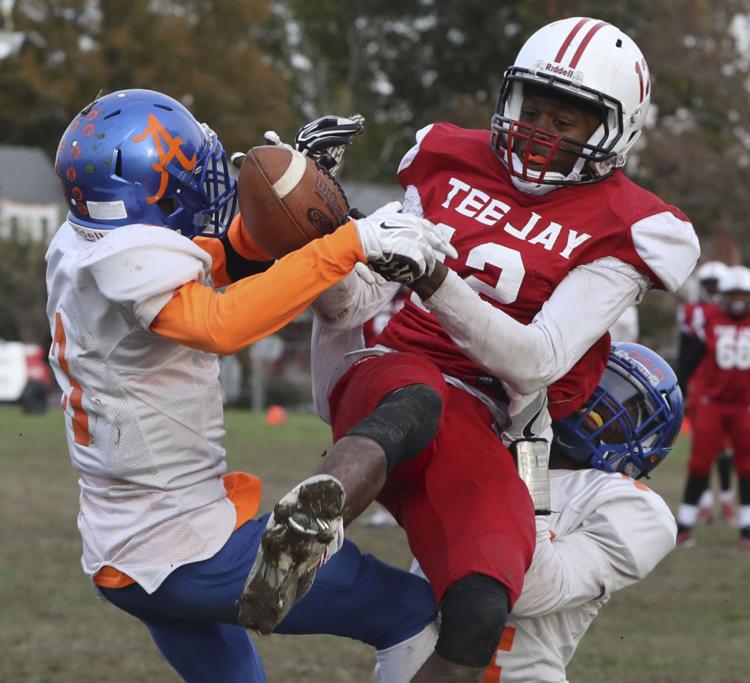 Thomas Jefferson Vikings
Offense: The Vikings lost their centerpieces in back Jalen Jackson and quarterback Anwar Wilson-Bradley, plus five other starters, and they'll have mostly freshmen and sophomores in the skill spots. Senior receivers Tyquan Wilson and Dezhan White will help with the transition to freshman backs Naquan Spencer and Arthur Boyd, sophomore quarterback Ron Rhone and sophomore receiver Jaylen Jones. Tackle Robert Ponton Artis is the only returnee up front. He'll be joined by center John Walsh, guards Jayquan Jordan and Corey Hogan, and tackle Christian Woolridge.
Defense: The Vikings lost six starters but return several players with experience from last season. Front line of seniors Jahlin Russell, Nate Smith and Chris Josephs, and sophomore Randy Anderson is back. Linebacking corps has good size with Shamar Graham (200), Romelo Burris (210) and Shackoy Fearon (185). Safeties Wilson and transfer Treyshaun Bailey will be active in the secondary. Jones and Jacobbie Harrison are the corners.
Outlook: Thomas Jefferson was the area's feel-good story last season. The Vikings put together their first winning season since 1976, won their first playoff game in school history, and narrowly missed getting to the Class 3, Region B final. A lot of rebuilding needs to be done, but there's a foundation in place and a schedule and region that isn't a huge stumbling block to making the playoffs. Only two of the eight teams in the region playoffs had winning records last year, and 2-8 got a spot. With a lot of freshmen and sophomores in the skill spots, TJ likely will need to rely more on its defense to limit opposing teams. Kicker Keegan Vaughan is a weapon.
Class 2, Region A
Amelia Raiders
Offense: Amelia runs a pass-happy offense, and a lot of big pieces are back, including QB Jalen Brown, who averaged 203 passing yards last year. So is Howard Divens, its leading receiver last year who averaged 88 receiving yards. WR Ziayahn Jackson returns as well. Two running backs are new, Elijah Marshall and Jaelen Thompkins. All five starters are back on the line, including C Matthew Beverly, G Kyle Hess and G Trevon Harris. There are two seniors and three juniors on the line.                         
Defense: Six starters return on defense, including DE Jamon Reed and DT Seth Hawkins. Justin Pollack is the only starter back at linebacker. There's a lot of experience in the secondary with seniors Dashawn Crawley and Jackson at safety. William White is back at corner. The defense switches to a 4-2-5.
Outlook: Amelia had a strong passing game last year and brings back a lot of its talent for 2018. But there's a new coach on board who has to keep the momentum going. As usual, Goochland will be a tough opponent on the schedule. Amelia scored 28 points on Goochland's stingy defense, but it allowed 42 and lost the game. It then lost 41-10 to Goochland in the playoffs. Amelia has shown it can score points, but its defense will have to be better in 2018 if it wants to go the distance in the Class 2 playoffs.
Goochland Bulldogs
Offense: Goochland has to replace its top running back from last year, Jasper Carter. But there are some good weapons on offense, including QB Devin McCray, who's just a junior, and senior Perry Snead-Johnson, who averaged 34 rushing yards last year. Wingback Quincy Snead and RB Conner Popielarz are new starters in Goochland's Wing-T offense. Four starters are back on the line, including seniors C Justin Hawk, T Tyler May and T Jacob Massey.
Defense: Half the defense is back from last year, and there's good speed among the defensive backs and linebackers. Start with LB Sam Brooks, who was named honorable mention All-Metro last year. Justin Woodson and Snead-Johnson will start beside him. McCray is the only returner in the secondary. The cornerbacks are young: C.J. Towles is a freshman and Kam Holman is a sophomore. NG Jamal Carter is the only returning starter on the line, where a rotation will be built. Massey and DeAndre Robinson are among the projected starters.  
Outlook: Goochland is amid a big transition. After 17 years coaching the team, Joe Fowler has become the school's athletics director. Former assistant Alex Fruth has taken the reins of the team. At Goochland, success is measured by postseason wins, not regular-season wins. Ten wins was a benchmark for Fowler's teams. So expectations are high. But Fruth has a lot of talent with which to build, including McCray and Brooks, who will be two of the stars of this team. There's no reason why Goochland can't be one of the state's best Class 2 teams once again.  
King William Cavaliers
Offense: There are eight starters back, including junior RB/WR Marc Gresham, who averaged 123 rushing yards and 68 receiving yards last year. The skill players are junior heavy, including QB Lance Alfonso and RB Corey Stewart. The line is senior heavy with four seniors and four returning starters, including G Colin Baldwin and T Tommy Riffe. There's good depth among the skill players, and the backups are expected to contribute. But there's less depth on the line, where the backups are young and inexperienced.
Defense: Seven starters are back on defense, and some players are expected to rotate in and out to keep everyone fresh. Both corners are back – Gresham and Jamir Johnson, and so are two linemen, Eric Johnson and Colin Baldwin. LB Loyal Gresham (6-1, 190) is expected to contribute as a freshman. King William is switching defensive systems for the third time in four years. DeHart hopes the new system will better fit this year's personnel. But the Cavaliers are young in some key spots, and many of the experienced players go both ways.
Outlook: King William had a young team that developed throughout the 2017 season. After starting 0-5, the Cavaliers won their final five regular-season games. Their best win of the season came against West Point 39-26 in Week 9. With a lot of talent back, King William should look more like its second-half self than its first-half self. A September 7th matchup against Essex will be a litmus test for King William. A win there, and King William could be on the path to winning a playoff game or two.