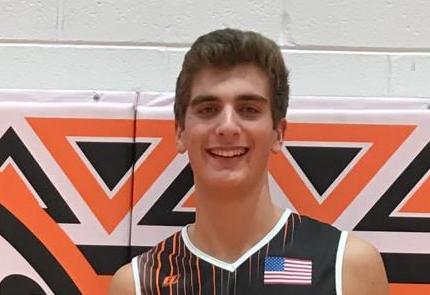 Athletic accomplishments: A senior on the volleyball team, Mark recorded 255 kills, 20 assists, 30 blocks, 76 digs and 45 aces this year. He's a member of the Richmond Volleyball Club's USA Volleyball travel team. He's also a swimmer and basketball player. He'll play for North Greenville University next year.
Academic accomplishments: Mark is a member of the National Honor Society, Beta Club, Latin Honor Society, and he's a winner of the AP Scholar Award. He's taken three AP tests, he is a member of the Language Latin Club, and he's the president of Young Republicans. He's the secretary for the Fellowship of Christian Athletes, and he's an SCA representative.
Favorite class: "Biology with Ms. Coleman."
Intended major: "Biology" in preparation for medical school.
Future career: "Pediatrician."
Three words to describe him: "Loyal, encouraging, lighthearted."
First job he wanted as a kid: "Life guard."
Favorite book: "The 'Percy Jackson' series."
Working to improve: "Staying focused in school."
Best sports memory: "Having 24 kills in a volleyball match." It was in September against Matoaca and was a career high.
On his playlist: "Really everything — rap, pop, pretty much everything except country. I can't stand country."
Most embarrassing music: The band "Chicago."
Person alive he admires the most: "My dad."
Favorite thing about volleyball: "The team aspect of it. You can't win by yourself, you need everyone on the court focused and playing well as a team."
Favorite emoji: "The clown emoji."
If he could go on any game show: "Survivor."
If he could travel anywhere in the world: "Anywhere with a nice beach, like Fiji."
Best advice he's ever received: "To be third," which his Mom told him — put God first, others second and yourself third.
If he could have dinner with anyone dead or alive: "Abraham Lincoln."
If he could be any animal: "Shark."
Most likely to be early or late: "Late."
His house is burning down and he can take only one thing with him: "My Grandpa used to collect statue figurines, and when he died we each got to keep one. So I would take that."