Rennie Spotts was a regular contributor to the Collegiate girls soccer team in her eighth grade and freshman seasons. An ACL injury to her left leg in the fall has kept her out of the Cougars' title-seeking squad as a sophomore this season.
Not medically cleared to play, Spotts, impossible to miss with her knee brace, was a passenger on the bench in most of the Cougars' semifinal matchup versus Norfolk Academy — until she wasn't.
Thrust into action for one play only, Spotts scored the game-winning penalty after Collegiate looked like it was heading for a loss, and combined with a win-preserving save from Maisy Fling, the Cougars advanced to the VISAA state title with a 4-3 win on penalties over Norfolk Academy on Saturday at Ukrop Park.
After a scoreless 100 minutes, the game went to penalties and after four penalty kicks, each team had scored three times. When Marianna McComb missed the Cougars' fifth penalty, all Norfolk Academy had to do was score to advance to the state championship.
But before Greer Gill skied the ensuing kick for the Bulldogs, Collegiate coach Rob Ukrop was already optimistically looking for his next penalty taker should the chance arise. The honor fell to Spotts.
"She's begged to get on the field and we told her no, she missed the other day against St. Catherine's (in the LIS championship) and we told her today 'Go win the game for us. Put it in, Maisy is going to make the save for us,'" Ukrop said.
Spotts followed orders, as did Fling, sending Collegiate to the VISAA state championship, where it will vie for its first title since 2010. To do so, the Cougars will have to go through three-time defending champions St. Catherine's.
"The last two years we've had seven fantastic games," Ukrop said. "I think all of them have been either one goal (wins for either team) or penalties. There's a reason they're the champions."
"We're the underdog and we're going to play as hard as we can. I told the girls, as much as I'd like to play other teams every once in a while, if you're going to try to win a state championship you might as well beat the team that's been the best for the last three years.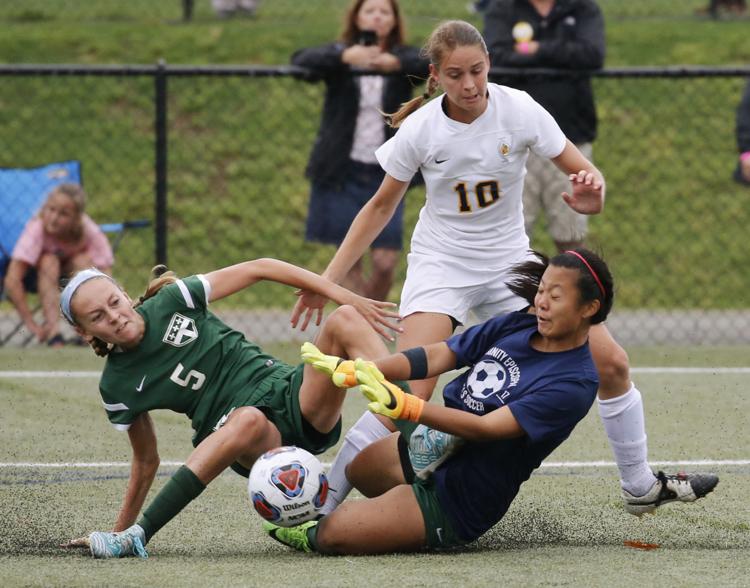 Menges' goal earns St. Catherine's chance at four-peat
Leading a St. Catherine's senior class that has known nothing other than state championships in their career, forward Cara Menges has been in a big game situation before.
Where a goal from Menges in the state championship helped the Saints to a third straight state title last year, her goal in the 33rd minute against Trinity Episcopal put St. Catherine's back in a familiar spot in the championship, contending for a fourth straight title.
Running down the left wing, Menges took to the endline before putting the brakes on to shift past no fewer than three Titans defenders. Then unleashing a shot that was too hard for Trinity keeper Lauren Park to handle for the game's only goal, the senior gave a masterclass of what sets her apart from others all in the space of one play.
"Cara is a warrior," Saints coach Laurie Marshalek said. "She doesn't go halfheartedly. She goes explosively and hard and dynamically to every single ball that there is."
Advancing to the state championship Sunday at Ukrop Park, the Saints are one game away from sending off Menges, Grace Kim, Julia Palumbo and Mary Clarke Wallace with four state titles, enough to nearly choke Marshalek up at the thought.
"These seniors have been an integral part of this program. They lead by example, they lead on and off the field," she said.
"All wins are special, and I'm not going to say it would be any more special than the last three, but I really would love for these seniors to go out having four championships. That's a pretty big deal.
---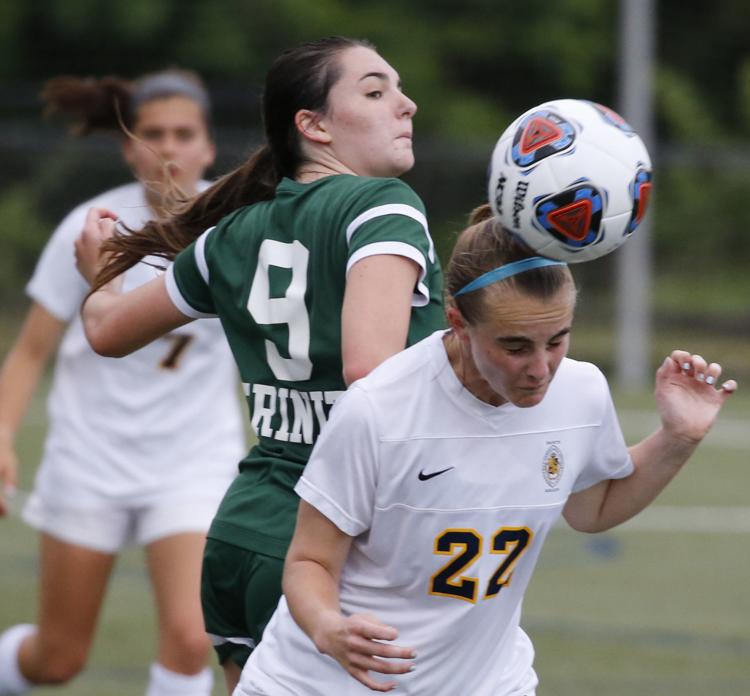 Trinity Episcopal 0 0 — 0
Saves: Park (TE) 14. Wallace (STC) 8.
Records: Trinity Episcopal 10-7-2; St. Catherine's 14-5-2.
---
Norfolk Academy 0 0 0 0 — 0
Collegiate wins 4-3 on PKs.
Saves: Mills (NA) 6. Fling (COLL) 3.
Records: Norfolk Academy 16-5; Collegiate 15-2-5.
Note: Collegiate advances 4-3 on penalty kicks.