Not the rain, not the snow and certainly not the L.C. Bird defense could deny the inevitable any longer come Wednesday afternoon.
Proving to be the only adversary to date that could keep Matoaca forward Maiya Pencile from doing what she has done better than any other girls soccer player in the Richmond area has before her — putting the ball in the back of the net, even the weather had to relent eventually.
With a little cooperation from the elements and a second goal in a hat-trick performance in the Warriors' 8-3 win over the Skyhawks, the senior forward reached the zenith of career marks in Richmond-area soccer, surpassing Prince George's Joanna Taylor for most goals in VHSL history by a local player with her 127th.
While the record-setting goal wasn't exactly up to the same standard of most of Pencile's easy finishes — she had to knock in a tight-angled rebound following up a failed chip shot — when the ball hit the back of the net, style points didn't matter for Richmond's newest scoring leader.
"I was kind of scared that I messed it up, so I was like, 'Maiya, calm down. You got it,'" Pencile said of following the initial shot.
"Then when I sat it hit the net it was just a rush of relief. I got so excited, did a little dance…but it felt really good."
It may not have been much of a dance, but after scoring her record-breaking goal, Pencile spun around, let out a fierce roar and pounded her fist into the ground before sprinting to the sideline to hug former teammate Kailey Elder, a student at East Carolina University who made a special trip up to Matoaca to see Pencile's record-breaking performance.
With Pencile now on 128 career goals, Matoaca coach Erin Kutsko has had a hard time believing how far her senior captain has come since she walked onto the field as a freshman.
"That sounds unreal, that doesn't sound possible for anybody," Kutsko said with a laugh at Pencile's goal tally.
"I didn't really even notice until towards the end of her freshman year and I started counting and I was like, holy crap, she has a lot of goals."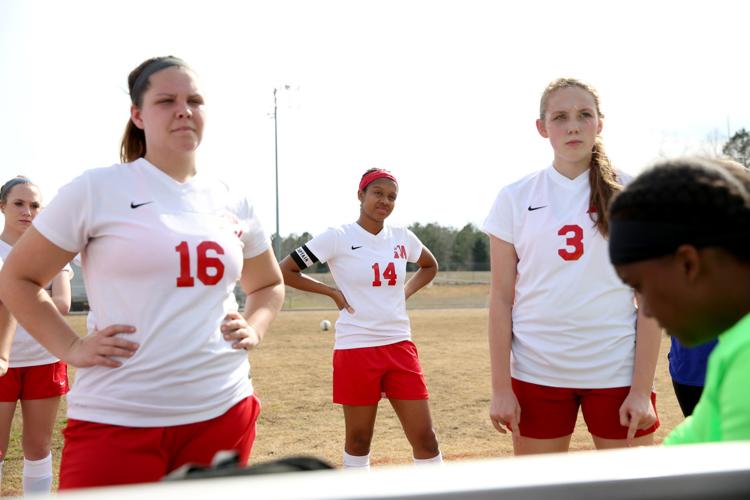 At 215 career goals, Anna McClung's VHSL record looks to be safe from Pencile, but by overtaking Taylor and scoring her 128th goal, Pencile stands tied with Gabby Nelson of Halifax County as Virginia's leading scorer outside of Class 2 — an achievement in its own right.
"It brings some validity to her game," Kutsko said of the higher level of competition Matoaca faces, as the bulk of Virginia's leading scorers played their careers in Southwest Virginia.
"We're not by any means the most developed program…but when you play a team maybe not as developed as your school, it's always going to be easier to get a couple of more goals. But she's consistently been our lone goal scorer when we play the schools like Deep Run, Mills Godwin, Dale or Prince George.
"She can do it regardless of who's she's playing against."
Seventeen more goals and Pencile will have the honor of finishing her career as a top-five scorer in the commonwealth. While she's looking to enjoy the most of her last season in high school by bonding with her teammates, that won't stop her from peeking at the record book after each successive goal.
"I looked at the last posted record book and my name is right there," Pencile said of her name near the top.
"I don't think it will be hit me until I see it."
---
LCB: Booth, Woodward, La.
MAT: Pencile 3, Thrasher, Lynn 2, Saunders, Abell.
Saves: Jackson (LCB) 8. Hardy (MAT) 7.
Records: L.C. Bird 1-2; Matoaca 2-0.