Sherry Edwards, the track and field coach at St. Catherine's, sometimes wonders how her team wins so consistently.
If the Virginia Independent Schools Athletic Association Division I championships Saturday are any indication, the Saints do it with depth and focus. On a rainy day with conditions that bordered on brutal at times, St. Catherine's athletes looked unfazed, capturing the school's 18th state title in 32 years by winning six of 17 events and earning top-five finishes in all but one.
St. Christopher's finished as the top local boys team, coming in second behind Fork Union Military Academy for the Division I state crown.
St. Catherine's has a few extraordinary athletes, such as nine-time individual state champion junior Hannah Ballowe and versatile sophomore Jailah Channer, who competed in six events Saturday. But Edwards said those girls weren't the reason the Saints rose so far above their competition.
Athletes such as Reny Horner and Eliza Woodfin, who combined to score in 10 events but didn't win one individually, provided St. Catherine's with extra points that aren't as noticeable but are the secret to the program's steady success over so many years.
And then there is Edwards' pedigree, which has quietly built a machine that produces stellar track and field talent year after year. She's in her sixth season at St. Catherine's, but has coached high school track for 36 years in the Richmond area, including stints at Varina and Douglas Freeman that each lasted longer than a decade.
Throughout her coaching career, Edwards has developed connections that have allowed her to build an all-star coaching staff for the Saints. She has nine assistant coaches, most of whom are experts in specific events because they used to compete in them.
One of those coaches, Derrhyl Duncan, is a decorated sprinter and Temple University graduate who is training in hopes of running at the 2020 Olympics in Tokyo. He spends his weekdays teaching girls at St. Catherine's how to run fast.
"I had no idea about their history, what they had done," Duncan said of St. Catherine's. "They have the championship mindset."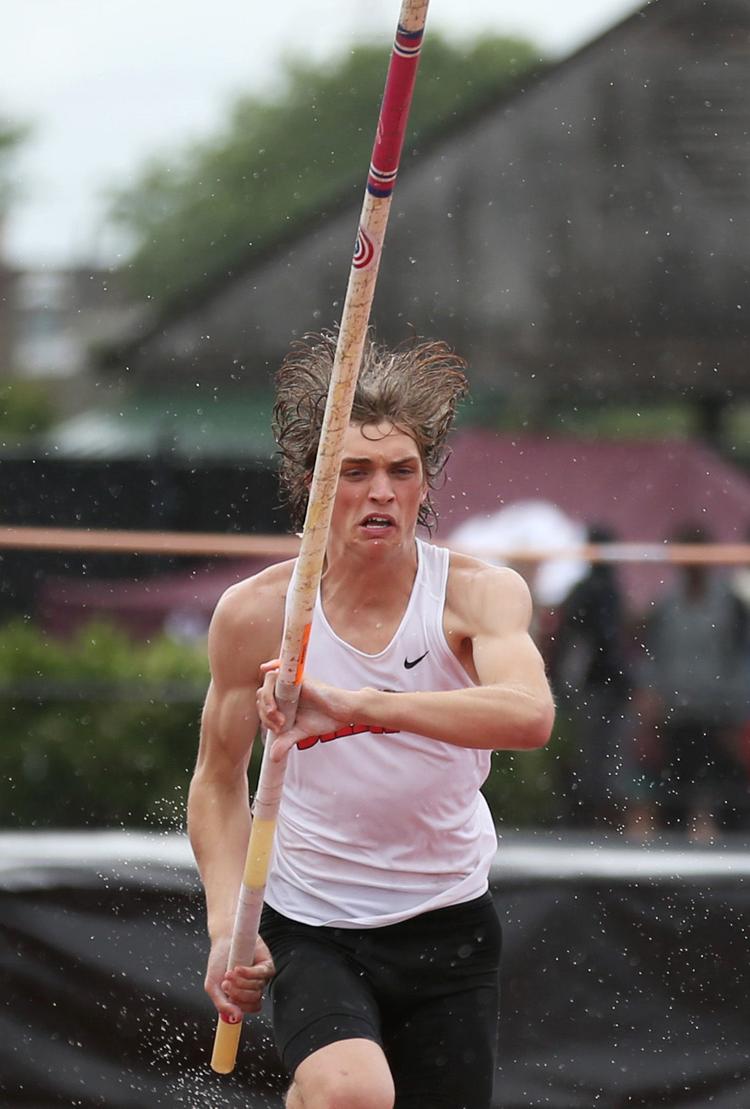 While St. Catherine's ran away with the girls championship, St. Christopher's struggled to keep up with powerhouse Fork Union on the boys side. In order to upend the Blue Devils, the Saints needed wins in multiple events from perhaps their most valuable athlete, Frank Royal.
Royal, a junior who has the nation's 11th best long jump this season, started the day by winning the event with a jump of 23 feet, 7 inches. He later ran the 100-meter dash, placing second to Fork Union's Ebruba Etta despite entering the event as the favorite.
"Since I'm one of the only few sprinters (for St. Christopher's), there's definitely a little bit of weight on my shoulders," Royal said.
He finished his day by winning the 200 and placing third in the 400-meter relay. Royal's future is bright — his coach, Marshall Ware, said Royal got a recruiting call from Carl Lewis, a nine-time Olympic gold medalist who now serves as an assistant coach at the University of Houston.
Other standouts for the Saints included Ian Smith, who won both the 800-meter race and relay, and Harrison Rice, the state's best pole vaulter.
Collegiate's girls team finished second to St. Catherine's as the only other local team with a top-five finish.
---
Boys team scores: 1. Fork Union 142; 2. St. Christopher's 109; 3. St. Stephen's & St. Agnes 101; 4. Norfolk Academy 73; 5. Woodberry Forest 48; 6. Collegiate 43; 7. Potomac 40; 8. Episcopal 32; 9. Randolph-Macon Academy 15; 10. Trinity Episcopal 13; 15. Benedictine 6.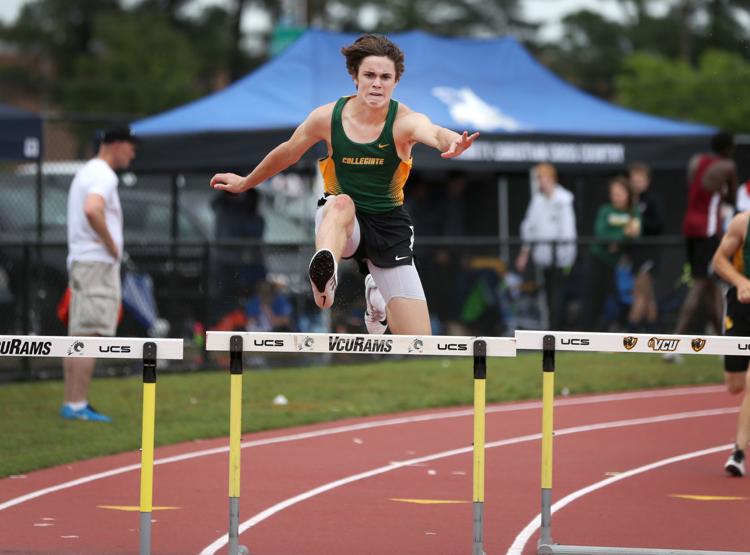 Boys individual winners: 100: Etta (FUMA) 10.74; 200: Royal (STC) 21.78; 400: Etta (FUMA) 49.21; 800: Smith (STC) 1:58.43; 1,600: Yescas (FUMA) 4:31.14; 3,200: Yescas (FUMA) 10:01.03; 110H: Walbrook (FUMA) 14.80; 300H: Walbrook (FUMA) 39.19; 4x100: Episcopal (Jones, Ajavon, Mensah, Kamara) 42.66; 4x400: St. Stephen's & St. Agnes (Milton, Walker, Johnson, Gilday) 3:26.77; 4x800: St. Christopher's (Padgett, Johnson, Valentine, Smith) 8:15.28; HJ: Walker (SSSA) 6-4; PV: Rice (STC) 15-6; LJ: Royal (STC) 23-7; TJ: Loolo (RMA) 46-0.25; SP: Hyman (COLL) 50-8; DT: Stupalsky (FUMA) 133-8.
Girls team scores: 1. St. Catherine's 165; 2. Collegiate 123; 3. Episcopal 80; 4. Norfolk Academy 65; 5. St. Stephen's & St. Agnes 47; 6. Trinity Episcopal 42; 7. Saint John Paul the Great 39; 8. Potomac 31; 9. Madeira 19; 10. Flint Hill 18; 14. Saint Gertrude 4.
Girls individual winners: 100: Newsome (NA) 12.75; 200: Newsome (NA) 26.88; 400: Carter (TE) 57.63; 800: Ballowe (STC) 2:14.69; 1,600: Ballowe (STC) 5:13.78; 3,200: Kehoe (TE) 11:50; 100H: Shannon (STC) 15.55; 300H: Cummings (SSSA) 47.28; 4x100: Episcopal Moore, Jackson, Farquharson, Moses) 50.14; 4x400: St. Catherine's (Gurkin, Horner, Woodfin, Ballowe) 4:03.72; 4x800: Episcopal (C. Boehm, A. Boehm, Simmons, Hathaway) 9:42.36; HJ: Stone (COLL) 5-2; PV: Mead (STC) 10-0; LJ: Channer (STC) 17-0.25; TJ: Mendelson (COLL) 34-4.5; SP: Nshanji (MAD) 35-8; DT: Kuo (POT) 104-3.