WILLIAMSBURG —When Deep Run's Michael Wright stands on one side of the court, with teammate Sean McDermott on the other, opponents normally have had to pick their poison.
But neighboring rival Glen Allen was an exception this season, splitting regular-season matches then besting the Wildcats a week ago in the regional final. On the game's biggest stage, however, Wright and McDermott proved to be too much, combining for 35 kills as Deep Run defeated Glen Allen in four sets to secure its second straight Class 5 state championship Thursday night at William & Mary's Kaplan Arena.
"Unfortunately, the guys on the other side of the net have a very exceptional player," Glen Allen coach Kevin Hoy said of Wright, who has committed to Ohio State. "The times we were able to beat them this year, we were able to slow Michael down a little bit more. He really played to a high standard tonight."
High praise for the 6-foot-3 senior, who racked up 22 kills and 14 digs to lead Deep Run (20-2).
As was the case in their first three meetings, it was the Jaguars taking the first set 25-20 behind strong early work from seniors Drew Klein and Parker Bailey.
Klein led Glen Allen with 14 kills, Caden Cowart added 11, and Daniel Nguyen had nine.
Being down early didn't faze the veteran Wildcats, who took an early lead en route to a 25-16 win in the second set.
It was time for Wright to take center stage, or rather corner stage, blitzing Glen Allen early in the third set for a 7-2 lead. After Cade Terrell and Hayden Beauchamp combined on a block, Glen Allen refocused, using a 4-1 run to cut the deficit to 11-9.
But the rest of the set featured a strange combination of extended play and uncharacteristic errors on both sides, including three consecutive service errors as both teams sought to find the tiniest of an advantage. Enter McDermott, who had two of his 13 kills on back to back plays to give Deep Run a 20-15 advantage on its way to winning the third set.
Glen Allen led most of the way in the fourth set but could never build a lead higher than three points. Deep Run coach Kevin Pond noted a special tenacity from his team in the final set, putting them at a point where a comeback was possible and strategically brief.
"Other than not going five [sets], this was a mirror of the same way we played [Glen Allen]," Pond explained.
"We knew that we needed to just keep our composure."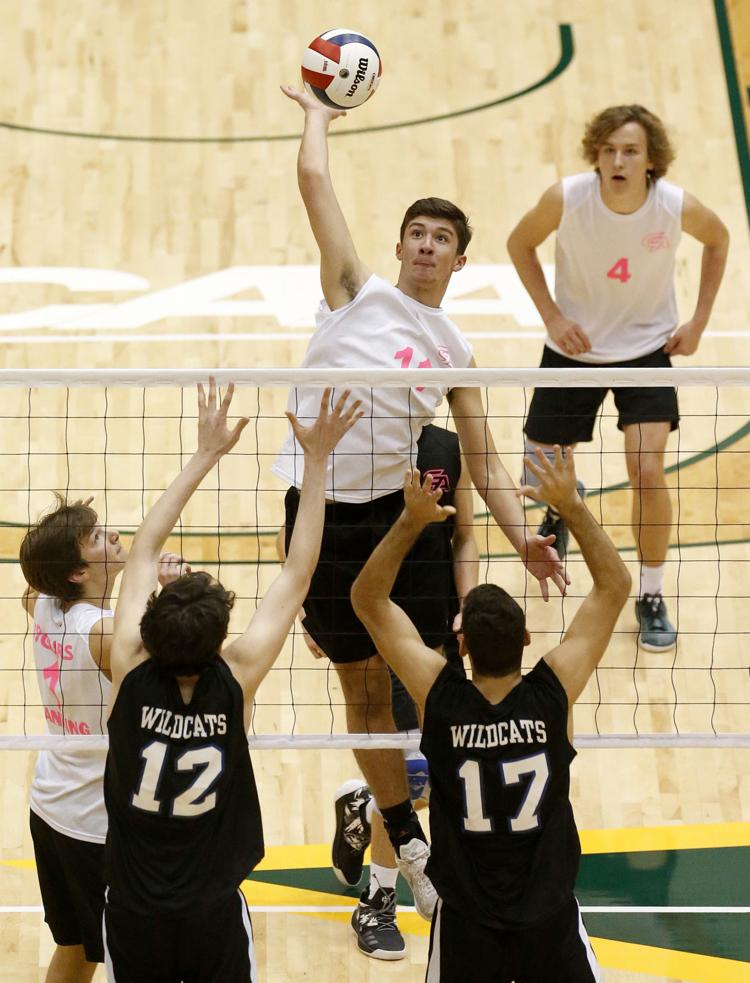 At 19-18, a Cowart kill prompted a Pond timeout, which turned out to be a masterful move. While Glen Allen held on to a one-point lead all the way to 23-22, the Wildcats awaited their opening. A kill attempt blocked out of bounds tied it. Next, it was Glen Allen asking for time as Deep Run faced championship point. A Jaguars middle kill attempt went just wide, and the Wildcats had gone back to back.
Pond noted close to a dozen Wildcats alumni in the arena supporting the team, and now Wright and six other seniors will join that group pushing future teams to the pinnacle. McDermott, a junior, will help take the torch now.
"Honestly, all the seniors on our team, you can learn so much from. They're all great at teaching as they're all so skilled," McDermott explained.
"All of us want a three-peat if possible, so I think we're going to come back even hungrier next year."