Going into the championship round of the Region 5B wrestling championships at Matoaca High School Saturday afternoon, Lee-Davis had a solid 20-point lead over the Confederates' closest competitors.
Those two competitors, however, were locked in the battle of the day. J.R. Tucker and Mills Godwin were tied, but the Tigers – with four wrestlers in the championship round – had the advantage. Barring disaster, neither of the second-place teams could overtake Lee-Davis, nor would the Eagles be likely to edge Tucker.
No disaster happened. Lee-Davis held on to its 20 point lead for the win and the Tigers edged Mills Godwin by 2 points for second place.
"We were in a little bit of danger coming into the finals matches," said Lee-Davis head wrestling coach Tanner Tinsley. "We had more finalists than anyone else – we had six finalists. Basically we just couldn't have all of our guys lose and all Tucker or Mills Godwin kids win. It would have had to have gone really bad for us."
It almost did go really bad for Lee-Davis.
The first Confederate to step up to the championship mat – Brady Bollander at 113 pounds – lost a vigorously contested match to Highland Springs' Bennie Jones. Bollander seemed to be in control, but over-extended himself and got off balance, a mistake which Jones took advantage of to get a pin in 3:08.
The next Confederate up, Noah Loving at 132 pounds, was in another dogfight, barely edging Godwin's Garrett Chandler in a 3-2 decision. The next Lee-Davis wrestler up, Grant Sulser at 152 pounds, fell to the other Eagle in the Championship round: Charlie Stanton won a 3-1 decision in that match. Varina's Antonio Cetrone then claimed a 5-3 decision over Confederate Jacob Whittington for the 182-pound title.
But two-time state champion Andy Aldridge gave the Confederates some insurance, dominating Hermitage's Emanuel Torres with a pin in 1:28.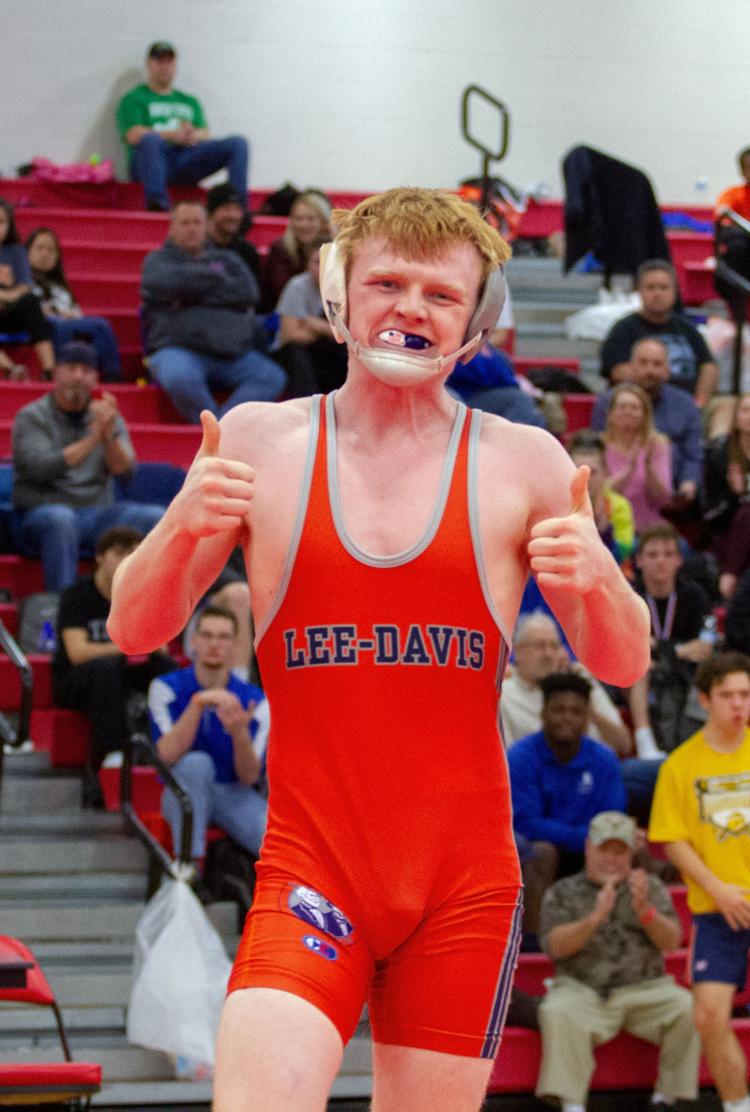 Finally, in the last Lee-Davis match of the day, Dylan Montgomery experienced a similar fate as Bollander had in the first Confederate match of the championship round. Montgomery battled Tucker's Dominic Barton for the 195-pound title. The match was hard-fought, and Montgomery seemed to be in control, but went a little too far on a shot and Barton struck for the pin in 3:16.
Barton's victory was the only one for the Tigers in the championship round, without it, they would not have finished as runners up.
"They were evenly matched. I really felt that," J.R. Tucker head wrestling coach Kevin Mable. "But [Barton] is really strong – kind of a beast – and he's a great kid and it went his way. It was a good thing for us."
Lee-Davis finished with 202 points, followed by Tucker with 182 and Godwin with 180. Atlee finished fourth with 129.5 points and host Matoaca wrapped up the top five with 124.5 points.
Team scores: 1. Lee- Davis 202.0; 2. John Randolph Tucker 182.0; 3. Mills E. Godwin 180.0; 4. Atlee 129.5; 5. Matoaca 124.5; 6. Varina 111.5; 7. Prince George 97.0; 8. Hermitage 88.5; 9. Deep Run 86.5; 10. Highland Springs 76.0; 11. Lloyd C. Bird 74.0; 12. Douglas S. Freeman 71.5; 13. Henrico 46.0; 14. Glen Allen 29.5; 15. Meadowbrook 7.0.
Championships
106: James Haynie (ATL) md. Jonathan Minor (HEN) 11-2; 113: Bennie Jones (HS) p. Brady Bollander (L-D) 3:08; 120: Nickolas Garcia (MAT) md. Alex Frowert (ATL) 15-1; 126: Evan Buchanan (ATL) p. Elijah Garcia (MAT) 1:57; 132: Noah Loving (L-D) d. Garrett Chandler (MG) 3-2; 138: Kurtis Anderson (LCB) p. Jayon Cosby (PG) 1:11; 145: Noah Roulo (MAT) md. James Simon (JRT) 18-7; 152: Charlie Stanton (MG) d. Grant Sulser (L-D) 3-1; 160: Kofi Amore (HEN) d. Nathan Fleming (JRT) 6-3; 170: Antonio Cetrone (VAR) d. Jacob Whittington (L-D) 5-3; 182: Andy Aldridge (L-D) p. Emanuel Torres (HER) 1:28; 195: Dominic Barton (JRT) p. Dylan Montgomery (L-D) 3:16; 220: Bo Kite (DR) p. Ernie Campbell (DSF) 3:32; 285: Sidney Rose (PG) md. Kyle Starrett (JRT) 15-3.
3rd place
106: Nicholas Jackson (HS) p. Mason Rogers (MG) 1:38; 113: Jacob Maust (ATL) md. Justin Hunt (MG) 11-0; 120: Caleb Olgers (VAR) md. Ethan Coyle (DR) 16-4; 126: Trey White (GA) p. Haydon Hogston (MG) 2:44; 132: Dillon McKay (DR) utb. Shane Morton (JRT) 3-1; 138: Ethan Barrett (HER) d. Stuart Altman (MG) 5-0; 145: Steven Scanlon (ATL) tf. Wyatt Mesco (L-D) 1.5 3:38 (17-1); 152: Andy Logan (DSF) d. Cole Daniels (HER) 6-4; 160: Nolan Kruse (L-D) p. Bryce Payne (PG) 2:23; 170: Willie Headley (PG) p. Carter Nash (ATL) 4:15; 182: Christian White (HS) md. Irakli Danelia 14-5; 195: Max McRoberts (MG) p. Henry Blankenship (DR) 2:08; 220: Mirvet Dudic (JRT) p. Nicholas Burton (HER) 4:04; 285: Javonte Tuppince (LCB) p. Brady Elswick (MG) 4:34.
5th place
106: Jack Bengel (DR) md. Sam Kruize (HER) 15-4; 113: Kiilun Johnson (MAT) p. Macarios Atia (DSF) 3:53; 120: Nathan Brubaker inj. def. Brett Strandahl (JRT) 1:34; 126: Jake Owens (L-D) p. Zach Hewins (VAR) 4:09; 132: Tyree Nash (VAR) p. Derick Ernest (MEA) 2:26; 138: Damian Scott (VAR) d. Van Blevins (JRT) 8-6; 145: Jose Rivera (LCB) p. Chase Shulletta (MG) 1:40; 152: Blake Frost (MAT) p. John Drilling (JRT) 0:38; 160: Zackery Coleman (HER) p. Shawn Garris (HS) 2:39; 170: Brandon Benfield (JRT) d. Jason Lopez (DSF) 9-3; 182: Justice Motley (VAR) p. Nate Walker (JRT) 0:43; 195: Alexander Dixon (LCB) d. Jaydon Burgos (MAT) 7-3; 220: Keyshawn Burgos (MAT) d. Ethan Calveric (MG) 9-3; 285: Theodore Beachley (VAR) p. Jeffrey Swiney (L-D) 2:03.