Friday's burst of high winds sent trees crashing down, left tens of thousands without power, disrupted travel and caused some schools to close across central Virginia.
An area of low pressure that soaked the region on Thursday strengthened as it swirled off to the Northeast, causing high winds to rush through the state beginning during the morning rush hour and lasting through the afternoon.
Gusts ranging from 40 to 60 mph caused numerous trees and branches to fall on roads and power lines.
At the peak of the power outages, 36,401 Dominion Energy customers through metro Richmond and the Tri-Cities were in the dark at 9:36 a.m. Statewide, outages affected approximately 120,000 Dominion customers, but half of those had been restored by 5 p.m., according to a spokesperson.
Several thousand Rappahannock Electric Cooperative customers were also in the dark throughout the day.
The National Weather Service said a tornado touched down in the town of Leesburg in Loudoun County about 7:20 a.m. Friday, damaging several homes and uprooting trees. The tornado, rated EF0, had an estimated maximum wind speed of 85 mph. The weather service was investigating whether other tornadoes touched down in Maryland.
In Chesterfield County, a tree fell onto southbound Interstate 95 at exit 62 around 8:20 a.m., which resulted in a three-vehicle crash. Three people were sent to the hospital with non-life-threatening injuries, according to Lt. Jason Elmore of Chesterfield Fire and EMS.
On Interstate 295, a tractor-trailer overturned across the southbound travel lanes of the Varina Enon Bridge at 11:14 a.m. The driver was unhurt after a strong gust caused the empty trailer to lose control. The crash remains under investigation, according to Virginia State Police.
A wind sensor on the bridge, 159 feet above the ground, clocked a gust of 65 mph near the time of the crash. Wind speeds are usually stronger over water or on surfaces high above the ground, because there's less friction from the Earth's surface to slow the air.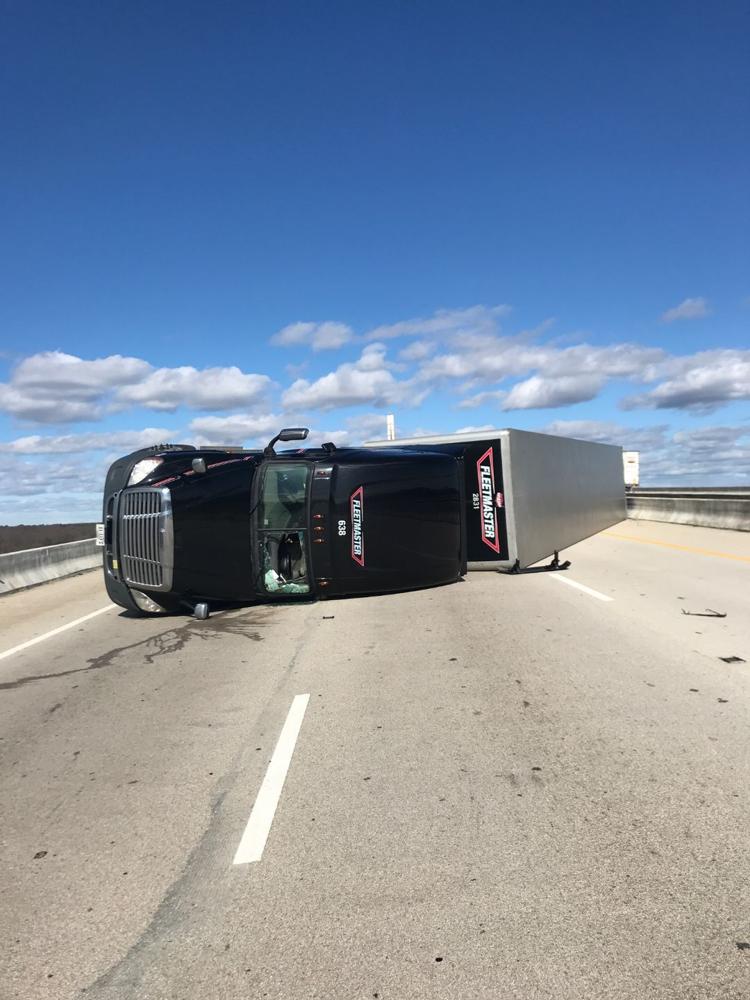 The crash and ongoing high winds prompted the Virginia Department of Transportation to close both the Varina Enon Bridge and the Benjamin Harrison Bridge until sustained winds fell below 34 mph.
Several dozen roads in the Richmond region were closed on Friday due to high water, debris, fallen trees and power lines, according to VDOT.
Richmond International Airport registered a peak gust of 56 mph at 8:47 a.m., but sustained winds hovered between 24 and 32 mph through the day. The airport saw delays and 17 cancellations on Friday, mainly related to the storm's wider effects from Charlotte to Boston. One arriving flight had to divert to Norfolk during the strongest period of winds in the morning.
Hanover County Public Schools closed early and canceled after-school activities due to outages that affected half of the district's schools. Issues with power also affected some campuses of Henrico County Public Schools and Chesterfield County Public Schools.
Winds will be much lighter on Saturday, but seasonably cold air will return and bring a low in the lower 30s and a high in the upper 40s despite sunny skies. More showers are in the forecast for next week.
The James River is expected to rise above its 12-foot minor flood stage at the Westham gauge between early Saturday morning and Sunday evening, cresting at 14.1 feet on Saturday afternoon, according to the National Weather Service's forecast from Friday afternoon. The City Locks gauge is predicted to crest at 9.1 feet early Sunday, about 1 foot above minor flood stage.
The storm's total rainfall for Richmond was 1.95 inches between Wednesday and Friday morning. Daily precipitation records were not set. Amounts generally varied from 1.5 to 2.5 inches in the Richmond region. Statewide, (this also is for Wednesday through Friday morning) up to 5 inches of rain fell in Patrick County and in the far southwestern corner from Wise County to Cumberland Gap.
Friday's highest reported wind gust in the state was 73 mph at an offshore weather station between Norfolk and Hampton.
Here's a look at some peak wind gusts so far today around the region, according to the National Weather Service in Wakefield.
Richmond Int'l Airport: 56 mph
As of 2 p.m., Dominion Energy reported 20,831 customer outages in metro Richmond and the Tri-Cities, a number which continues to decline from a peak of about 39,000 around 9 a.m.
The very strongest winds may be over, but it will still be a breezy and occasionally gusty Friday across the region.
After peak gusts of 56 mph during the 8 a.m. hour, Richmond International Airport reported gusts to 43 mph by 11 a.m. with sustained winds from the west at 29 mph.
At 11:30 a.m., the number of outages in metro Richmond and the Tri-Cities had decreased to 28,584, according to Dominion Energy.
According to Dominion Energy's outage map, approximately 32,000 customers were without power in metro Richmond and the Tri-Cities as of 10:45 a.m., down from 39,000 at 9 a.m.
Rappahannock Electric Cooperative's site showed 7,643 customer outages.
Winds for the rest of the day will likely be lower than the 56 mph gusts that hit the area during the 8 a.m. hour, but a wind advisory remains in effect until 4 p.m. Occasional gusts to 50 mph could lead to more outages and tree damage.
Read more about how the wind is affecting local schools here.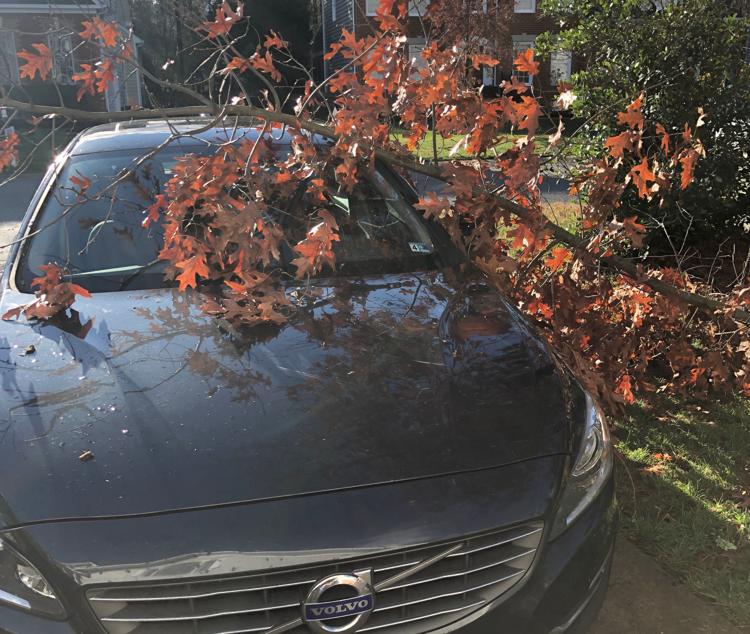 According to Dominion Energy's outage map, approximately 39,000 customers were without power in metro Richmond and the Tri-Cities as of 9 a.m., up from about 31,000 at 8:45 a.m.
So far, the National Weather Service in Wakefield reported that Richmond International Airport experienced a peak gust of 56 mph at 8:54 a.m.
A wind advisory remains in effect until 4 p.m. across central Virginia, with gusts to 50 mph possible through the rest of the morning and afternoon. This could lead to even more outages and tree damage.
According to NWS Wakefield:
"Given that this is expected to be an unusually strong wind event, and soil is saturated from multiple inches of soaking rain during the past 48 hours, scattered to numerous uprooted trees may result."
The perfect reminder for a day like today. Last night's storms may have knocked down power lines, and with today's high winds, it's likely you'll come across a malfunctioning traffic signal or two. Do you know what to do? ⤵️⤵️⤵️ pic.twitter.com/QV753ONg0I

— VDOT (@VaDOT) February 7, 2020
The flood advisory is over for central Virginia, but a wind advisory is now in place throughout this morning and afternoon.
As of 8 a.m., fast-moving showers and storms approaching metro Richmond from the west could bring gusts to 50 mph and a few rumbles of thunder. The rain will be locally heavy but brief compared with yesterday's all-day soaking.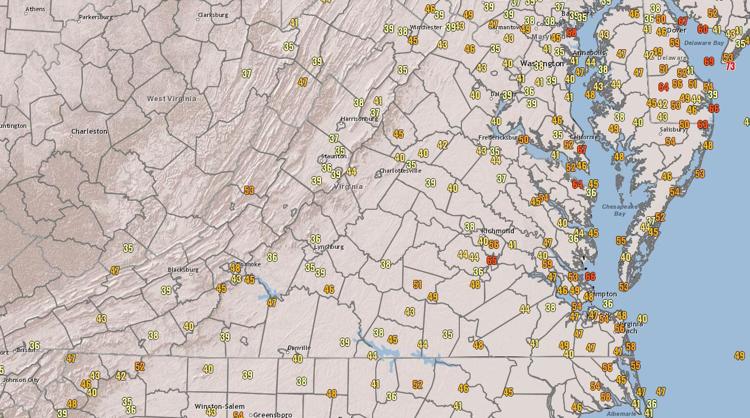 Even after the rain departs this morning, windy conditions will continue with some gusts to 45 mph from the west and southwest. This could lead to scattered trees and branches down, plus power outages.
*Thursday evening update*
Thursday was a thoroughly soaking day for metro Richmond, but the area avoided the major flash flooding and severe storms that struck other parts of the state and led Gov. Ralph Northam to declare a state of emergency.
The declaration allows the state to start positioning people, resources and equipment to help respond to the storm and its aftermath.
"This weather is potentially dangerous, and rivers and streams can reach flood stage hours after the rain has passed," Northam said in a news release. "I urge all Virginians to monitor forecasts and be prepared to obey local evacuation orders if needed. We are grateful to first responders who are working to rescue people from flooded homes and keep citizens safe."
A flood watch remains in effect until 7 a.m. Friday for central Virginia.
Southwest Va. hit hardest by Thursday's floods
In Tazewell County in Southwest Virginia, 3 inches of rain was all it took to cause the Clinch River to rapidly escape its banks and invade streets and homes in the town of Richlands on Thursday morning.
By Thursday evening, more than 500 residents in and around Richlands had been displaced and needed to be rescued from their homes, according to the governor's office.
The National Weather Service escalated the flash flood warning for Tazewell to a rare "flash flood emergency," while local emergency management called for residents to evacuate and stay away from the high water.
The Bristol Herald Courier and the Virginia Department of Transportation reported numerous road closures across the state's southwestern region due to flooding or mudslides.
Scattered reports of water-covered roads also came from Danville and South Boston after that area saw rainfall rates of 2 inches per hour in the late morning hours.
Severe weather stayed south of Richmond
Chilly 40s held tough over Richmond through waves of rain, which busted the prediction for afternoon warmth but spared the area from dealing with any strong thunderstorms.
To the south and southeast, springlike 70s fueled severe weather from the Florida Panhandle to Hampton Roads.
A tornado watch was in effect for far southern Virginia during the afternoon but resulted in no tornado warnings or sightings in the state.
Approximately 13,000 Dominion Energy customers in southeastern Virginia experienced outages following severe thunderstorm gusts to 60 mph.
James River to rise this weekend
As of Friday morning, predictions for the weekend flooding of the James River continue to inch lower.
At Richmond's Westham gauge, a crest of 13 feet is expected on Saturday afternoon by the National Weather Service — 1 foot above minor flood stage.
Downstream, the City Locks gauge is predicted to crest at 7.7 feet on Saturday evening, just below its 8-foot minor flood stage.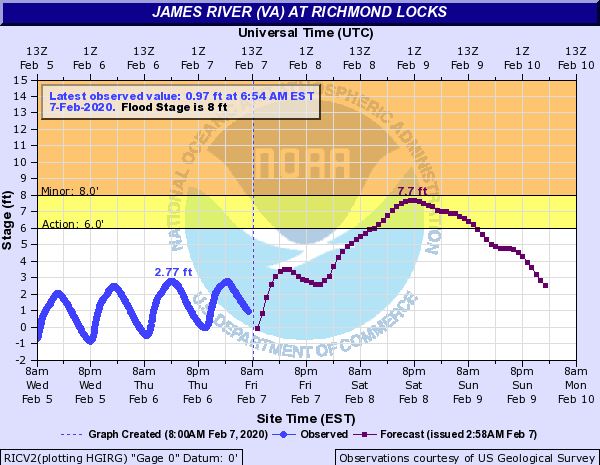 This will be lower than the flood of Feb. 25, 2019, when the Westham gauge peaked at 16.22 feet and City Locks hit 13 feet.
Elsewhere in the region, minor flooding is also expected along the following rivers:
• the Rivanna at Palmyra;
• the Appomattox at Farmville;
• the Roanoke at Randolph;
• the Dan at South Boston;
• the Meherrin near Lawrenceville; and
• the Nottoway near Sebrell.
Forecast: clearing but windy Friday
Rain showers will taper on Friday morning as low pressure quickly exits the region. Gusts could reach 45 mph in central and eastern Virginia on Friday, which might be strong enough to loosen some weaker trees from the saturated ground.
Saturday will be calmer and drier, but seasonably cold. Light rain could briefly return to the area Saturday night, with more showers and mild temperatures in the forecast across much of next week.
A heavy rain by February standards
By 8 p.m. Thursday, storm totals in metro Richmond ranged 1.2 to 2.2 inches, with additional amounts of 0.5 to 1 inch expected to fall during the rest of the night.
For perspective, Richmond averages 2.76 inches of precipitation during February. It's often one of the drier months, but there have been exceptions.
The daily rainfall records are:
• Feb. 6 - 2.17 inches in 1896.
• Feb. 7 - 1.37 inches in 1971.
Richmond's all-time wettest February day was Feb. 3, 1920 at 2.65 inches.
It's very rare for Richmond to have a three-day precipitation total in excess of 3 inches during February. It's happened three times since the 1880s:
• 4.78 inches ending Feb. 5, 1920.
• 4.48 inches ending Feb. 25, 1979.
• And 3.27 inches ending Feb. 18, 1889.
That 1979 soaker caused both flash flooding and significant river flooding, though it was boosted by melting snow from a winter storm that hit a week earlier.