Hurricane Dorian's heaviest rain missed the Richmond area last week as expected, but it underscores that our precipitation fortunes have changed of late.
Through most of last year and the first half of 2019, frequent downpours came as a nuisance and periodically rose to the level of a flood menace. But for most parts of the state, late summer slipped by with a lack of rainfall.
We're not officially in a drought, but our backyards and ponds could stand a good soaking now.
For the sake of our neighbors at the coast, we wouldn't want our rain to come at the price of another tropical threat.
Luckily, the coast seems clear for the next several days.
A couple of weak fronts will bring us spotty thunderstorm chances between Thursday and the weekend, but amounts and coverage are likely to be minor: less than half an inch for most areas in the state, but possibly heavier in localized fashion.
Beyond early next week, it's hard to say when and where the next widespread rain chance will set up in our area, either by way of fronts or any as-yet-undeveloped tropical systems.
Recent rainfall came up short for most: The latest U.S. Drought Monitor shows "abnormally dry" conditions throughout parts of central, southern and southwestern Virginia, a category that is one step removed from a minor drought. As of Sept. 3, no part of the state was under a true drought classification.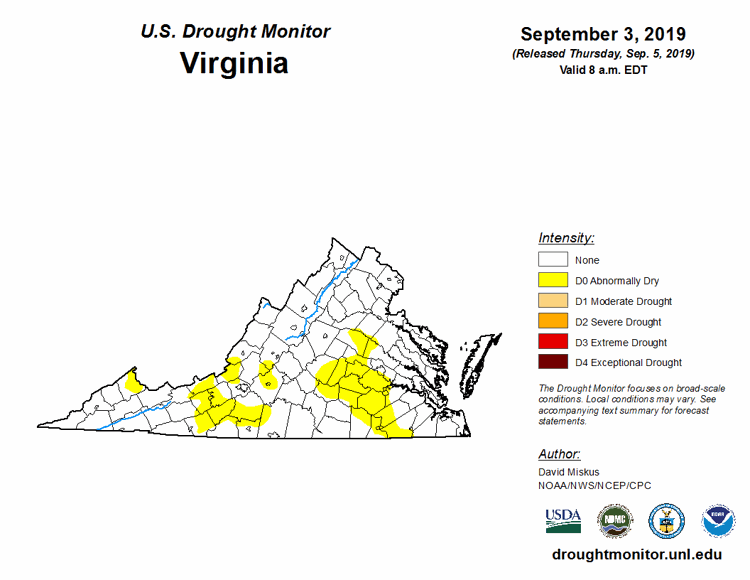 Locally, the abnormally dry zones cover the southern and western flanks of the metro area, and extend as far as Farmville and Emporia.
Dorian's rain last Friday wasn't expected to be heavy this far inland, and it was so insubstantial that it probably won't make a dent in this week's updated drought analysis, which will come out Thursday.
The northwestern fringe of the tropical rain bands cut right across the metro area, with zero rain or just a trace for places like Midlothian and Ashland, but a few tenths to several tenths of an inch across eastern Chesterfield and eastern Henrico.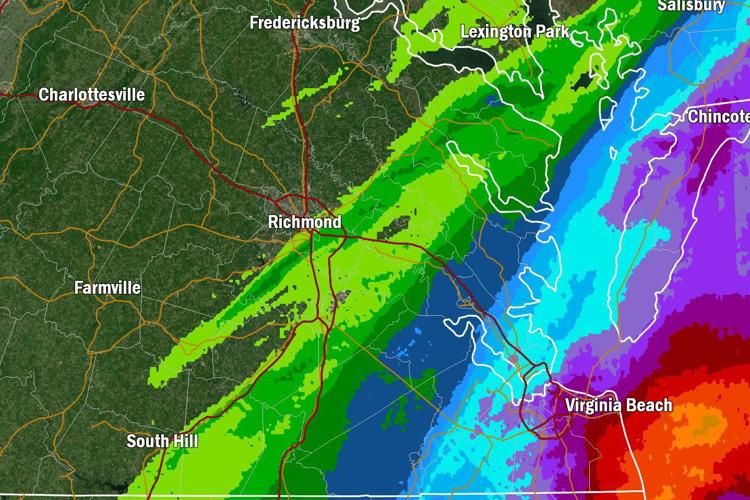 As of Sept. 10, 30-day rainfall across metro Richmond was generally 25% to 75% of normal amounts, with a small region of excess thunderstorm rain through northern Henrico, eastern Hanover and King William.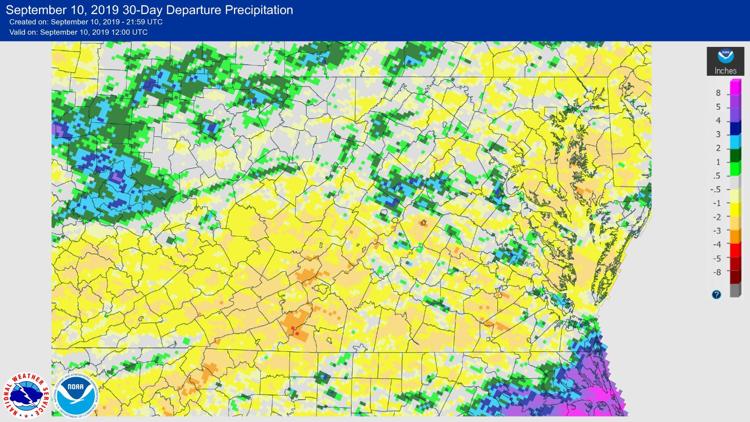 Statewide, the past month has been moisture-deficient for most areas, with the most pronounced lack of rain in the New River Valley southwest of Roanoke. Localized 30-day surpluses accompanied thunderstorms in the Shenandoah Valley and Northern Virginia and also under the path of Hurricane Dorian through Chesapeake and Virginia Beach.
The gauge at Richmond International Airport still registers a slight surplus for 2019 — 33.11 inches as of Sept. 10 versus the year-to-date average 31.41 — but the lead has been shrinking since midsummer.
In the wake of Independence Day's downpours, the year-to-date precipitation surplus peaked at 6.96 inches on July 7. Now, it's 1.7 inches above the average annual pace.
If we stay rain-free, the RIC gauge will head into deficit territory by the end of the month.
Summer heat hanging on: A mini-heat wave will push Richmond's high temperatures up to summer-like lower-to-mid 90s on Wednesday and Thursday.
A stout ridge of high pressure anchored over the southeast is keeping above-normal temperatures bottled over our region, while blocking the advance of any chilly fall-like air.
Though readings will take a noticeable drop into the 80s on Friday, the heat will build back in by early next week and the air mass will remain somewhat humid instead of crisp.
Highs and lows are both running about 10 degrees above normal for this time of year, but aren't forecast to rise to record levels. That would require upper 90s for highs and mid-70s for lows.
Farther to our southwest, highs in the mid-to-upper 90s could topple daily record highs from the southern Appalachians to the Gulf Coast over the next few days.
If Richmond hits 90 degrees on Wednesday, it would be the 60th day so far this year to do so.
In 122 years of record-keeping, only 10 years have brought us a greater number of days of 90-plus heat. The record was set in 2010 with 78 days at or above 90.
For those keeping score at home, the top 10 is rounded out by 1977 (70 days), 1941 (69), 1970 and 1943 (67), 1980 and 1900 (65), 2002 and 1991 (62) and 1954 (60).
It seems unlikely that we'd rack up enough days to beat the record before fall finally sets in, but a toasty outlook for the rest of the month means that 2019 might break into the top five.
Rest of September looking more like summer than fall: The weekly outlooks from the National Oceanic and Atmospheric Administration show high chances for above-normal temperatures across Virginia — and nearly all of the country — from Sept. 16 to Sept. 24 thanks to that persistent ridge.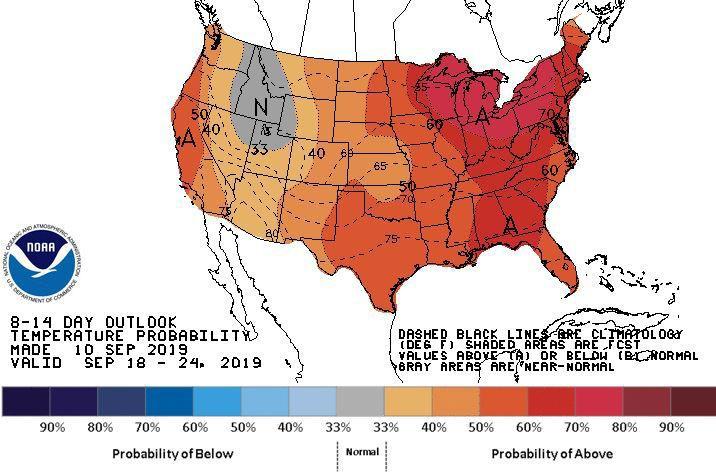 There are signs the toasty weather could start to relent by the final week of the month, but the outlook generally favors extra warmth into early October, and is consistent with autumn's warming trend over the years.
That suggests we'll end up with a notably warm September and delayed arrival of chilly fall weather for the second year in a row.
Last year brought the second-warmest September on record for both Richmond and Virginia, narrowly trailing a record set in 1921.
Not our hottest summer, but heat has been impressive this year: Final statistics for our summer weather, sidelined by the focus on Hurricane Dorian last week, revealed that it was another toasty one for the region.
Richmond's mean temperature for climatological summer — June, July and August — was 78.8 degrees. This summer was the sixth-warmest on record behind 2010, 2011, 1900, 2005 and 2006.
Averaged across the state, the summer of 2019 was also warmer than the 20th century average but didn't rank as high as the local figures did. The heat departure was more pronounced across the eastern sections than the west. With a mean temperature of 74.4 degrees, Virginia saw its 16th warmest summer of the past 125.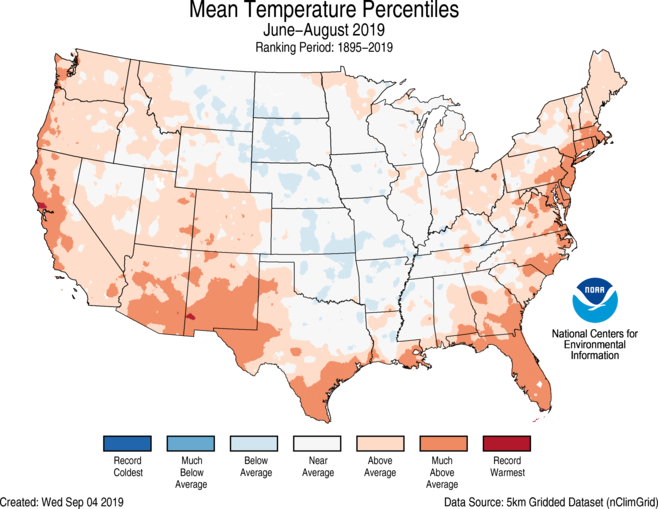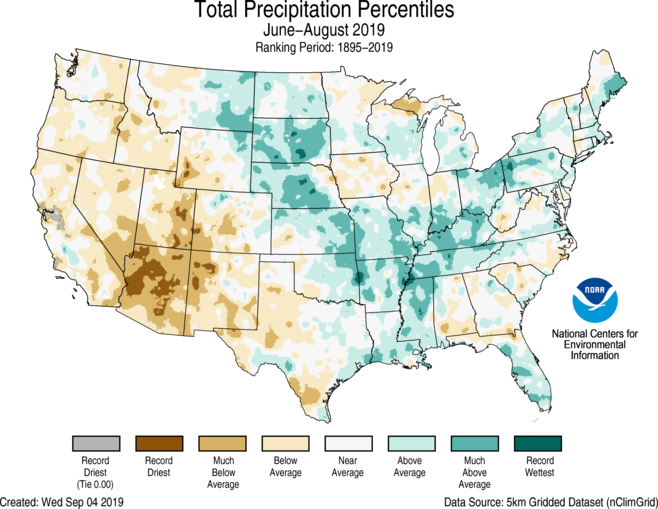 June-to-August rainfall totals were near normal for Richmond and Virginia, though it didn't fall evenly across space and time. Granted, storm-driven summer rainfall is usually uneven by nature.
For the year-to-date period of January through August, 2019 is tied with 1990 for Virginia's fourth-warmest year, trailing only 2012, 2017 and 1991.