How low can the temperature go in Virginia?
Depending on whether you live in the mountains or by the beach, the answer could be in the single digits or it could be all the way down to 30 below zero.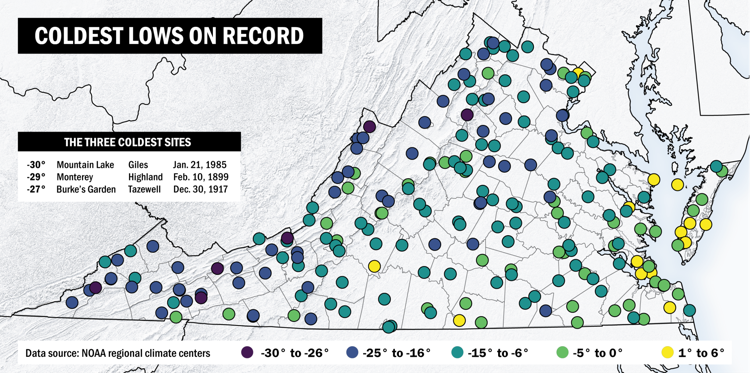 This map shows a selection of records from across the state, plus the three most extreme readings.
Here are some more details:
Richmond: -12 on Jan. 29, 1940.
Arlington: -5 on Jan. 17, 1982.
Blacksburg: -18 on Jan. 21, 1985.
Charlottesville: -10 on Jan. 19, 1994.
Danville: -6 on Jan. 28, 1940.
Emporia: -24 on Jan. 17, 1893.
Farmville: -16 on Jan. 26, 28 and 29, 1940
Fredericksburg: -21 on Feb. 10, 1899.
Hopewell: -11 on Jan. 21, 1985.
Hot Springs: -20 on Dec. 30, 1917 and Jan. 21, 1985.
Lynchburg: -11 on Feb. 20, 2015.
Norfolk: -3 on Jan. 21, 1985.
Roanoke: -12 on Dec. 30, 1917.
Staunton: -16 on Jan. 27, 1987.
Williamsburg: -7 on Jan. 21, 1985.
Winchester: -18 on Jan. 19, 1994.
Wytheville: -20 on Jan. 21, 1985.
Several things are causing all of the variety you see.
Each city's weather station has a different period of record. Some haven't been going long enough to register each cold wave we've ever had. Other stations are no longer active. (This particular map was filtered somewhat to cut out clutter and stations with a lot of missing data.)
Ashland hit 18 below in 1893, for instance, but that was four years before Richmond's official observations got started.
Looking more broadly, you see a pattern of lower records in the mountains and not-so-cold records near the Chesapeake Bay, lakes and rivers. Elevation, local terrain and proximity to water play a big role in how cold an area is.
Warm ocean water has a moderating effect on weather, even when the weather is bitter. Cold air collects in valleys, which often have the lowest readings in the state.
On any particular day, there are other things at work that can make or break a record.
Usually, the coldest nights feature snow covered ground beneath the calm and clear skies of high pressure.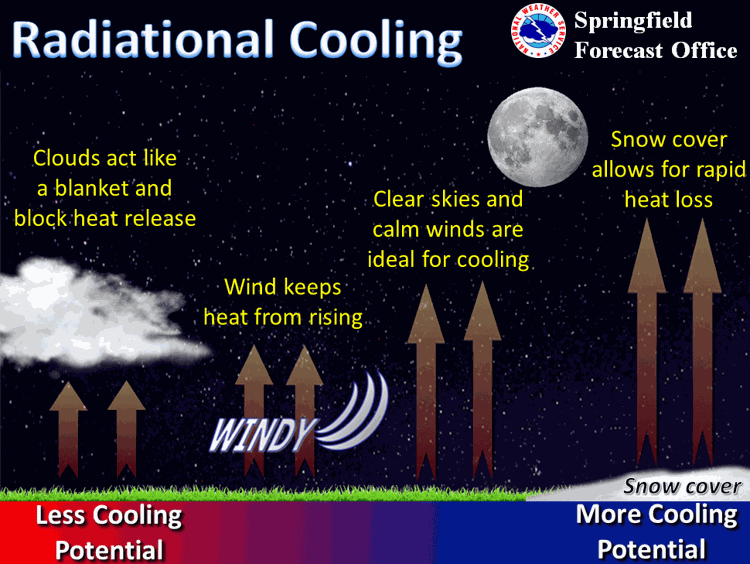 Those conditions vary from town to town and day to day.
If it's too windy or too cloudy a few towns over, the same weather pattern might not yield a record.
That's why some records from the 1890s still stand, while others were set as recently as 2018.
Lots of sites have records that were set during the famous cold air outbreaks of 1899, 1940, 1985, 1994, 1996 and 2015.
The all time cold records are quite fresh for Wakefield, Petersburg and Clarksville. The heavy snow last January allowed temperatures to plummet well below zero in parts of southeastern Virginia.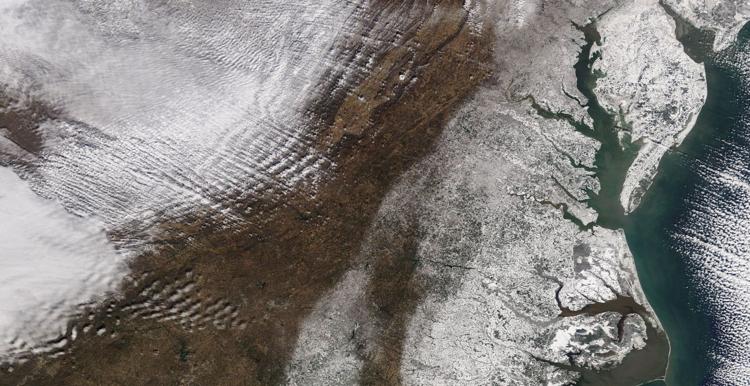 This is why looking at one particular cold event in one particular city doesn't tell us much about climate change. Climate is all about trends in long term averages and shifting frequency of extreme events.
There will still be extremely cold days in future winters, provided the right weather pattern is in place. There's still plenty of ongoing research about how warmer Arctic weather will change the jet stream and the behavior of the polar vortex.
Our winters will also feature more warm days alongside the cold ones, which means the overall seasonal average is expected to keep climbing in the decades to come.